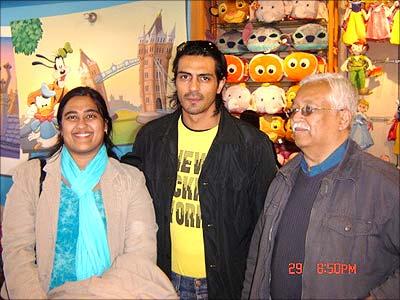 Everybody loves great toys.
Reader Wahid Sait was in the Disney Store on London's Oxford Street this August when he spotted Arjun Rampal.
Arjun was humble and friendly, and spent about ten minutes chatting with the Saits, explaining that he was in London for a shoot and was shopping for toys for his children while on his way to the airport.
They posed for a few snaps, and Wahid sent us this one with his wife Shazia and father-in-law Aslam Sait.
If you encounter/meet/see film or television personalities and photograph them, please scan the photographs and mail the pictures to us. We will feature the best images right here on Rediff Movies.
Also check out: Other Stars Readers Spotted