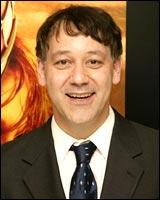 In a recent scoop, Spider-Man franchise director Sam Raimi has almost given away the revelation of working beyond Spider-Man 3. In a conversation with TV Guide, the filmmaker has mentioned that he's finished the story for the third in the series.
'I've just finished the story with my brother Ivan, and we're now working on a screenplay with Alvin Sargent. It will pick up where the second one left off, and it's about the budding relationship between Peter and Mary Jane, now that she knows who he is. It's still a love story.'
In a quote calculated to frustrate eager fans across the globe, even after admitting that he's finished the story for the film, when asked the invaluable question, 'Who will be the villain?' Sam teases with 'we're still trying to figure it out.'
The two Spider-Man films have earned over $1.5 billion at the international box-office, and sales for the recently released Spider-Man 2 DVD are going through the roof. Comic book fans are eager for the third installment, and have been rabidly wondering which of Spidey's great galaxy of villains -- Electro, The Sandman, Venom, Hobgoblin, Mysterio -- will make an appearance in what is currently the best franchise in Hollywood.
Then came the clincher. Raimi, and stars Tobey Maguire and Kirsten Dunst are all committed for the third film, but there have been rumours about the partnership moving away from the franchise after that. Prodded about doing a fourth film, the usually non-committal Raimi smiled and let fly with the quote of the day:
'I think there are going to be a lot of Spider-Man films, and I'd be thrilled to work on all of them.'
Photograph: Getty Images