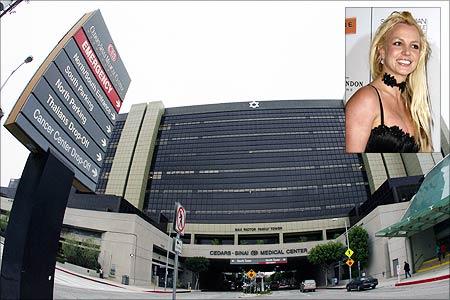 In yet another nightmarish episode for troubled pop-star Britney Spears, the 26-year-old singer was discharged from hospital on Saturday following a reported suicide attempt.
Ms Spears, had been taken to Los Angeles' Cedars-Sinai Medical Centre by paramedics on Thursday, following a custody dispute with her ex-husband Kevin Federline over sons Sean Preston, 2 and Jaden, 1.
Following the hospitalisation, The New York Times reports a judge on Friday suspending Spears' visitation rights and awarding sole physical and legal custody of the children to Federline. Another hearing is scheduled for January 14.
Meanwhile, The Boston Globe reports that Sunday saw Spears evade the paparazzi camped outside her house and hit a popular local restaurant at 10 am, proceeding to drink champagne mimosas from behind dark-glasses accompanied by photographer Adnan Ghalib, himself a paparazzo.
Photographs: Hospital: Gabriel Bouys/AFP/Getty Images, Britney: Toby Canham/Getty Images