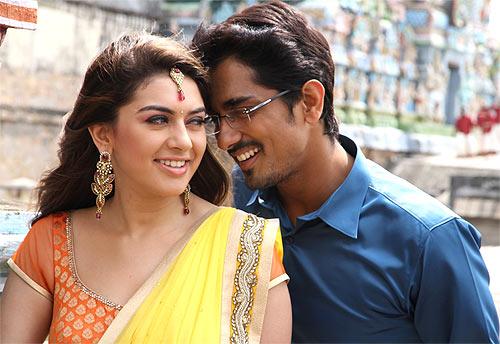 Theeya Velai Seiyyanam Kumaru is the title of the new film directed by Sundar C for UTV Motion Pictures. The long title means 'Work like fire, Kumaru' and Kumaru is none other than Siddharth. Giving him company are Santhanam and Hansika Motwani.

UTV is joining hands with Sundar C again after their hugely successful comedy Kalakalappu ;(2012)

On being asked whether it was the success of Kalakalappu that made UTV work again with Sundar C, UTV Business Head (South) G Dhananjayan said, "It is not just the success of Kalakalappu, but the strong relationship with the comedy genius, Sundar C, that made us decide to work with him every year with a different kind of film.

Theeya Velai Seiyyanam Kumaru (TVSK) is our next association
and we are planning more films with him.
According to Dhananjayan, "
Theeya Velai Seiyyanam Kumaru
is just a romantic comedy and not a pure comedy. The whole script is based on love (between Siddharth and Hansika) and a love guru (Santhanam).
It was director Sundar C's decision to cast Siddharth and Hansika in the lead roles as they wanted to bring in a new pair who will appeal to both Tamil and Telugu audiences as the film is a bilingual.
Kumaru, played by Siddharth, is a shy and introverted person from a small town who falls in love with this trendy modern girl Ashwini (Hansika). It is here that Love Guru (Santhanam) enters the scene to help him get his love. The producer of the film assures us that there are some interesting twists and turns.
The shooting of the film is going on in Hyderabad, Chennai, Kumbakonam and Japan.
Theeya Velai Seiyyanam Kumaru
will be released in May 2013.