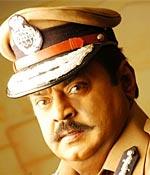 Pavithra Srinivasan reviews Virudhagiri. Post YOUR reviews here!
Films have been masquerading as political manifestos for decades. So, it is not really surprising that Virudhagiri, starring 'Captain' Vijaykanth, happens to be one long and sarcastic diatribe against parties and rulers. The movie is also Vijaykanth's directorial debut, and the man has made use of every opportunity he can get.
The Captain seems to have decided that he needs a rock-solid storyline as well, and hit upon: Liam Neeson's Taken. While Neeson was an ex-Central Intelligence Agency operative, the Captain returns to his police avatar: He is an Indian Police Services officer working with the Chennai police.
In true Vijaykanth fashion, there's nothing he can't do, including nabbing terrorists from 'Kashmir to Kanyakumari,' helping the transgender population (their portrayal is a nice touch), beating up innumerable bad guys like Shanmugarajan and Mansoor Ali Khan by the divine power of his fists and delivering lashing monologues about his political adversaries. These form the first part of the film.
The second makes an abrupt departure and shows him being a caring guardian of his friend's daughter Priya (Meenakshi Dixit), who suddenly decides she needs to go to Australia. Once there, she's kidnapped. The issue of Indian students harassed in Australia has been taken up. This wouldn't have been so bad, if the makers hadn't suddenly decided to shoot in Malaysia instead of Australia. Australia Airport scrolls on the screen to giggles from the audience, even as trolleys emblazoned with Petronas roll by on the floor.
Virudhagiri tries to go all Neeson, as he gets on the track of Albanian terrorists (all Albanians, according to him, are terrorists) and contacts an acquaintance, Franklin (Arun Pandiyan), who helps him get info on them. Virudhagiri wanders all over 'Australia' bashing up evil men and alluding to everything from Tamil Nadu's power cuts to benefit schemes in his dialogues.
As far as performances, the storyline or characterizations go, this one's sub-par. The Captain looks jaded, struggles for expressions and is in desperate need of a weight-loss regime. But true to form, every political missile hits its mark; the applause hits the roof at his strident tones.
The rest of the cast, and even the crew have one and only purpose: To make Vijaykanth look good. Accordingly, Sundar C Babu's music is full of righteous indignation, while Bhoopathy's camera pans and focuses lovingly on the Captain every other second.
It might not be a great movie, or even a good one, but Virudhagiri was made for only one purpose: To be a political vehicle for Vijaykanth. And it serves that purpose admirably.
Rediff Rating: