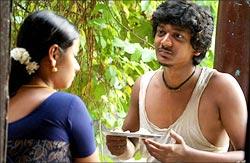 Tamil film Vazhakku En 18/9 is hard-hitting, writes Pavithra Srinivasan
Director Balaji Sakthivel has always been known for his gritty, realistic take on situations, whether its love, marriage, or just plain adolescence. This time around, the director of Kaadhal comes back with a hard-hitting
Vazhakku En 18/9
, produced by Thirupathi Brothers and UTV Pictures and the meticulous research makes you applaud.
In a way, though, this is a movie that encompasses more than one story, and there seems to be a disconnect, at times. The director does make sure to connect the dots, however.
The tale of Velu (Sri), a youngster who works under a tiffin vendor, and a young maid, Jothi (Urmila Mahantha) frequently run into each other with various outcomes: some hilarious; others not so funny.
The entire movie revolves around characters that pop in and out of their lives, romantic interludes, middle-class travails, politicians who have their own agendas, policemen who use novel methods to get at the truth and school-girls who seem to be inching toward adulthood, but have their own problems to contend with.
The hero of the story, however, is Balaji Shakthivel, in every way. Like his previous films, he roots his films in reality and sets his screenplay with such precision
and unswerving logic that the proceedings do grip you. As is the norm with movies of this genre, the proceedings move at their own pace.
Masala
-lovers are hereby warned, for this is a movie that has a message to tell and does so in its own time. The dialogues, and body language of the actors, however, go a large way towards making this an intriguing tale.
If there is a minus, it could be that the leads lack spark; so much of the story revolves around too many characters that their tale is sidelined at times.
The music, by R Prasanna, doesn't add much to the movie either, and the songs seem to jar you out of your absorption, instead of aiding to it.
Vijay Milton's cinematography, however, hits the mark absolutely, while Gopi Krishna's editing works well.
Of the actors, Muthuraman scores high, while Chinnasamy comes a close second, as well, bringing their characters to life. So do Rithika, who plays a savvy school correspondent smoothly.
There's precious little of candy-floss and the moments of random humour are very few, laced within the story itself. This is a tale that might seem depressing, but ultimately,
Vazhakku En 18/9
is also about hope, and love. With its painstaking attention to detail, logic and life on the streets, this movie certainly deserves to be watched.
Rediff Rating: