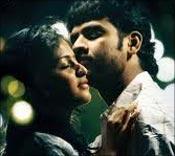 Pavithra Srinivasan reviews the Tamil film, Thoonga Nagaram. Post YOUR reviews here!

Cloud Nine Movies' Thoonga Nagaram, tagged The City That Never Sleeps, is yet another story that is set in Madurai, documenting the quirky lifestyle of the people of the region, while at the same time making note of just how much emotion and violence is found under the cheerful exterior.

Director Gaurav makes a good point of bringing up what lies beneath. It's even engaging, most of the time.

The set-up, though, is predictable, albeit sprinkled with a few witty one-liners. This is a  story of friendship, and you have got four men who are, after a wild night in the messy Vaigai bar (this has become a staple in realistic movies, these days) friends for life.

They are Ayyavu (Bharani), who's frightened easily, has a wife he barely sees and charges exorbitant rates for repairing even a light-bulb; Rajamani (Gaurav) who works in a crematorium just for the drinks; Mute Mariappan (Nishanth) who cares for his brothers and dreams of snagging a beautiful girl; and lastly, the chief protagonist, Kannan (Vimal) a happy-go-lucky guy who's a videographer, and takes life as it comes. None of them are from Madurai.

Life proceeds in ordinary fashion, if a little slowly. There's a swift, quirky romance thrown in for Kannan with Radha aka Kalaivani (Anjali), an anchor with the local TV.

A few flashbacks hamper the pace, before finally, the story begins to move. One night, as the four friends relax at their favourite bar, a priest, one of Kannan's acquaintances approaches him in tears. His daughter, who is getting married the next day, has been caught in a devastating MMS. And it looks like Kannan is the only one who can help. Matters escalate from there and the lives of four ordinary men suddenly become suffused with treachery, betrayal, anger and fear.
After a fairly slow first half, the screenplay picks up pace in the second. There are a few edge-of-the-seat moments that work quite well. The situational humour, like Gaurav's cell-phone ring-tone is a hoot. The realistic feel of the film keeps you grounded.
Sadly, though, the momentum slips again after a while, ending in a rather lacklustre fashion. While the dialect hits the spot at times, the tedium of predictability sets in; you've seen many movies by now, where the scenario and conversations are identical.
Of the four, Vimal naturally stands out, but the rest have their moments. Anjali is her usual peppy self and there's not much for her to do. All are their natural selves and draw you in.
Sundar C Babu's music isn't very effective. Vijay Ulaganathan's camera-work on the other hand, is excellent.
This film's USP is the friends and their camaraderie. If you can ignore the fact that it essentially pays tribute through its location, dialect and some of its plot to films like Subramaniapuram, then Thoonga Nagaram certainly has its moments.
Rediff Rating: