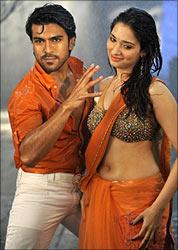 Telugu film Rachha has a predictable storyline and offers nothing new, writes Radhika Rajamani.
Telugu film
Rachha
is a potboiler meant for the masses and not for a discerning audience. Sampath Nandi dishes out a film replete with commercial ingredients in a stereotypical pattern. It defies logic and is pretty predictable too.
'Betting' Raj (Ram Charan) lives in a chawl with his adopted parents. He indulges in betting and accepting challenges to earn for the family. He keeps uttering the dialogue:
Betting Raj, Aadmi kam, risk zyada.
His father (MS Narayana) is diagnosed with cirrhosis of the liver and the liver transplant costs Rs 20 lakhs. In order to earn that money, Raj accepts a bet with James (Ajmal) to fall in love with Chaitra (Tamannaah), daughter of the dreaded Bellary (Mukesh Rishi). Both fall in love. Raj almost wins before a twist in the tale takes place. Both have a past. What is it?
The film moves with good dialogues in parts, songs (shot in Kerala, China etc) but in the second half, the vendetta game dominates.
Sampath Nandi has nothing new to offer but has ensured that there's no logic in many places. For example, when Raj and Chaitra are on the run, they enter into a bamboo forest in China where they are attacked by the Chinese! This scene was not much of a value addition except to show
that the cast and crew went all the way to China to shoot.
Also imagine a man being hit and falling in the sanctum at the feet of the idol! The violence in the film comes across as unnecessary too.
The comedians Brahmanandam, Ali, Krishna Bhagwan, Venu Madhav, Tagobothu Ramesh bring in some laughtereven though they are inane. 
Ram Charan does a good job with his action sequences and dance moves. Sampath Nandi has etched his role in such a way that his fans will surely enjoy watching him in this film.
Tamannaah is an eye candy in the film, especially in the song
Vaana Vaana Velluvaaye
. She looks glamorous though her role is nothing much to talk about.
Ajmal Amir makes his presence felt though one wished this talented actor was given more screen time. His characterisation was intriguing.
Parthiban and Nasser don't appear for too long and seem wasted in this film. For actors who play negative characters like Mukesh Rishi, Kota Srinivasa Rao and Dev Gill such roles are easy as they have done it in many films.
Sameer Reddy has done a good job with his camera. Mani Sharma's music was just about okay.
Rachha
is basically for Charan's fans who may be happy after the disastrous
Orange
. For others,
Rachha
offers nothing.
Rediff Rating: