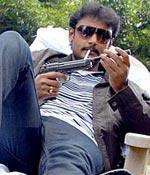 Shruti Indira Lakshminarayana reviews Prince.  Post YOUR reviews here!
The hit combination of actor Darshan and director Om Prakash Rao come back together in this week's release Prince.

Vishnu (Darshan) is a successful advertising professional. While his creativity makes him a hit among his peers, it is the prankster in him that attracts his colleague Anjali (Nikhita).

Vishnu and Anjali are soon shown as a happily married couple. All's well in their world until Vishnu is shot at by two encounter specialists. Vishnu survives the attack but only to find out that he is being dubbed a terrorist. Anjali, with the help of journalist friend Preethi (Jennifer Kotwal), does manage to get Vishnu out of jail but there is more trouble awaiting him.

Does Vishnu have a dark side to him or is it just a case of false encounter?

Prince is a tailor-made revenge drama for Darshan fans. The film is packed with action sequences, but has nothing new to offer in terms of the content. In fact, those who have watched Boss, one of Darshan's recent releases will know what to expect in the end. The story also generously borrows from the Telugu flick, Shock.

It was promised that Prince will be high on comedy and Om Prakash Rao takes it upon himself to provide comic relief. His jokes and dialogues will appease front benchers in particular. The glamorous ladies are a bonus to Darshan fans. Songs by Harikrishna are ok. However, they are a regular interruption in the second half. Logic takes a backseat more often than not as well.
Darshan slips into the role with ease. Jennifer, celluloid's favourite TV journalist, has little to do in the film. While both the leading ladies get equal number of songs, Nikhita gets a few extra emotional scenes to enact. Actors like Shobraj, Suchendraprasad and Rangayana Raghu are given limited screen space. Avinash and Adi Lokesh play key parts.
Om and Darshan have given entertaining films like Ayya and Kalasipalya. However, they disappoint with Prince. But then again you can't say they didn't warn you as their film posters read Prince… 'The stupid fellow'!

Rediff Rating: