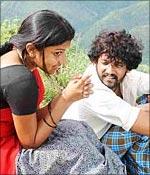 Pavithra Srinivasan reviews the Tamil movie Mynaa

Among glitzy and glamorous love stories that seemingly abound in a logic-less world of super-heroes, comes yet another romantic tale: Red Giant Movies and AGS Entertainment's
Mynaa.
Directed by
Prabhu Solomon
, the movie is a breath of fresh air where characters and locales are concerned.
A Journey of Love, reads the tagline of the movie which makes no pretensions about the kind of film it is. Right from the start it really is a tale of unending romance between its leads. But what makes it a heartening story is the host of secondary characters that add depth to it -- people and circumstances that make it three-dimensional.
So you have Suruli (newcomer Vidhaarth), a trademark scruffy youngster who's lying in a jail cell, dreaming about his sweet-heart Myna (Amala Pal), the girl he practically grew up with in the tiny, isolated village of Sevvankudi, set in the Theni Hills. He's always been the bad boy of the area, bunking school, going against his father, the weak and ineffectual Mayi (Sevvalai) and doing as he pleases, until he meets young Myna, thrown out of her home.
Immediately, he plays the gallant hero, finding her and her mother a place to stay, a place in school and generally becoming her knight in shining armour. Dashing about the undergrowth of the hills, riding in a jeep that's the only mode of transport through the vine-grown paths to Periyakulam and ferrying Myna on cycles, Suruli's love for her deepens. It looks like nothing will disturb their idyllic life until Myna's mother discovers their love.
From then on, disaster stalks the couple. The tables are turned after a melee where Suruli almost bashes Myna's mother. He's jailed and Myna's on the verge of being married to someone else. Suruli escapes (a hilarious episode), at the expense of policeman Ramaiyya (Thambi Ramaiyya) and Inspector Bhaskar (Sethu), who set on his trail.
It might be an entirely romantic tale, but Mynaa's strength are not rooted in it: the luxurious hillsides of Theni are an equally important part as Myna and Suruli fall in love. What makes the locale interesting is that it's not synthetic. Gutters lie exposed, drains are clogged and random rubbish dot the hillside. And yet, peace pervades the place; the sense of isolation is complete.

Adding colour are the secondary characters: Sethu, Ramaiyya and Sevvalai make the picture come alive with their animated performances. Particularly hilarious is Karthik (Manroadu Manickam), with his off-hand one-liners that make you crack up. Poovitha, as Myna's mother, seriously packs a punch. Even Sethu's wife, with her psychotic episodes and intensely loving family makes an absorbing watch.

The leads, around whom the story revolves, have played their parts well: Vidhaarth's body language is particularly effective while Amala, with her quiet smiles and expressive face lingers with you for a while.

D Iman's music, though a combination of Braveheart and 7G Rainbow Colony, adds an unexpectedly pleasant layer to the movie. The songs have a familiar echo to them, but the background score is appealing.

Sukumar's camera goes to town with the locales; the forest scenes must have been difficult to shoot, but he brings a sense of immediacy that's effective. Vairabalan's art-work comes to the fore with his work in the little villages, but L K V Das's editing skills could have put to better use.

Mynaa might be a serious story, but humour is an important component of what makes it work, interspersed in volatile situations. The dialogues add a lot of sparkle.
Not that the movie doesn't have its faults: the story is wafer-thin, and the similarities, character and dialect-wise, to Paruthiveeran, Subramaniapuram et al, is startling. The basis for Myna and Suruli's love is baffling too: they have every reason to like each other, but such utter and complete devotion seems too much.
But these are minor quibbles. With plenty of realism, a touch of angst and sparkling humour not to mention the hills of Theni themselves, Mynaa is an interesting romantic journey.
Rediff Rating: