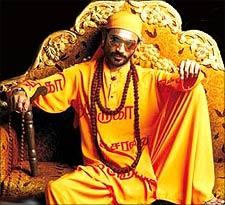 Pavithra Srinivasan reviews Mappillai. Post YOUR reviews here! 

"If you think the worst of me, I'll turn out to be a good man. But if you think I'm a good man -- then I'll be the worst you'll see."

This is a sample of the kind of punch lines that Sun Pictures' Mappillai (Son-in-law) abounds in.

The film is a re-worked version of the 1989 Rajnikanth blockbuster. This time, the masala-maker is Padikkadhavan's Suraaj, who has roped in his lucky charm Dhanush for some good old-fashioned spicy stuff to set the summer box office cash registers ringing.

So does it, in fact, work magic on the silver-screen? That remains to be seen.

This version of Mappillai has better production values than the older hit, and retains much of the original characters and their tussles. You have got the mandatory hero, Saravanan (Dhanush) a guy so good he's held as an example to all the 'youth' in the area, like Child Chinna (Vivek).
Of course, he has a 'past' in Kumbakonam as well.
Then there's the pretty, chubby heroine Gayathri (debutante Hansika Motwani), with whom he falls in love in double-quick fashion after plenty of silly sequences. And finally, the last part of the triumvirate and the hero's nemesis: Rajeswari (Manisha Koirala), the mother-in-law who almost foils her son-in-law's plans to dominate her. Almost.

It says much for Vivek's star power that the movie actually begins with him, and continues for at least 15 minutes before the hero makes an appearance.

There are plenty of scenes where the son-in-law and mother-in-law glare at each other but most lack the punch that the original had. The only saving grace is the humour quotient, particularly in the climax. While the first half moves at the reasonably good pace, the second lags, largely because you already know what's going to happen next. Every sequence is predictable.

Once again, the movie belongs to Dhanush alone; he smirks, dances, fights, crows and throws around punches and dialogues. His body language and complete ease rattling off trite words is one reason for why you're able to sit through the movie.

Manisha Koirala doesn't quite manage to bring across the powerful, conceited woman. She looks washed out, even though she does wear the best of clothes and make-up. Somehow, you can't really see her as a ruthless woman who will kill to gain her ends. Vivek, in his horrendous get-up and timely punches manages to wring a few laughs.

Then there's Hansika Motwani, one of the most anticipated debutantes of the year, already dubbed 'Chinna Khushboo' due to her resemblance to the yesteryear glamour queen. Sadly, though, her work in this movie consists only of dressing to the nines, dancing to Mani Sharma's enthusiastic tunes (especially Ennoda Raasi Nalla Raasi) and falling in love with hero at a moment's notice. In fact, she wouldn't have been out of place in an 1980s masala movie.

Suraaj, who has handled the story and dialogues has simply taken the Taming of the Shrew framework and based it on Rajni's hit. He also added some mass elements for Dhanush, making no bones about the fact that there's no logic or common sense to look out for. It's just spice, humour, and plenty of silliness thrown in for good old entertainment.

Go with low expectations.
Rediff Rating: