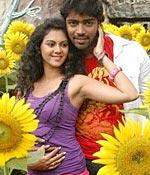 R
adhika Rajamani reviews the Telugu movie, Katti Kantha Rao. Post YOUR reviews here!


Katti Kantha Rao
is a typical Naresh film, set against a family backdrop that tickles the funny bone. Director E V V Satyanarayana, Naresh's father surely knows how to tap his son's talent, particularly his comic timing, and he delivers a fairly entertaining film.
Katti Kanta Rao (Allari Naresh) is a police constable who has enough responsibilities to shoulder. His father was suspended from service. He has four sisters (two to be married, two are at home after leaving their husbands). His father has an agreement signed by his son that he would not get married till his sisters are married. But Katti Kanta Rao falls in love with Rathnam (Kamna Jethmalani) and secretly marries her. He spends time with her at her house. This is spotted by his senior officer (Jeeva) and both deny it.
In the meantime, one of the sisters falls in love with the IG's son, while another loves a constable (Venu Madhav). There is confusion enough on whether Kanta Rao and Rathnam are married or not.
A separate track begins post-interval in a village where two candidates (played by Kota Srinivasa Rao and Ahuti Prasad) are vying for a presidential seat. Who will win the elections and whether the muddle over the marriage will affect the elections, is what the second half is all about.
The screenplay is very amusing and the first half entertains.
The film has a role tailor made for Naresh. He's full of life and energy and quite enjoyable to watch on screen. The dialogues are fun at times and more so when Naresh delivers them with his apt body language. Kamna's presence is more for the glamour aspect as she has nothing much to do. Dharmavarapu, Kota, Venu Madhav, Ahuti Prasad and Jeeva are okay in their roles.
All in all,
Katti Kanta Rao
is an average time-pass entertainer.
Rediff Rating: