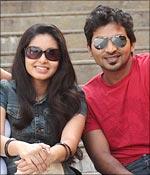 Pavithra Srinivasan reviews the Tamil movie, Eesan. Post YOUR reviews here!

The second film of a director who's delivered a runaway debut movie is always an acid test. Sometimes, the director hits the bulls-eye. At others, the effort stutters, a little like Company Productions' latest, Eesan, written and directed by M Sasikumar, post the inspirational Subramaniapuram. To give credit where it's due, you see almost no flaw in the first one and a half hours. But as the movie progresses, you begin to sense problems creeping in.

The first half at any rate, is nothing short of brilliant. In what is now beginning to be known as a Sasikumar trademark, the movie unfolds slowly, in exquisite detail, peppered with nuggets of information about the nightlife of Chennai's uber-rich, their pub-trips, the drunken orgies and blurring of morals.

In a throwback to stories about eve-teasing incidents that have happened outside pubs, the movie begins with a hit-and run involving a bunch of drunks, who promptly call their powerful friend to help them out. This is how you're introduced to Chezian (Vaibhav), a rich kid, the son of Minister Deivanayagam (A L Alagappan), who states that he's got the whole of Tamil Nadu under his belt. Its Chezian's job to frequently bail his buddies out of the police station, even as he himself tours every pub in Chennai, looking for the ideal date. And that's when he meets Reshma (Aparna), a cute Kannadiga gal whom he decides to marry on sight.

In yet another Sasikumar trademark, there's no real "hero," per se; rather, there are a host of characters who each play an important part at the right time. So you've got Minister Deivanayagam who is assisted very ably by his close aide Gopal (Namo Narayanan). And he's extraordinarily good at offering the right suggestions and making it appear like his boss was the first to suggest it (which is the hallmark of an excellent aide).
Deivanayagam, meanwhile, appears to meet his nemesis in Shivaraj Hegde, a multi-millionaire from Karnataka who has 26 companies. The two indulge in a complicated cat-and-mouse game that's magnificent to watch, simply because their reactions are finely nuanced, and keep you guessing.
Then there's AC Sangaiyya (Samuthrakani), an honest cop who loves his uniform and wants to do the right thing, but is permanently hampered by his superiors, politicians and money-grubbing idiots. He crosses paths with Chezian, his father and Gopal again and again, but finds his hands tied by his well-meaning boss and a political situation that's too much for him to handle.
In the midst of all this drama, Chezian goes missing. And Sangaiyya is the officer chosen to find him.
So far, excellent. The characters are finely drawn, the politicians do not scream at every turn, the sequences, courtesy S R Kathir are truly superb, camera-work look like you're right with them, and not watching a screen and James Vasnathan's songs, though not brilliant, don't seriously hamper the proceedings. The stunt director deserves kudos for natural sequences. The intermission leaves you on tenterhooks.
Come the second half, however, and things start unraveling by degrees. Characters are introduced that you had no clue of, before; flashbacks drag on and on; events unfold that are entirely predictable. And though they are still meticulously logical and finely written, you're left dissatisfied because there's no clean resolution. Everything, quite simply, falls flat, with a cinematic ending that's not worthy of the first half at all.
The casting is near-perfect, but two characters deserve special mention, simply because of the enormous screen-space given: Abhinaya, and Namo Narayanan. Namo Narayanan, on the other hand, deserves lot more praise simply because he's completely understood the character he portrays, and delivers a flawless performance. Samuthrakani, Vaibhav and A L Alagappan deserve plenty of pats on the back as well.
Raja Mohamed's editing is sharp, sleek, and does justice to the screenplay though at more than 3 hours, should have been employed better in the second half.
Above and beyond all these, though, it's Sasikumar who stands out, or tries to, most of the time. Why everything goes south in the last hour is a mystery. It's as though each half is a different film, practically unconnected.
If the director had shored up the second half just as much he's worked on the first, Eesan would have been a brilliant effort all over. As it stands, it's worth a watch, but doesn't really match up to Subramaniapuram.
Rediff Rating: