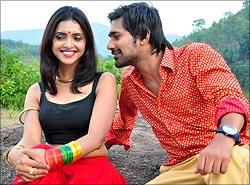 Telugu film Chamak Challo is quite realistic and believable, writes Radhika Rajamani.

Neelekanta shifts genres to make a contemporary love story in Chamak Challo. Set against a college backdrop, it touches on how today's youngsters look at love.

Director Neelekanta attempts to treat the theme differently but the deft treatment one saw in his earlier films is missing here. In the attempt to make a mainstream film and reach out to a younger audience, he has made a breezy film and tried to be 'cool'. That said, the film is quite realistic and believable to watch.

An NRI filmmaker played by Srinivas Avasarala is in search of a story. Appa Rao (Sayaji Shinde), a college professor, tells him the story of his students Shyam (Varun Sandesh) and Anshu (Sanchita Padukone).

Shyam and Anshu were friends and later love blossomed between them due to Professor Appa Rao's efforts and they get engaged. The film shows college life, the romance and wooing, and the youthful exuberance, all of which is very well done.
After they are engaged they go to different cities to work and that's when the problem starts. Sunaina (Catherine Tresa) enters their lives and almost sweeps Shyam off his feet.
The film is quite light-hearted most of the time till it gets towards the climax. The decibel level is quite high in the first half with Anshu's laughter ringing all the time in one's ears. The narration tends to drag a bit in the second half. One is not really emotionally involved in the film.
Varun Sandesh, as a college student, is lively and high spirited though he has played similar roles before. His body language and attitude are just right, but he runs the danger of being typecast in the role.
Sanchita Padukone is expressive but not sufficient so. Catherine Tresa is a good find. She sizzles and even though she has limited screen space, she leaves her mark.
Brahmaji, Sayaji Shinde, Srinivas Avasarala, Chinmayi, Dr K S Iyengar and other artistes do what is expected of them well.
Kiran Varanasi's music is quite pleasant on the ears. On the technical front, the movie is average.
Neelekanta has stepped out of his comfort zone to make Chamak Challo, a love story. Just go without any expectations and watch it. However, one hopes that he reverts to his own brand of storytelling in future.
Rediff Rating: