A couple of months ago there was a major change in the Annu Ki Ho Gayi Wah Bhai Wah, the popular soap on Star One.
The male protagonist Dev Keshwani who was portraying the role of Ashu was replaced by Amit Verma, the actor who played the main lead in Kittu Sab Janti Hai on Sahara. He is presently playing the role of Birju in Baa, Bahu Aur Baby. Amit was earlier seen in shows like Kichidi and Hotel Kingston.
Rajul Hegde caught up with the actor to find out more: Excerpts:
Tell us about your role.
I play the character of Ashu. He is a nice rich guy who gets emotional, short tempered and romantic. He is always searching for love, which he never got from his family. So he falls in love with Annu, a middle class girl who works in his restaurant.
Did you have problems stepping into someone else's shoes?
I joined this show two months ago. I really didn't have any problem stepping into someone else's character. I was told everything is sorted out. I liked the part when they narrated it to me.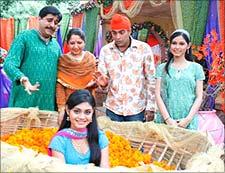 But why was the replacement done?
I honestly don't know why. It was a mutual decision between the production house and the channel.
How much do you identify with the character?
I do identify with my character to a certain extent. I am quite a brat but not a rich brat. Ashu is also a sweet and nice guy. But I am smarter and wittier.
How was the experience of working on the sets of Annu Ki Ho Gayee Wah Bhai Wah?
So far the experience has been brilliant. This is the first time I am working with DJ's (Tony and Deeya). I have worked with Star One earlier for Hotel Kingston so it is like a homecoming. This production house is cool and the co-actors are co-operative and everything is going on smoothly.
Which was your first serial?
Kichidi was my first show and as a protagonist Hotel Kingston on Star One.
What has been the response to your character Ashu?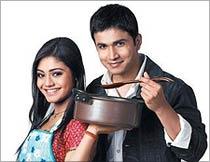 The response has been good. It takes time for people to accept a particular character and mine is no different. Slowly and steadily they are accepting me and are responding because there are a lot of interesting twists and turns happening on the show. Also, I am always in touch with my fans on the Internet.
What are your hobbies?
Acting is my passion and hobby. If I were not an actor, I would have become a cricketer. I used to do ramp shows and commercials. I even did an acting course before serials happened.
What is your take on reality shows?
I would love to take part in them. I was offered a reality show but I couldn't take up the offer due to date problems. Reality shows are the trend now and people also love to watch them. I love Nach Baliye but I could not participate since I don't have a partner.
What about musical show?
No way. You want everyone to run away from me? (Laughs).