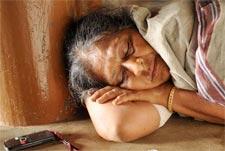 Even though its heart is in the right place, too much melodrama brings Tamil film Ammavin Kaipesi down, writes Pavithra Srinivasan.
Director/cinematographer/writer Thankar Bachan has always had a knack of bringing sensitive stories and characters on celluloid with his distinct touches. This time, he presents Tamil film
Ammavin Kaipesi
(mother's cell phone), produced by Thankar Thiraikkalam, and based on his own novella, of the same name.
The story kicks off from the present when Prasad (Thankar Bachan) arrives at his locked home, enters it in stealthy fashion and climbs a loft to open a bag bursting at the seams with money. His wife catches him at it; raves and rants about his stealing habits and begs him to return the loot. Slowly, we're shown the story of the bag, its contents, and a letter, through which we're introduced to Annamalai (Shantanoo Bhagyaraj), his beloved Selvi (Iniya), Annamalai's mother and their lives.
It's simplicity itself: Annamalai is a youngster who's led a pretty happy-go-lucky life with his eight siblings and a doting mother. He's in love with his cousin Selvi, and their marriage has the sanction, more-or-less, of the adults of the family. Much-maligned for loafing about for years, Annamalai suddenly changes his lifestyle and earns the goodwill of Selvi's father but just when everything seems set for a good life, he's accused of theft.
The settings and characters are extremely realistic, which is what you only expect of a Thankar movie but it's equally obvious that there's precious little in the story that can be drawn out for almost three hours. Characters change themselves at the drop of a hat, the narration is choppy and you wonder what happened to the finesse that's usually a part of his work. The story also revolves around a mystery, almost a whodunit -- except that you know what's going to happen right at the very end. But what truly sinks the movie is the melodrama which drags on and on.
Shantanoo, given that he's presented with an opportunity to actually prove himself in a rustic role, does work hard, but can't rid himself of hamming.
Iniya looks very pretty and cries well too -- in fact, all the characters do, at some point.
Azhagamperumal turns in a dignified performance, and so does the mother.
But in some ways, the focus is more or less turned on Thankar, and he manages to acquit himself reasonably well.
Rohit Kulkarni's score is passable, while Thankar's camera-work is faultless. Kishore Te's editing could have been tauter.
Ammavin Kaipesi is supposed to be about the distances between members of the same family, and how a cell-phone often takes the place of near and dear ones but even though its heart is in the right place, too much melodrama and an endlessly meandering screenplay brings it down.
Rediff Rating: