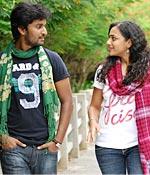 Radhika Rajamani reviews the Telugu film,
Ala Modalaindi.
B V Nandini Reddy chooses a rom-com and treads the oft-trodden path but with a fresh approach and exuberance in her maiden Telugu film
Ala Modalaindi.
This story of the heart presents a kaleidoscope of emotions pervaded by a certain liveliness throughout which succeeds in entertaining the audience.

Ala Modalaindi begins with an accident. Gautham (Nani) is abducted by John Abraham (Ashish Vidyarthi). On the way Gautham is forced to narrate his tale as Gautham talks of stopping a marriage and John too talks of preventing a wedding. Hence, the flashback. 
Gautham (Nani) is ready to propose to Simran (Kriti Kharbanda) with a bunch of red roses. But destiny has other plans.
Elsewhere, Nithya (Nitya Menen) is playing cricket and hits Gautham with her shot. He is then taken to the hospital in the stretcher. Here there's a twist. Simran falls in love with the doctor treating Nani and they get married in six months. Gautham goes to the wedding but cannot face Simran. When he walks out, he gets drunk and meets a drunk Nithya who actually was in love with the doctor. Later on, Gautham accompanies her everywhere. He realises he's in love with her. But it's not as simple as it seems. She's in love with someone else. The process takes a twisted and curvy route. And the audience too goes on that bouncy ride too.

Nandini has ensured that this 'complex' ride is fun and entertaining. It's refreshing to watch the lead pair of Nani and Nithya who are so natural that it looks that they are living their roles. The film itself has the humour element woven in and not sticking out like a sore thumb. Gone are the usual band of comedians and instead you have the hero, heroine, their friends and family trying to make you laugh.

In fact there's a gamut of emotions as there is action, romance etc. Nandini has induced certain newness which makes for a pleasant watch.
The dialogues are witty and punchy. In essence Nandini has crafted a screenplay which is engaging and amusing and to some extent thrilling too, in the climax. To quite some extent the film travels the routine path in terms of songs (even an item number) in some scenes. The introductory scenes with all the photographs of the cast and crew in their young age with the song Que Sera Sera, Whatever will be… is imaginative, though.
As mentioned earlier, Nani and Nithya are at their natural best. Both are so effortless and at ease and share a great chemistry. They are expressive in a range of emotions too. Nithya is a good find.
Nani too should look for films which will bring out the best in him as an actor. Rohini makes an elegant 'comeback'. Ashish Vidyarthi is his usual self -- very convincing. The rest of the cast does a neat job. Nandini does a Hitchcock (a blink-and-miss appearance).
On the technical front too (music, camera, art, editing) the movie scores good marks.
All in all Ala modalaindi is a fun ride.
Rediff Rating: