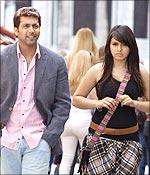 Pavithra Srinivasan reviews the music of the Tamil film Engeyum Kaadhal. Post YOUR reviews here.

Prabhudeva, who has already tasted success with romantic movies is back with AGS Entertainment's Engeyum Kaadhal, starring Jeyam Ravi and Hansika Motwani. The buzz is already picking up for the movie, what with Harris Jeyaraj tuning the music. This is the tenth year of his musical career, after all, and expectations are running high.

Here's a listen at what the album has to offer:

With a thrumming beat and melodious notes begins Engeyum Kaadhal, rendered by Aalap Raju, while Devan and Ranina Reddy pitch in with additional vocals. It's slow, sweet, as guitar strings provide a soothing accompaniment. With Thamarai penning the lyrics, this one's more of a poetic experience than most. As far as the tune itself goes, you've heard it before, particularly the love ballads of the west, in all its variations but there's an appeal to it that's hard to miss.

Theeyillai swiftly jumps into the vocals, courtesy Naresh Iyer, Mukesh Gopal Rao and Mahathi. Just when you begin to sink into the tune, you realise that there's quite a resemblance here to the background score of Braveheart. That vanishes as the charanam begins and the tone changes to angst; Vaali's lyrics bring a certain edginess to the song.

Richard fairly screams the first few lines of Nangai, strong, thumping beats that literally carry the song, except that they're clearly inspired by Michael Jackson's The Way You Make Me Feel. With additional vocals provided by by Rahul Nambiyar, Naveen Madava, the tune itself, set more with a utilitarian purpose, faithfully piggybacks on the stirring rhythm. The beats literally carry this number.

Lolita begins with Karthik lifting his voice in a romantic melody that reminds of Engeyum Kaadhal, before shifting to a slightly different pace and tune. The instrumental arrangement and guitar strings remind of Ghajini's Oru Maalai, while the song cruises along, a vaguely familiar mishmash of Harris' earlier compositions. A mildly appealing number.

Emcee Jesz pitches in right in with vocal acrobatics for Bathing at Cannes (the title raises intense curiosity) even as Kash, Krissy waltz in with their fluid voice, rapping to glory, a throwback to their Endhiran number. Ranina Reddy accompanies them, the lyrics penned by Emcee Jesz and Kash. There's a strong Latino whiff to the song, the violins adding a classic touch.  A rather quirky number.

After all the experimentation above, Nenjil Nenjil sounds like a return to the standard, serious romantic number and it strongly resembles Ichangaatula Muyal Onnu, from VIP. Thankfully, it shifts from the tune a little later. Harish Ragavendra and Chinmayi sing their way comfortably through Karky's lyrics, accompanied by a steady, thrumming beat, even as flutes chirp through the first interlude in a classical vein. It's a relief to listen to the charanam flowing almost seamlessly from the pallavi, instead of doing an about-turn and meandering, and the classical touch persists. Its a melodious song, and an appealing listen.

Dhimu Dhimu starts out with almost Country music-esque guitar strings, a gentle, soothing melody. Karthik sings it as well as ever in a fluid voice. Harris goes back to his western roots for this one, and the casual pacing is done right. Na Muthukumar's lyrics are a neat mixture of romance and angst. It's the kind of composition that Harris often times includes under the soothing romance category, and it has its merits here. It also happens to be the Tamil version of the song from Orange, Chilipiga Choostavala.
Engeyum Kaadhal might sound, at times, like it's a mishmash of Harris Jeyaraj's previous works, but it does have its melodious moments, and those make the album worth a listen.
Rediff Rating: