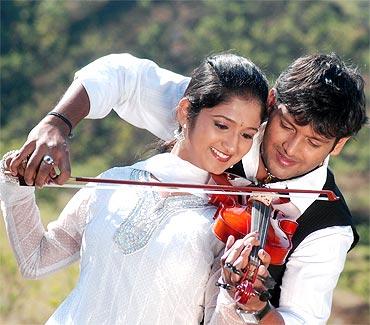 Kalgejje starring Roopika and Vishwas is all set for release this Friday.

Blood donation by the team members and their visits to old age homes and orphanages across the state have kept the Kannada film in the news, but will the hype and publicity be worth it? 

Kalgejje is a musical love story. It tells the story of an aspiring singer and a dancer. The film also has a message for parents about how they should let their children follow their dreams.

Roopika, who debuted in Cheluvina Chilipili plays a dancer. She is in fact a trained dancer and is said to have put her training to good use in the film. Vishwas is also relatively new to the industry with two films Jolly Days and Parole.

While the lead pair is new to the industry, the supporting cast includes several industry veterans. Rangayana Raghu and Pavitra Lokesh will be playing Roopika's parents while Ananth Nag and Sumithra will essay the role of Vishwas's parents. Pavithra will play the role of a movie buff trying to fulfill her dream of becoming an actress through her daughter. Ananth Nag on the other hand plays a father apprehensive of his son's aspirations to make it big as a music composer.

Tabla Nani, Ninasam Ashwath and Raju Talikote have been cast to tickle your funny bones. Raju post Manasare hasn't impressed and it remains to be seen if he will recreate the magic with this film. Nani has drifted from his usual drunkard or blind man roles. He will be seen playing the production manager of a film. Music directors Hamsalekha and V Manohar and director S Mahender have done small roles in the film. Dancer and actor Shreedhar has also been featured in a song.

Gandharava has composed the music and Hamsalekha, after listening to the songs, is positive that the former will make it big in the industry. Venus Murthy is the cameraman.

"Kalgejje is a love story and we wanted to back it up with romantic locales and I feel Murthy has done justice by capturing them well on his camera. I wanted to finance a film that went beyond violent fights and Kalgejje was just the kind of family entertainer that I was aiming for," says producer Nagbushan.
Director Nagathihalli Chandrashekar, who was among the industry biggies for whom a special screening was held, said that it was heartening to know that producers were coming forward to cast newcomers. "Ananth Nag's character also impressed me. The song sequence in which Shreedhar appears is also good," he said.
The film has been directed by Bangaru. It releases along with Komal starrer Kal Manja.    `