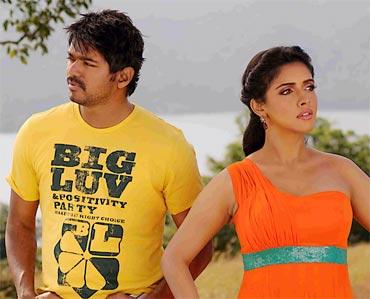 Vijay's
Kaavalan,
directed by Siddique (remake of the Malayalam film
Bodyguard
directed by Siddique himself) has been selected for screening at the Panorama section at the 14th Shanghai International Film Festival.
The Film Festival, founded in 1993, is China's only A-category international film festival accredited by the Federation of Film Producers Associations based in Paris and also one of the most prestigious film festivals in Asia.
It is for the first time in a career spanning 53 films that Vijay's film is being selected to be screened at a festival. Vijay acts only in masala enteratiners and that is what has made him a darling of the masses.
Every year, SIFF receives nearly 2,500 entries from over 80 countries and 200 films are selected.
The 14th SIFF will kickstart on June 11 with
Director Barry Levinson and other six international judges attending the opening ceremony. Barry Levinson won the Best Director Oscar in 1988 for the film
Rain Man (
Dustin Hoffman and Tom Cruise).  Levinson's works will be shown in the
Tribute to the Masters
section.
Rekhs, co-ordinator for South Indian movies for International film festivals and also the person who did subtitling, said: "I had gone to Dehradun to do a one-minute role in Shankar's
Nanban
(Tamil remake of
Three Idiots)
. I had the opportunity and time to meet Vijay there. I told him that I had subtitled
Kavalan
. Vijay readily and offered to pay the cost of registering and couriering to festivals. I am so happy and proud to hear that
Kaavalan
has been selected amongst 2500 submissions from 80 countries."
SIFF has issued an invitation to actor Vijay to be the guest of honour. The actor has decided to take time off from shooting to attend the festival.