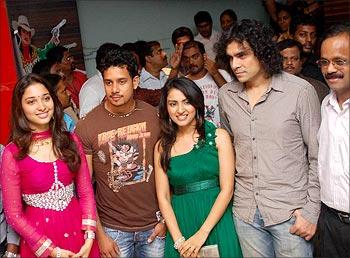 Kanden Kadhalai, the Tamil remake of the much-loved Jab We Met, produced by Moserbaer, is ready exactly on time, and the audio with music tuned by Vidyasagar was released in Chennai on Saturday.
It was done by none other than the director of the original, Imtiaz Ali who himself flew down to Chennai where his latest offering Love Aaj Kal has been doing excellent business.
Imtiaz Ali bowled over the Tamil film industry when he said, "I saw the songs and rushes of Kanden Kadhalai and I am happy to note that Kannan, the director has rectified the mistakes I made in the original."
The heroine Tamannah looked lovely in her pink dress and Bharath, the hero, looked savvy. 
Dhananjayan, man behind the entertainment wing of Moserbaer decided to make the occasion a celebration of Tamil cinema by honouring some of the path-breaking Tamil directors of today like K V Anand (Ayan), Vikram Kumar (Yaavarum Nalam), Samuthirakani (Nadodigal), Pandiraj (Pasanga) and Susindran (Vennila Kabadi Kuzhu). These are the five critically acclaimed films which also did extremely well at the box office this year.
"The directors chosen are only from the films made in 2009 so far. Each one has come out with very good films which have also became commercial successes. The key parameter was that the films should be commercial successes as well as critically appreciated (we wish to call it gowramana vetri in Tamil). Hence, the directors chosen certainly conform to this success criterion," Dhananjayan told rediff.com.
Asked why Moserbaer decided to celebrate Tamil cinema at the audio launch of Kanden Kadhalai, Dhananjayan said, "Tamil cinema is today setting the trend for other languages. Recent super hits/big films of Hindi cinema from Tamil (like Kambakht Ishq or Ghajini) and now Nadodigal will be made in three languages including Hindi. Thus, we need to celebrate Tamil cinema and appreciate the makers. When everyone appreciates our work/music during the audio release, why do we also not appreciate the good work of others at the same function?"
So does the success of these offbeat yet commercial films change the way Moserbaer looks at Tamil cinema, now that they are ready to produce more films?
"Moserbaer Entertainment's objective is to bring in quality films which are also commercially successful. We are learning the art, and in this process if we come across good makers who achieved this, we feel it is our success also and wish to celebrate such successes. We always believe in appreciating good work, as only when good work gets commercial success, will industry prosper. When industry prospers, everyone will have an opportunity to contribute and achieve something out of it," Dhananjayan added.
Image: (From left) Tamannah, Bharath, Sapan Saran, Imtiaz Ali and Dhananjayan.
Text: Shobha Warrier