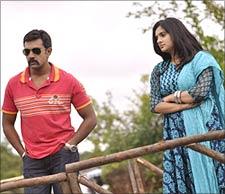 This week's release Dandan Dashagunam has been in news for quite some time now.

Firstly, it's the Kannada remake of Gowtham Vasudev Menon's Tamil blockbuster Kaakha Kaakha (starring Suriya and Jyothika).

Secondly, Ramya and Chiranjeevi Sarja will pair up for the first time in this film.

But what threw the film back in the limelight was the lead actress Ramya, who threatened to quit Kannada films after a spat with its producer, Ganesh, over the cash she had lent him for filming.

But since the issue is sorted out now, with Ganesh having returned the borrowed money, it's time to talk about the film itself.
Dandam Dashagunam is the story of an upright cop and the barriers he faces while deriving justice. His soft side is revealed through his love for a teacher he meets at a college programme.

Ramya plays the teacher. She wears a simple yet classy look in the film.

Chiru wears a new look. Apart from pumping up his body, the actor sports a moustache and a crew cut. "I play an officer working in the crime branch. Suriya had played this role in the original and comparisons are bound to crop up, so I have worked hard and am hoping to reach the benchmark he has set with his performance," Chiru says.
The actor has not just watched the Tamil film but also a whole lot of other cop movies to pick up the nuances. 

Will we see him adapting Suriya's mannerisms? "It became necessary to follow his mannerisms at a few places, as the character required such body language and expressions. Otherwise, I have given my own touch to it," he says.

Coincidently, his character is named Surya. With this film, the actor is hoping to gain a foothold in the industry.

Apart from Ramya and Chiranjeevi, the film stars Ravishankar. He is actor Saikumar's brother. Dandam Dashagunam was to be his debut film in Kannada, but his other films Kote and Kempegowda hit the screens well before. Ravishankar is a popular actor in other South Indian language industries and is also an award-winning dubbing artiste.

Apart from some power packed action sequences between Ravi and Chiru, the climax is said to be the highlight. Over 3,000 boats have been used in that scene.
The film has been shot across 40 locations in Mysore, Coorg, Kolar Gold Fields, Malaysia and many more.

Harikrishna has scored the music. He teams up with director Madesh for the third time with this film after Gaja and Raam.

Will the film garner the same kind of response that it did in Tamil and Telugu? Let's wait and watch.