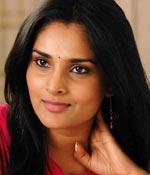 With the conflict between reigning actress Ramya and her Dandam Dashagunam producer Ganesh having ended, it's back to business in the Kannada industry.
The issue that had sent the 'mute' Karnataka Film Chamber of Commerce, and the Artistes' Association into turmoil, ended with senior actor Ambareesh mediating between the conflicting parties.

Ganesh returned the Rs 10 lakh that he had borrowed from Ramya during the shoot of Dandam Dashagunam, through Ambareesh.
"I thank all the people who stood by me, especially my fans, Ambi Uncle, Rockline Uncle, Umashree Aunty, Munirathna Uncle, KCN, Gauri and Kavitha Lankesh and the actors in the industry. Truth always wins. I hope this doesn't happen to anyone else in the industry," said Ramya.
The 'ban' that was imposed on her will be lifted.

Ramya has announced that on the insistence of her fans, she would get back to acting in Kannada films if good scripts come by. She had earlier decided to quit following her spat with Ganesh over his accusations of 'unprofessionalism'.
It was only after Ramya came out in the open about why she had not attended the audio launch -- precursor to the problem -- that it was known that Ganesh had made false claims. Ramya had said that after having borrowed Rs 10 lakh, Ganesh failed to return it even after 10 months and had turned up only to invite her to the launch without even mentioning the loan. Following these accusations, artistes and exhibitors had decided to boycott Ganesh's films.

But with the money having being repaid, all this is now history.
The actress has decided to put the matter to rest and gear up for the promotions of two of her most anticipated films, Sanju Weds Geetha with Kitty and Jhonny Mera Naam Preethi Mera Kaam with Vijay.

Meanwhile, actress Pooja Gandhi had also filed a case against Shivaganapathy, the producer of her film Nee Illade. The actress had alleged that he had failed to pay her Rs 4 lakh (of her Rs 12 lakh remuneration) that he had promised to pay before the release. After the chamber had failed to do her justice, she had sought for a stay over the film's release in the court. However, the producer and actress later settled their differences and the film released. That Nee Illade was a dud is a different matter!

It may also be recalled that the chamber had considered banning Pooja as well following her alleged remarks against Ganesh and her outburst against Shivaganapathy. She was dubbed an 'outsider' in the industry and was asked to tone down her demands as she was not having a successful stint off late.

But now with both issues having being sorted out, it's show time again for the Kannada industry.