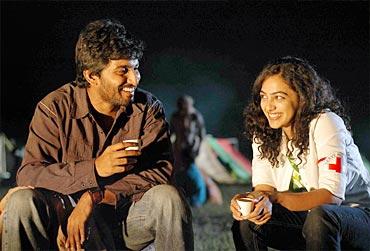 A woman director is quite rare in Telugu. So when a woman director makes a film, it incites curiosity.
Nandini Reddy has been in the industry for a little more than a decade and has started to helm her maiden Telugu film Ala Modalaindi with Nani, Nithya Menen (who's also making her debut in Telugu) and Ashish Vidyarthi.
In this exclusive first look of the film to rediff.com, Nandini and her producer Damu Koneri give as a glimpse of Ala Modalaindi.
Having assisted reputed directors Gunnam Gangaraju (Little Soldiers) and Krishnavamsi (Shakti, Khadgam, Antahpuram, Chandralekha, Murari and Samudram) Nandini is now in the midst of the last schedule of her debut film.
"Ala Modalaindi is a love story with a twist of destiny, a romcom with a dab of emotions in it. It's a spinoff from When Harry Met Sally and A lot like Love," says Nandini who has totally worked on the script afresh.
"It's is more of my imagination. It's in the commercial pattern but a different take on commercial formula." Nandini spent about four months working on the script.
Damu Kanuri decide to produce it under the family banner Sri Ranjith Movies. "The script attracted me. There's a freshness in the way it's being presented. The last film produced under this banner was also directed by Vijayanirmala way back in 1984 (Lanke Bindalu starred Krishna, her husband and Jayasudha, her niece). We are returning to production with Ala Modalaindi," says Damu. Vivek Kuchibhotla is the executive producer.
Nandini has Nani and Nithya Menen in the lead roles. Nani was also an assistant director and World Space radio jockey before he turned actor with Ashta Chamma.
Nithya Menen has a few Malayalam films under her belt and in fact makes her debut as an actor-singer in Ala Modalaindi. "We got Nithya to sing a few songs too as she has a good voice," says Damu. 
"Sneha Ullal has a substantial role, Kriti Kharbanda (of Boni fame) has a guest appearance, while Rohini (the late Raghuvaran's wife) is also acting in it," says Nandini.
Lakshmi Bhupal has written the dialogues for the film. The technical crew comprises Kalyani Malik (music) Arjun Jena (camera), Marthand K Venkatesh (editing) and Dharmendra (art).