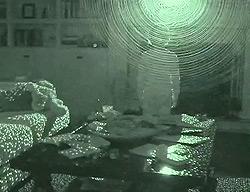 Robbie, a young boy in Nevada whose mother is reportedly hospitalised, is taken in by his neighbours and soon becomes a close buddy of the family's young son, Wyatt. But Wyatt's older sister Alex does not welcome Robbie.
In the new horrorfest
Paranormal Activity 4
deceptions and misleading situations greet the viewers at every turn.
Some horror film fans may complain that the jerky hand-held camera movements and the grainy look of the new film are all too familiar. Shifting furniture and an animated house don't exactly offer any new thrills.
Alex, helped by her boyfriend, sets up home video cameras to watch Robbie's movements and in the process, upsets the evil forces that are behind Robbie's dislocation and his mother's mysterious illness.
Paranormal Activity 4
, which is directed by Henry Joost and Ariel Schulman, features unknown actors except for Katie Featherston who is back as the demon and terrifies the viewers thanks to her sweet face.
Kathryn Newton as Alex is quite lovely and effective but the rest of the cast need some serious coaching.
This is the first film in the shoe-string budget franchise, which has grossed over $600 million worldwide (the new film cost just about $6 million and some $60 million to market), which is also being shown in Imax theatres.
Analysts believe the film will gross at least $40 million in North America and more than half that amount in the half-a-dozen foreign territories it opens in this weekend. It is expected to recoup its investment in the very first week from its gross in America alone.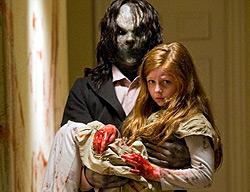 It will surely eat into the box office of
Sinister
, the much better reviewed film of the two, which last week grossed a strong $18 million in North America and became profitable in the first week since it was made for a paltry budget of $3 million.
Despite
Paranormal Activity
's strong showing,
Sinister
is still expected to gross solid numbers, taking its 10-day total to over $23
million in North America. The film will also be expanding around the globe in the next few weeks.
If I were to choose between the two films, I would go for
Sinister
which not only has more scary moments than
Paranormal Activity 4
but also stronger performances.
In
Sinister
, Ethan Hawke, known for the intensity of his performances in
Training Day
and
The Woman in the Fifth
, plays Ellison Oswalt, a crime writer desperate for a big success.
When he stumbles across a mysterious box of home movies which show happy family get-togethers and outings on one hand, and the families being killed on the other hand, he is not only intrigued but also sees a chance for redemption as a writer.
Oswalt begins his search from the grainy footage, looking for a clue to the demonic mind behind the slaughter. His investigation, not surprisingly, leads him into a dangerous world.
Director Scott Derrickson, who made the surprise hit thriller
The Exorcism of Emily Rose
a few years ago, does not bother to include enough emotion in the film (the way Stanley Kubrick did in
The Shining
).
This film does not belong to the small group of superior horror films such as
The Shining
and Michael Mann's
Manhunter
. But it is better than most horror films and director Derrickson keeps Sinister going at a good speed.
As an egomaniacal author who is starved for fame and who has also moved his family into the unsettling home, Hawke holds the viewers' attention.
He is also supported well by several other artists. Fred Dalton Thompson is assertive as the suspicious sheriff and James Ransone has many scene stealing moments as his deputy, a crime buff who is in awe of Oswalt and signs on as a volunteer researcher.
Better than them is Vincent D'Onofrio who is cast as a university professor of the occult.