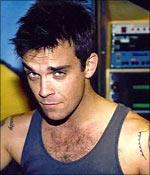 Pop star Robbie Williams is set to make a comeback by filling up slots at the O2 early next year, left vacant by pop icon Michael Jackson's sudden death.
It is touted to be a dream comeback gig for the former member of Take That boy band, who has been out of the charts for three years after his last album flopped, Dailymail online reported.
Since then, the 35-year-old star has seen Take That return to the top of the charts, sell millions of albums and have the fastest-selling UK tour of all time. But with a new album out later this year, he is expected to take some of the dates that Jackson would have performed, with Whitney Houston and others.
"Robbie's eagerly-awaited album will be out soon and he is likely to be touring Europe next year. It will be perfect for him to start with shows at the O2," the Evening Standard quoted a source at O2's owner AEG as saying.
"Whitney Houston has been on the O2 arena wish for a while - she has the voice and hits to sell the arena out several times over," the source added.
Williams is releasing a new album Reality Killed the Video Star in October which would be his first since 2006 flop Rudebox.