'It feels like a roller coaster ride, but I am slowly coming into my own in this industry.'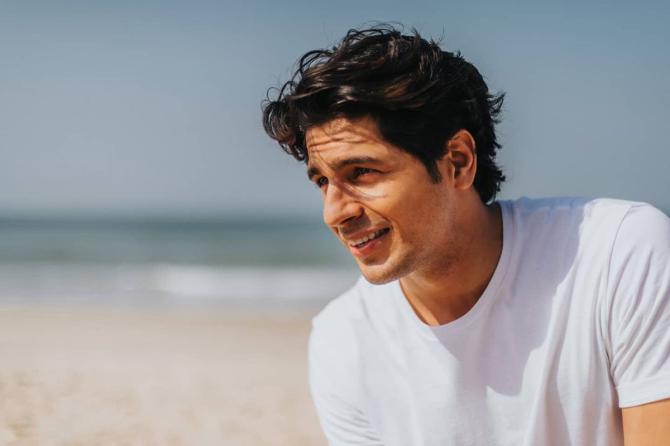 'Now, when I imagine Vikram on the battlefield, I'll see you Sid.'
The words of Captain Vikram Batra's twin brother Vishal, after that emotional first screening of Shershaah, will always stay with Sidharth Malhotra. So will the film, as it marks a very special time and space in his career of nine years.
"When I came into the industry, I was the outsider, a boy from Delhi with no film connections. People kept thinking I was related to Manish Malhotra, which is not true," Sid tells Rediff.com Contributor Roshmila Bhattacharya.
What was the first thing that struck you about Captain Vikram Batra when you read the script?
Well, like him, I come from a simple, middle-class, Punjabi background and that helped me connect with him.
Then, I imagined what this Palampur ka ladka, who was always smiling, upbeat and peppy, must have gone through on the battlefield.
The guts with which he had charged at the enemy and killed.
There were two distinct sides to Captain Vikram Batra's personality and that intrigued me.
On one hand, he was this endearing Punjabi boy, and on the other, he was a fierce soldier and leader.
I had to bring both sides to the screen in a way that the audience would enjoy his affability while simultaneously saluting his heroism.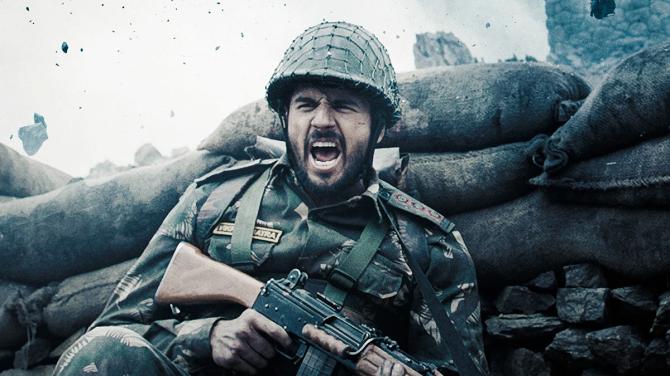 The film was completed and released during the on-going pandemic when many of us have come face-to-face with our own mortality. In such a scenario, what was it like playing someone who everyone who's watched the film knows died a martyr during the Kargil war?
It added to the challenge of the role because as an actor, I had to distract my audience with Captain Vikram Batra's bonding with his family and friends, lighter moments and romantic interludes, his camaraderie with fellow soldiers and his interactions with his superiors, make them momentarily forget he is no longer with us.
So when he succumbs, it makes them emotional.
Today, I hear people say after watching the film that they wish he hadn't volunteered to go to Area Flat Top, that the bullet from the enemy sniper had missed him, that he had survived the war.
That they don't want to let go of this character despite knowing he is gone, is encouraging for me as an actor.
What was his twin brother Vishal Batra's reaction after the first screening?
It was the most emotional screening of my career.
After the film was over, Vishal Batra admitted that he had never seen his brother in action.
'Now, when I imagine Vikram on the battlefield, I'll see you Sid, in uniform. Today, I understand why he sacrificed his life and it makes me really proud.'
For a brother to say this to an actor who played his twin on screen touched me to the core.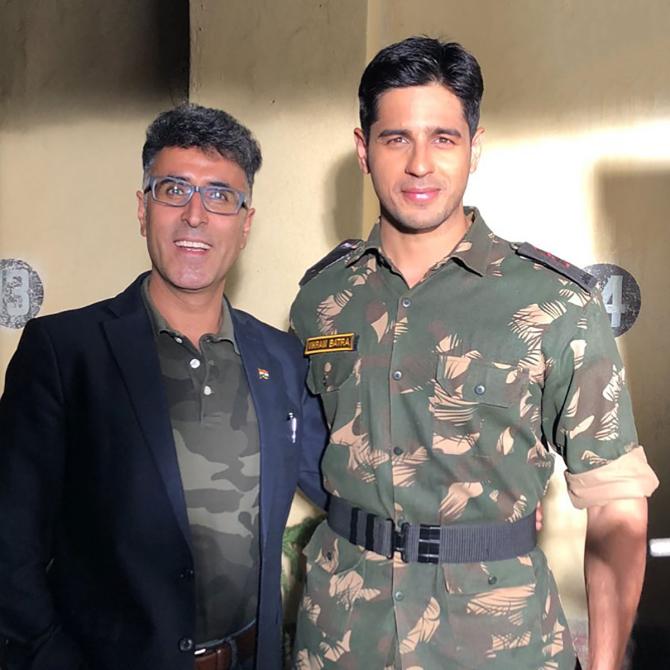 Reportedly, his parents, Girdhari Lal and Kamal Kanta Batra, came out of the screening in tears.
Yes, but his mother was quick to point out that they were tears of pride for her son, that I had reminded them again why he had given up his life.
I've always said that the only review that mattered for me was the one from his family.
I will always hold that evening close to my heart.
From Shershaah, it's straight on to Mission Majnu. Both films similar in emotion and drama.
True. Mission Majnu is also an India story, inspired by true events, but set in the 1970s.
The emotions were very new for me because I was playing a spy for the first time -- an undercover R&AW agent on a mission that helps his country at an important point in its history.
It's a thriller and I loved the script as it gave me scope to change my look and persona every few scenes.
We have just completed it.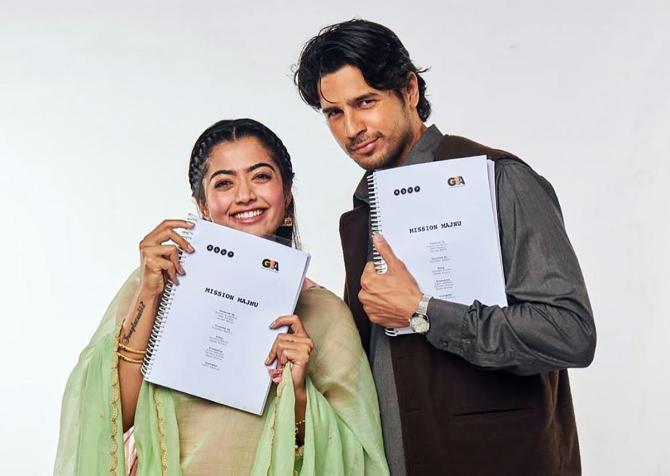 There's a lighter film now, Indra Kumar's Thank God. After two intense dramas, that's what you must be saying too?
(Laughs) Yeah, thank God. It's very different from Indra sir's previous films or even mine and Ajay sir (co-star Ajay Devgn).
All through my career of nine years, I've attempted to vary my choices by mixing up genres.
So next year, there will be a spy thriller and a slice-of-life comedy with a good message.
Hopefully, we will be able to release both films in theatres.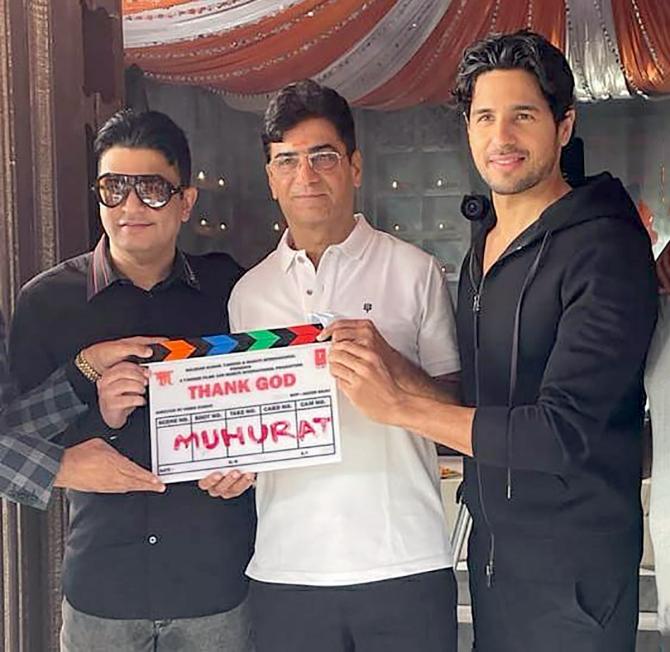 Shershaah is the most-watched film on Amazon Prime Video with IMDB ratings of 8.9. Given how well it has done, wouldn't you have wanted a theatrical release for the film?
In the present scenario, given where we are standing as an industry, this was the best platform for it.
It has penetrated so many households, been watched by people in over 200 countries.
But yes, it was conceived, designed and shot as a theatrical release.
So while not from the business angle, as solely a viewing experience, I would have liked people to see Shershaah in the theatres.
We worked very hard on the visuals, in particular the war portions, and the sound design.
I wish it could have been an immersive experience for the audience in a darkened auditorium.
As of now, it looks difficult for theatres to do 100 per cent business.
Next year, or maybe even by the year-end, if the authorities allow it, I hope we will be able to entertain people at a movie theatre.
Kiara Advani, who played Captain Vikram Batra's fiancee Dimple Cheema, and you have become one of the most loved couples after Shershaah and many are wondering if this friendship will go beyond professional outings.
As of now, I can only speak for professional outings.
Shershaah was our first film together and when it's a love story, it's important for people to connect with your pairing.
Going by the love which has been pouring in, they have connected immensely, despite the film not being predominantly a love story.
So now, Kiara and I are on the lookout for another solid love story.
Hopefully, we will be able to entertain the same audience and many more again.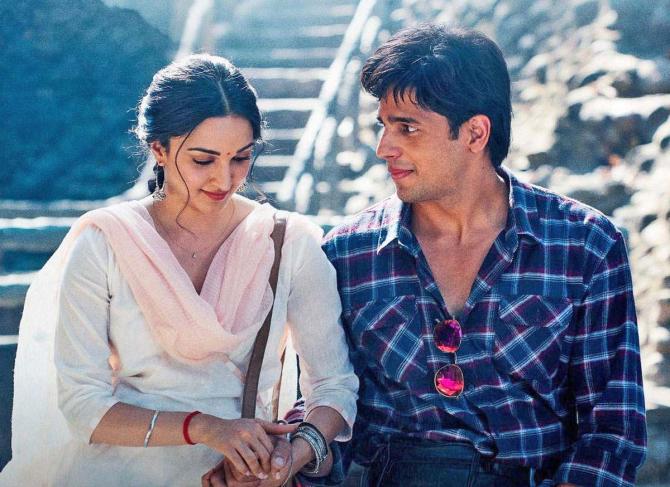 You have just a year left to complete a decade in the film industry. What has this journey, which started with Student of the Year in 2012, been like?
When I came into the industry, I was the outsider, a boy from Delhi with no film connections.
People kept thinking I was related to Manish Malhotra, which is not true.
Today, nine years later, I'm still the boy from Delhi, who came from outside.
But now, I feel, I've made a small space for myself in this massive industry.
I have learnt my lessons, learnt how the industry functions and how to deal with it.
It feels like a roller coaster ride, but I am slowly coming into my own in this industry.
Shershaah marks a very special time and space in my career.
I hope this is one film I will get love for even many years later.