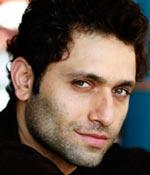 Bollywood actor
Shiney Ahuja was sentenced to seven years
' rigorous imprisonment by a fast track sessions court in Mumbai for
raping his domestic help in 2009
. The actor had faced a maximum punishment of upto 10 years if found guilty.
The victim had turned hostile during the trial, which had been held in-camera.
Briefing reporters after the verdict, Ahuja's lawyer Srikant Shivade said Judge P M Chouhan had relied mainly on the first information report.
The court did not accept the maid's assertion in court that she was not raped as the judge felt she had given false evidence.
Ahuja was arrested on June 15 after preliminary medical tests on the maid confirmed sexual assault. He was charged under Indian Penal Code Section 376 with rape, wrongful restraint and intimidation.
Thirty-eight year old Ahuja, who was wearing
jeans and a pink shirt, was accompanied by his wife Anupam. According to a policeman who was present in court, there were tears in Ahuja's eyes when the judge pronounced the order.
In September last year, the victim backtracked from her allegations that Ahuja had raped her. The 20-year-old said she had filed a false complaint at the behest of the woman who had secured her the maid's job
In June 2009, the girl had lodged a police complaint alleging she was raped by the actor at his residence. Ahuja was arrested on June 14 and released on bail three months later.
On September 3 last year, the victim had identified Ahuja in the court as her former employer but said she was never raped.
Following her statement, the court had declared her hostile.
The police, in a 109-page chargesheet, had accused Ahuja of rape and wrongfully confining the victim.
In his defence, Ahuja had argued that he was falsely implicated.
Also read: Everything you wanted to know about the Shiney Ahuja rape case