'Sridevi was a responsible mother.'
'I have heard her talking about her daughters.'
'Once in a while, they came on set. She would make sure she had time for them.'
'That's why she could play a mother so wonderfully in English Vinglish.'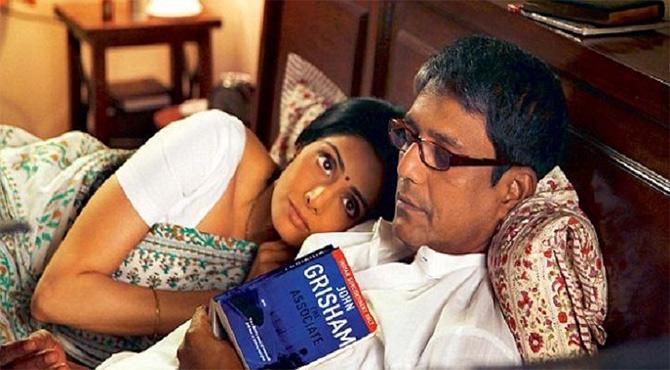 IMAGE: Adil Hussain played Sridevi's husband in English Vinglish.
Adil Hussain spent 30 days with Sridevi, filming her comeback film English Vinglish.
During this time, he gained an interesting perspective into the iconic actress's way of working, and realised just why she was so popular with audiences.
Adil shares his memories of Sridevi with Rediff.com's Patcy N:
I was shooting in Pondicherry for Lessons in Forgetting when I got a call from an assistant casting director, who happened to be my student from FTII (the Film and Television Institute of India).
He told me about this film called English Vinglish and told me that the producer (the film was produced by R Balki and Boney Kapoor) and director (Gauri Shinde) wanted a new face to play Sridevi's husband in her comeback film.
My student thought I would be perfect for the role.
Since there was no WhatsApp in those days, I had to make a CD of the scene, which they had sent me, and send the audition to the production house.
The next day, I got a call from Balki. He told me he liked my CD and that I was on for the project.
I was delighted, as I was going to get to work with Sridevi.
I never thought I would ever get a chance to work with her because when I started doing films, she wasn't working.
I was asked to come to Mumbai to figure out the costumes, the hair and the look.
I don't think anyone can forget their first meeting with Sridevi, especially a person like me who was just three or four films old before English Vinglish.
I had done one Assamese film and one Bengali. I had also done Ishqiya and Life of Pi, but that had not released yet.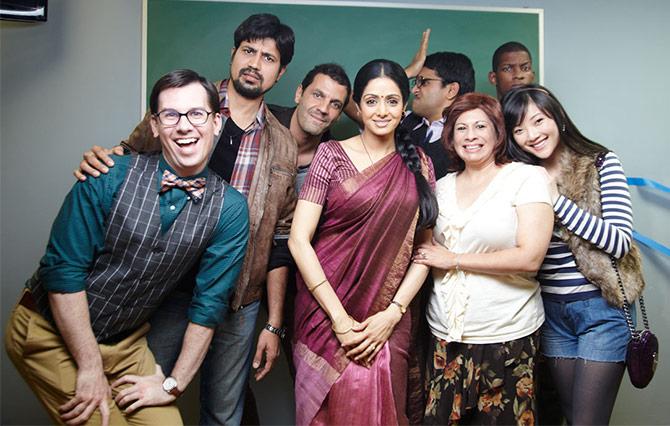 IMAGE: The English language classes students from English Vinglish.
My first meeting with Sridevi was at Mehboob Studio in Mumbai.
The film's director Gauri Shinde had created a makeshift set to record our chemistry and our interactions and to see how we would looked together on screen.
I reached late because I had flown in from either Chennai or Delhi. She was already there.
I sat at the dining table, in the chair assigned to me.
We smiled and the first thing I told her was that I saw Sadma about 30 years ago.
I hadn't been able to eat for two days; I had felt a strange churning inside after watching the film.
She thanked me, and her eyes were moist.
Sridevi is a very professional actress.
When I use the word 'professional,' I don't mean the way it is generally understood, where you do your work and leave and are not bothered about other things.
For me, 'professional' means she has a vision for her work, a goal. In that sense, she was a thorough professional.
She knew what to do. She was sincere, hardworking and honest.
As a person, she was extremely reserved, but at the same time, very pleasant to be around.
She hardly spoke, but sometimes, she would burst into laughter because someone would crack a joke.
That's when we would realise that she had been listening to the conversation the whole time.
She is an observant and constructive listener, one of the most important qualities of a good actor. She would also discuss scenes with her co-actors.
She would often start giggling and laughing like a child. She had a smiling face.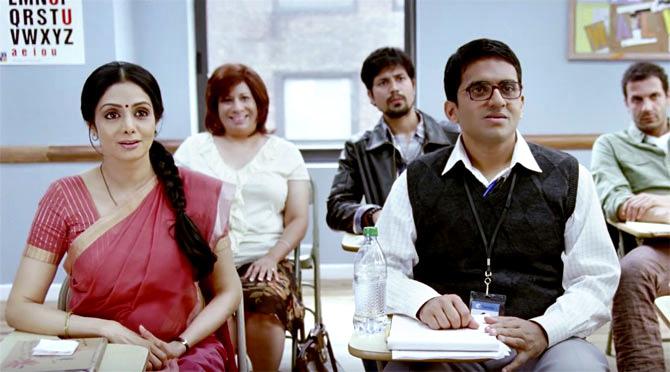 IMAGE: Sridevi with Rajeev Ravindranathan, the Tamilian student, in English Vinglish.
We shot English Vinglish for almost a month -- 15, 20 days in Mumbai and the rest in New York.
In one of the scenes where I receive a call from New York in the middle of the night, I had to walk to the kitchen, open the fridge, pick up a bottle of water and walk back to the bedroom while I'm on the phone.
After the rehearsals she said, 'Adil, can I suggest that you don't pick up the bottle of water and instead, ask me to give you water with just gestures.' That way, I would come across as a misogynist.
She brought in those kind of small additions to my character.
Even though we are of the same age, she is very senior to me in Bollywood.
When I worked with her, I felt absolutely comfortable because she was very respectful towards her co-actors.
She made me feel comfortable instantly.
Like I said, she may have been quiet, but she did not block out people. She would absorb the things around.
Sridevi was an actor who had mastered the craft of communicating with her audiences.
She embodied a kind of technique which she must have experimented with and found out that the root lies in Indian traditional acting like in Koodiyattam, Kathakali, Bharata Natyam and Kathak, where they look at the audience and perform.
Even if there are others performing, they don't look at each other.
So she would look at the camera and perform because she knew that the camera is the eyes of the audience. She knew how to use it. This is my reading of her.
A bad actor will face the camera very untruthfully, but when Sridevi faced the camera, in spite of talking to somebody else in the scene, she managed to make sure her eyes are seen. That's a very difficult technique to master.
Modern actors like me have been trained in the Western method of acting. We imagine a wall between the audience and us, so there is a sort of disconnect with the audience.
When you see Hollywood and Indian films, the fundamental difference according to me is that we disconnect from our audience and don't let the audience peep into our lives.
But Sridevi reaches out to the audience. And she does it very skillfully. Most actors in India don't know how to do that.
Indians probably love Sridevi more because she has always respected the audience. And yet, like Western actors, she has also retained her honesty and connected with her co-actors as well as her audience. That's very unique.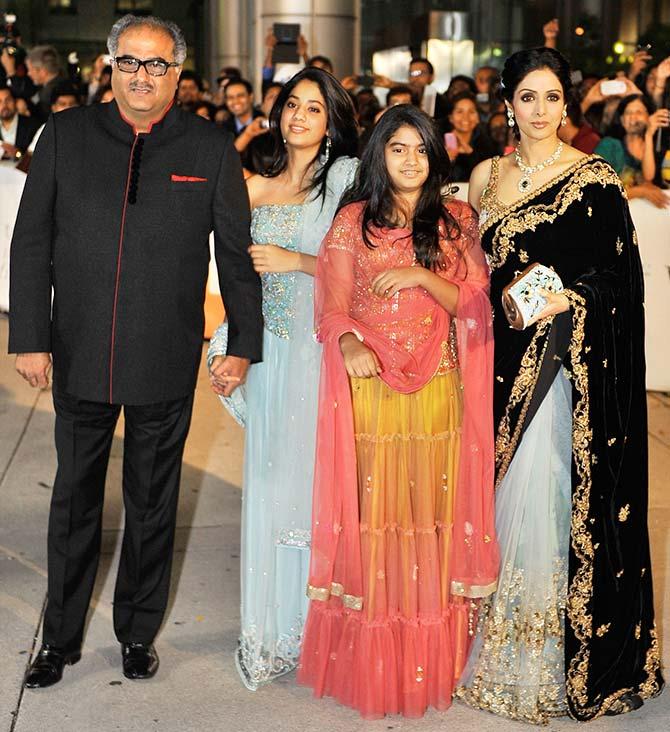 IMAGE: Boney Kapoor, Jhanvi, Khushi and Sridevi at the Toronto International Film Festival, September 14, 2012. Photograph: Jag Gundu/Getty Images
Sridevi was a responsible mother.
I have heard her talking about her daughters. Once in a while, they came on set. She would make sure she had time for them.
I think that's why she could play a mother so wonderfully (in the film). She was a wonderful mother in everyday life.
She was always punctual on sets. She was a spontaneous actress and would only rehearse for her movements in front of the camera.
I met her a couple of times publicly after the shoot as well -- once at Gauri Shinde's residence, where we met to celebrate the success of English Vinglish.
We spent the entire evening laughing. We shared jokes about how the group in the English language school behaved. One of the actors wanted to face the camera more (than the others).
And then, there was Rajeev Ravindranathan, who played the Tamil character. He would make Sridevi crack up all the time. He would imitate other Southern actors and she would not stop laughing.
I also went to the Toronto International Film Festival with her, and also met her at the MAMI opening ceremony last year.
That was the last time I met her. It was a very short meeting; we just greeted each other.
She is always with her entourage. People always flock around her.
English Vinglish released in 2012. She was never sick when we shot.
The only time she fell ill was when it suddenly snowed in October in New York. We were shooting the climax, which was in open air, at the wedding ceremony. She had a cold, but she shot even then.
That day I remember I cooked for the cast. I made Rogan Josh, Assamese fish curry with salmon and mashed potatoes in mustard oil.
She loved the food.
I was a fan of Sridevi even though I haven't seen a lot of her films. Her Southern films did not release in Assam, but I have seen her Hindi films like Sadma, Mr India, Chaalbaaz, Chandni, Nagina...
My favourite films are Sadma and English Vinglish.