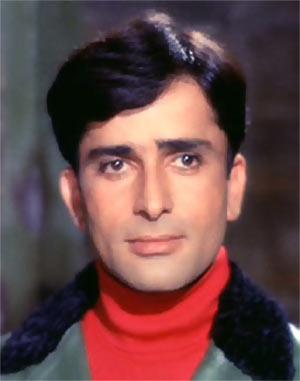 Yesteryear's heart-throb Shashi Kapoor will get the prestigious Dada Saheb Phalke award for his contribution to Indian cinema.
On this occasion, we reproduce Dinesh Raheja's nostalgia piece on the actor here:
In a career that spanned a quarter century, Shashi Kapoor could have coasted along with his blue eyes, blue blooded Kapoor heritage and easy charm, which he flitted through moneyspinners like Jab Jab Phool Khile and Chor Machaye Shor.
But Shashi Kapoor believed in pushing the envelope, while remaining rooted in commercial cinema.
Right from the 1960s, Shashi did pivotal roles in some much-discussed English films like [Ismail] Merchant-[James] Ivory's Bombay Talkies and Heat And Dust, as well as Conrad Rooks' Siddhartha, becoming one of the most recognisable Indian actors in the West.
Rooks' Siddhartha was esoteric and a little opaque, but fuelled by its bold scenes, it became a cultural landmark.
In Hindi films, too, Kapoor fortuitously believed in ploughing back some of the millions he earned from the multitude of inane potboilers he starred in to produce films with the likes of Shyam Benegal, Aparna Sen, Govind Nihalani and Girish Karnad.
This actor who became the 1960s-1970s icon of suave was born in 1938 as Balbirraj Kapoor, the youngest of Prithviraj Kapoor's brood of three sons and a daughter. Young Shashi imbibed the art of performance at an early age as he toured the country along with his thespian father Prithviraj Kapoor and his famous stage company Prithvi Theatre.
Shashi made his stage debut at six. At 12, he had already made his mark with a perceptive performance as the young Raj Kapoor in Awaara (1951).
In his teens, though he couldn't speak English too well, Shashi fell in love with an English rose, Jennifer Kendall. He was working for Prithvi while she was an actress in her father Geoffrey Kendall's repertory company, Shakespearean. After some initial resistance from the families (but with support from Shashi's sister-in-law Geeta Bali) the two were married in 1958.
With a wife and new baby Kunal to support, Shashi looked towards entering films as a hero. Brothers Raj and Shammi were already successful film stars. He was greeted enthusiastically by the industry in the early 1960s with Yash Chopra (Dharmaputra) and Bimal Roy (Prem Putra) signing him on, but the films didn't do well.
Shashi was reduced to medium budget films like Holiday In Bombay with Vijaya Chowdhary and Yeh Dil Kisko Doon with Ragini.
Shashi's breakthrough came with Waqt and Jab Jab Phool Khile, released within a couple of months of each other in 1965. In the latter, he plays an exuberant shikarawala who falls in love with a memsaab but whose spirit is crushed when she transplants him to the city. Shashi was truly endearing in the film. He could project sheer joie de vivre (Humko tumse pyar aaya) or pathos (Yahan main ajnabee hoon). The eternal theme found an echo in Aamir Khan's Raja Hindustani years later.
Heroine Nanda's faith in Shashi -- she signed half a dozen films with him even when he wasn't doing well -- was vindicated by the thumping success of Jab Jab Phool Khile.
Shashi nourished his creative muse in 1960s style fluff like Haseena Maan Jayegi and Dil Ne Pukara.
The Rajesh Khanna wave in the early 1970s did throw a cloud over Shashi's career, despite his finding some success with films like Sharmilee and Aa Gale Lag Jaa. Chor Machaye Shor (1974) with the ringing catchphrase Le jayenge...dilwale dulhaniya le jayenge and crowd-puller Mumtaz as heroine put him back in the saddle.
Though Shashi's solo hero films like Fakira, Chori Mera Kaam, Mukti or Satyam Shivam Sundaram continued to make an impact in the late 1970s, they were overshadowed by the multistarrers he did with Amitabh Bachchan, especially the hat-trick of blockbusters -- Deewar, Kabhi Kabhie and Trishul.
Yash Chopra's Deewar (1975) had Shashi in a role which Rajesh Khanna was originally considered for. It eventually won him the Best Supporting Actor Award. Playing the soldier of truth, Shashi mouths the line "Mere paas maa hai," which went on to become one of the most famous lines of dialogue in Hindi cinema.
But the insecurity fuelled by the pre-Chor Machaye Shor days made Shashi go a little off the rails while signing films in this period. He was in great demand and at one count the number of films he had on hand went up to 100! Expectedly, the quality of some of these films was abysmal.
Shashi, however, diverted some of the ensuing funds to producing the kind of films he wanted to -- beginning with Shyam Benegal's Junoon, where he played with intensity and passion a married nawab who risks all for his love for an English prisoner (Nafisa Ali).
As the illegitimate son of a business family in his next film, Benegal's Kalyug, he played down the angst of the marginalised.
Blessed with a famous sense of humour and with a rare pragmatism, Shashi didn't try to hold onto his youth in the early 1980s. He produced Vijeta for Govind Nihalani and cast his son Kunal as hero and himself as the father. He also bankrolled Aparna Sen's heart-wrenching 36 Chowringhee Lane with wife Jennifer in an unforgettable performance.
Jennifer succumbed to cancer in 1984 and Shashi, who had put on weight to play a supporting part in his Girish Karnad-directed production Utsav, never found the willpower or the nudging of a concerned wife to lose some of that avoirdupois again. Still, he got plum roles in productions like Sammy And Rosie Get Laid and In Custody.
Egged on by friends like Amitabh and Jaya, Shashi directed his first feature Ajooba (what would interest Freud is that it was also fantasy like brother Shammi's directorial venture Bundalbaaz). But Shashi had perhaps misread certain shifts in public taste (romance was in by 1991 when the film was released) and the film flopped.
Today, Shashi Kapoor is a grandfather immensely content to rest on his laurels, having long since waved the white flag and surrendered totally to the Kapoor tendency to put on weight.