'An actor is someone who fills the space between the director and the audience.'
'So when I see a script, I ask myself: Will the audience like this story?'
Like one does about every actor, I had a certain impression about Sharafudheen before this interview happened, says Divya Nair/Rediff.com.
I remember enjoying his small but significant role as Girirajan Kozhi in Premam (2015) and then not recognising him as Benjamin Louis in Anjaam Pathiraa (2020).
As we spoke over the phone, Sharaf warmed up pretty quickly as we talked about films, the actors and directors he's worked with and his recently-released film, Aarkkariyam, shot during the pandemic, in which he plays a significant role.
Coming from a family with a non-film background, Aluva-born Sharafudheen is happy with the way his career has shaped in the last few years.
After making guest appearances in comedy dramas like Neram (2013) and Ohm Shanthi Oshaana (2014), he finally got his due in Alphonse Puthren's Premam, starring Nivin Paul.
Although Sharaf started off as a comedian in 2013, it is films like Varathan, Happy Wedding (both released in 2018), Anjaam Pathiraa and the more recent Aarkkariyam, where he shines as a versatile actor.
Did you always want to be an actor?
I have grown up watching films. You can call me a cinema bhraandhan (someone who is crazy about films).
I'd watch two to three films in a day across languages -- Tamil, Malayalam, Telugu, Hindi...
Growing up, I always thought I did not have the looks to become an actor. Since I loved films, I thought maybe I could become a film-maker.
But (director) Alphonse (Puthren) and one of my teachers, Maya miss, always encouraged me and said I should become an actor.
It was Alphonse who encouraged me to attend auditions with (actor) Siju.
How did Neram, your first break, happen?
I knew Alphonse Puthren since my school days.
Although we were not in touch, we were part of the same circle of friends. Alphonse and Kichu (actor Krishna Shankar) knew each other from college.
We all met at a tea shop in 2008-2009.
When I came to know that Alphonse was planning to make a film, I told him I would like to play a role in it. There was no audition. He just gave me a role like he promised.
That's how Neram, my first film, happened. One thing led to another and I started getting work.
Although Neram is my first film, people actually noticed me in Premam.
Until then I always thought I'll be a 'company actor' (supporting actor). But, thankfully, after Varathan and Halal Love Story (2020), I have been able to do some good roles with a range of actors and directors.
You were doing successful films as a comic actor. Was it a conscious choice to move to serious roles?
I feel all our decisions are conscious ones.
I know a lot of people saw me in a non-comic role in Varathan. But, technically, it was Aadhi (2018), which also stars Pranav Mohanlal, in which I played a different character.
I'd like to believe that people liked my performance, so it gave me the confidence to take up new roles.
After the success of Varathan, I did Carbon (2017), Halal Love Story and Anjaam Pathiraa, all of which were different from each other.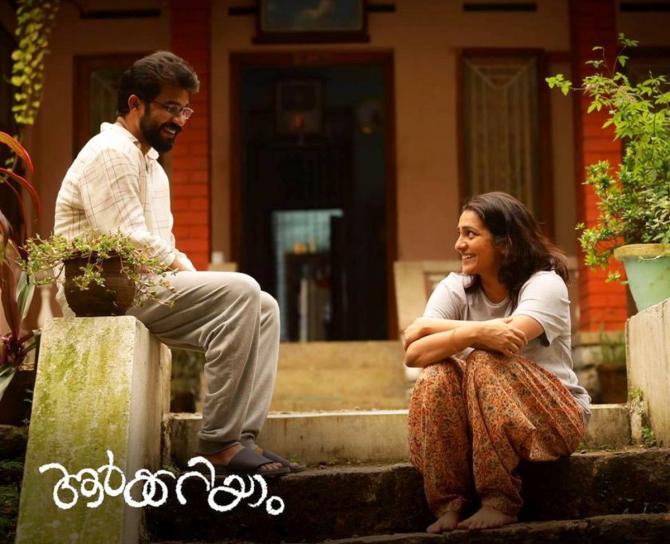 What did you like about Aarkkariyam? Why did you choose to play Roy?
I have learned that an actor is someone who fills the space between the director and the audience.
So when I see a script, I ask myself: Will the audience like this story?
Two things really helped me take up Aarkkariyam.
The script was obviously a deciding factor. Besides that, I was going to work with Biju Menon and Parvathy so it was a big opportunity for me as an actor and also for my career.
The other factor was the film came to me during COVID, so I saw it as a personal challenge and a step in the right direction.
What kind of precautions did you take on the sets?
We shot the movie in 32 days. Usually, during shoots, we have friends or well-wishers dropping by. But this is the first time we didn't step out for anything.
The shooting was in Kanjirapally in Kottayam (Kerala). All of us stayed near Palayil and travelled by car.
The shoot began only after everyone on the set was tested negative. Thankfully, there were no surprises and we were able to finish the shoot on time.
How was it working with Sanu John Varughese?
Generally, the first few days are very confusing for everyone on the sets. It was the same for us.
But Sanu is a very experienced guy. He would explain the requirements of the character and the situation. He wouldn't stop talking until the camera rolled on.
The advantage is it kept us involved and connected with the character. Personally, I got to learn a lot from him.
I am going to use a lot of the advice I got on the sets in the future as well.
How was it working with Parvathy and Biju Menon?
I have worked with Parvathy before. But this was the first time I was sharing space with Biju Menon.
They are both professionals.
We shared a good relationship on the sets. But since we were shooting in a tight set-up amid restrictions, our interactions were mostly professional and serious.
Who is your favourite actor in Malayalam cinema?
I have watched all the films of Lal Sir (Mohanlal) and Mammooka (Mammootty).
Just like how people relate cricket in India to Sachin Tendulkar, my love for cinema comes from Lal Sir and Mammooka.
Does nepotism exist in the Malayalam industry?
Frankly, I cannot comment. Maybe it is there, maybe not. I am not aware.
If you ask me, no one in my family is even remotely associated with films. I got my first film thanks to Alphonse, who happens to be a friend.
I have auditioned for multiple films and got rejected also. But today, when people call and appreciate my work, I feel really happy and proud of the way things have worked for me.
Recently, (director) Blessy Sir had called to appreciate my role in Halal Love Story. I told him, 'Sir, I had auditioned for your film Pranayam (2011)' and we both laughed about it.
That's how much things have changed.
I have had my share of struggles, but I am happy now.
I have auditioned for a lot of directors, some of whom have acknowledged my work in recent times.
I am fortunate to have worked with some of the best actors and directors in a short span of seven to eight years. I'd like to believe there is room for all. And I am here to do good work.
I have worked with Lal Sir, Prithviraj (Sukumaran), Fahadh (Faasil), Nivin, Tovino (Thomas), now Biju Menon. I want to work with Mammooka and Dulquer (Salmaan) too.
Which actor and director are you most comfortable with off the sets?
I share a good rapport with all the directors I have worked with. But Alphonse is a friend so our equation is different. Similarly, I get along really well with (actor) Siju Wilson.
We've gone for auditions together and been rejected as well.
Today, after shooting a scene, we can actually tell each other, 'Aiyye, what bad acting that was!' We can't do that with everyone. But Siju and I are good friends; we take each other's criticism and feedback positively.
Has any actor made you feel conscious on the sets?
Before working with Lal Sir, a lot of people told me that he is a cool person, very friendly and easy to talk to.
Since I have grown up watching Lal Sir's films, I could never really let my guard down. I was full of respect for him.
We hardly had any personal interactions in the first schedule while shooting for Munthirivallikal Thalirkkumbol.
During the second schedule of the film, Lal Sir came to me, shook my hands and said: 'I watched your film Happy Wedding. You guys were really good.'
It was like a huge compliment for me -- to be appreciated by one of the actors I have always admired.
Do you watch Hindi films?
I watch all kinds of films in all languages.
I am a huge Shah Rukh Khan fan.
I even clicked a picture outside his residence, Mannat, in Mumbai.
Apart from Mohanlal and Mammooty, which Indian actors do you like?
I liked the late actors Thilakan and Irrfan Khan.
I also admire Naseeruddin Shah, Nawazuddin Siddiqui, Manoj Bajpaee, Suhasini (Mani Rratnam) and, recently, Tillotama Shome.
After the success of Drishyam, we saw a lot of thrillers in Malayalam. Do you think this trend is going to last for some time?
The audience loved Drishyam, so maybe it started a trend. But good thrillers have been made before as well.
It's always good to have a healthy mix of genres.
Right now, there is a Telugu film called Jathi Rathnalu; it's a comedy drama and it is doing really well.
We are going through tough times so I feel our audience really can do with some light comedy right now.
What's next for you?
I am working on Priyan Ottathilaanu. It's a comedy.
There are a couple of other films too for which I am shooting.
One shoot is in Chennai. Another film will be announced in a few days. So I am excited.
Is there a dream role that you'd like to play?
Although I have worked with Lal Sir before, I'd like to do a good, full fledged comedy film with Lal Sir and a significant role with Mammooka.
I would also like to do a film with Dulquer. I have not worked with him yet.