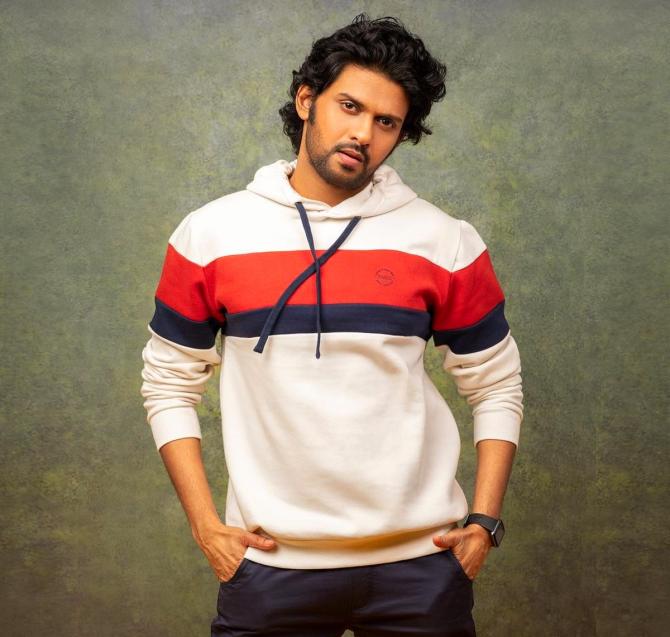 After the super success of Jathi Ratnalu, Naveen Polishetty speaks to Subhash K Jha about his newfound stardom.
Naveen, were you surprised by the huge success of Jathi Ratnalu?
Was I surprised? No, not really.
We were supposed to release this film in the summer of 2020.
The only reason we waited so long and did not opt for the OTT option is because we had complete faith in our product.
You mean you knew Jathi Ratnalu was a winner?
Yes. We knew once the film released, the audiences would laugh their heads off.
This is why the producers took a risk and did not release the film on OTT. They were confident about their content.
What surprised us was the scale of the success.
At this point in time, we were not sure people would come out of their homes.
But, two days before the release, the advance bookings were almost full.
We knew we had success in hand. How big a success, however, we couldn't have guessed.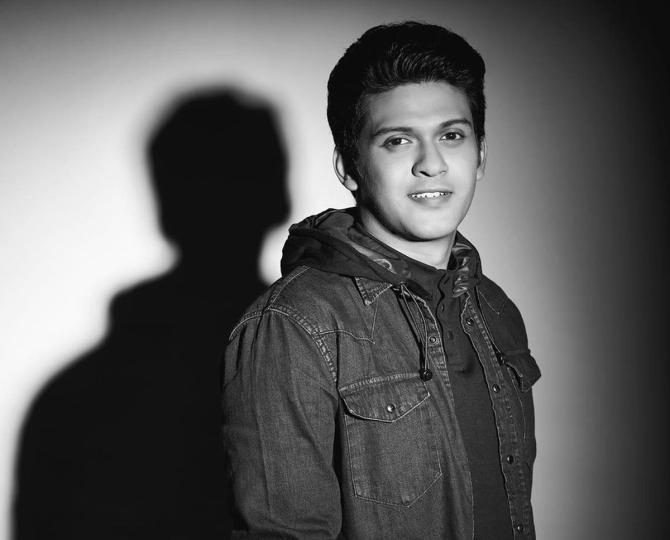 What was your reaction to the opening collections?
It was beyond anything we expected. At the theatres on opening day, we couldn't hear a word of the dialogues on screen. The audiences were that excited! They were dancing in even the multiplexes.
They were laughing, yelling... This is the kind of community experience in movie theatres that I had seen as a child. This is what made me fall in love with cinema. This is what made me want to become an actor.
People forget their worries for two-and-a-half hours and just enjoy themselves.
They laugh, they have a good time and they go back home. This, to me, is what cinema is all about.
What has the response been on a personal level?
Oh, I've received so many phone calls from distributors.
In small towns after a year -- or why just one year, after four years -- they are seeing Houseful boards.
Friends and relatives are calling me for tickets.
It's been years since we experienced such excitement for a film.
Why should we watch films in theatres? Jathi Ratnalu had provided the answer to that.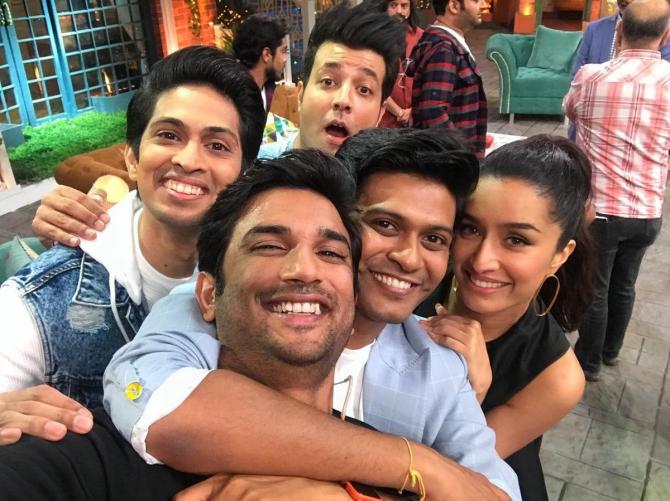 Jathi Ratnalu is crazily funny and smart. How did you become a part of it?
The producer, Nag Ashwini Sir, called to tell me there's a film that Anupdeep Sir is directing and that he wanted me to be part of it. He said he could think of no one but me for the role.
When I read the script I found it very satirical, very funny.
I was shooting for my Hindi film, Chhichhore, when I was offered Jathi Ratnalu.
I was looking to do an out-and-out comedy. I found it fitted that space perfectly.
In my last Telugu film, Agent Sai Srinivasa Athreya, I played an intelligent detective.
In Jathi Ratnalu, I was offered the role of a dumb guy. So it was a complete change of image for me.
Tell me about your camaraderie with your co-stars Priyadarshi and Rahul Ramakrishna in Jathi Ratnalu.
When I read the script, I knew I had to do some kind of workshop or rehearsal to show that kind of closeness with them.
Luckily, when we met, we hit it off instantly.
So now when people say they haven't seen this kind of bromance on screen in a long time, it feels good.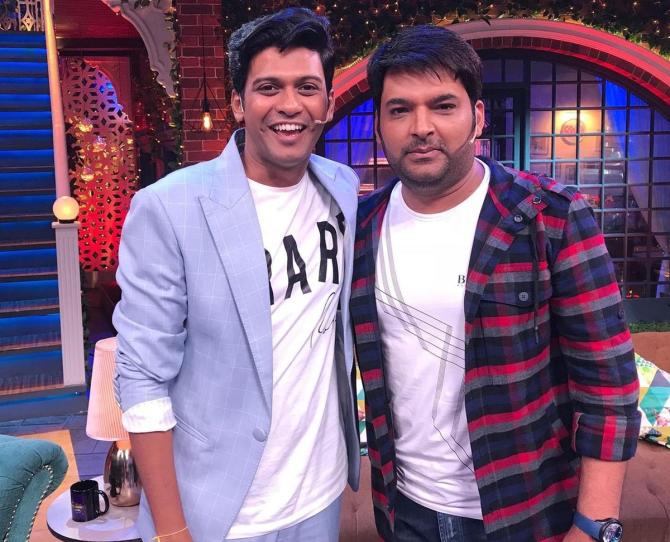 The dialogues of Jathi Ratnalu are crazily funny. How much of it was improvised?
Oh, lots! The director, Anudeep, gave us the freedom to improvise and we made full use of that freedom.
For example, Anudeep and I wrote the courtroom climax scene together.
Once he decided he wanted a courtroom climax, we sat down and he gave me the freedom to go crazy with all of that gibberish on global 'warmation', etc.
The whole theatre was shaking with laughter during that sequence.
If Anudeep had not allowed us to improvise the climax or, for that matter, the other funny scenes, they wouldn't have been so funny.
How has Jathi Ratnalu changed your life?
Oh my God! It has changed my life completely.
I come from a normal middle class family with no connections in the film industry. And I had the audacity to dream of becoming a lead actor in mainstream commercial cinema!
It was a challenging journey.
When a film like Jathi Ratnalu comes to you and it becomes a certified blockbuster despite the pandemic, I do feel a sense of achievement.
In the US, it is the only Indian film to have grossed more than a million dollars despite only 25 per cent theatre occupancy.
In India, the box office numbers are insane. It released with seven other films and still did Rs 70 crores during pandemic times.
To have your second feature film in Telugu create this kind of impact is a dream come true.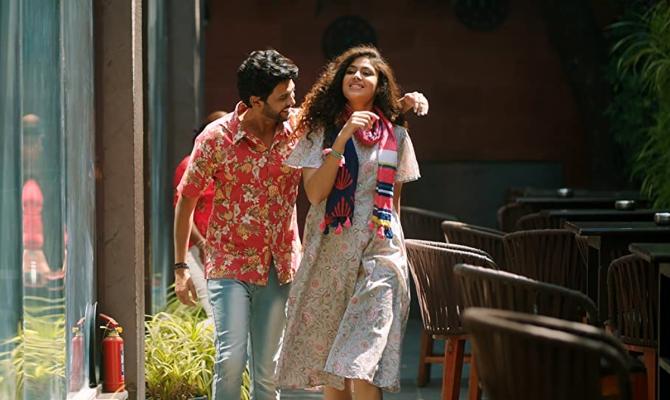 What does it prove to you?
It proves that we aspirants from the middle class have the right to dream big.
More than just me, it changes a lot of things for other dreamers from all over India who want to make it big in films.
Now more producers will bet on outside talent.
Thanks to the success of JR, more aspirants will get a chance.
All of us in Jathi Ratnalu -- the actors, cinematographer, writers, music composer -- are young people with dreams.
You are currently in the US. What has the response been to your presence there?
Everywhere I go, it's the same hysteria. I feel I am in a dream.
This is the first time I have been mobbed on this scale.
People have adopted me as one of their own.
One member of the audience told me, 'If someone asks you which family you belong to, tell them you belong to my family.'
I am that hero whose family is the audience.
Right now I am on a tour of America.
People have driven down from Atlanta and Georgia to meet us.
Will I get this kind of love again? This film motivates me to work even harder.
In a way, the audience is the hero of this film. I feel I represent them on screen.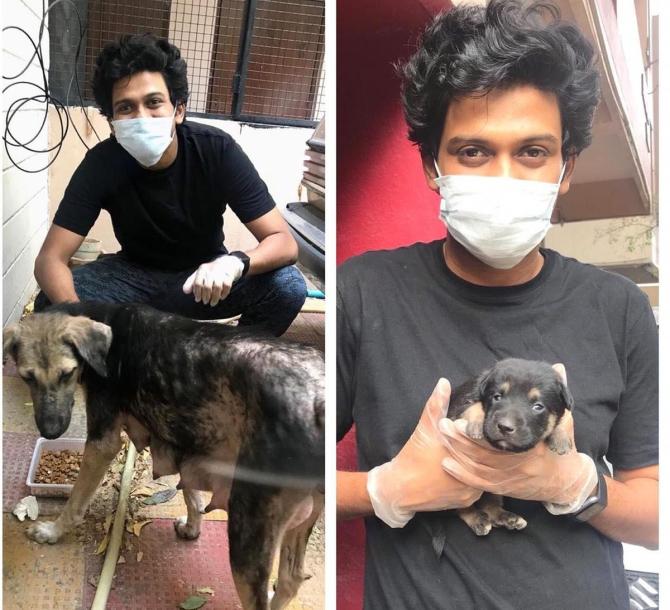 You started as a supporting actor in the Hindi film, Chhichhore. How did you become such an important part of the Telugu film industry?
Well, I started on YouTube in Hindi before Chhichhore. I truly think of myself as a pan-India actor.
When I do a Hindi film, people think I'm from Uttar Pradesh.
When I do a Telugu film, they feel I am from Andhra or Telangana.
I am now learning Tamil, I believe that it's the story that works, not the language.
When my first Telugu film, Agent Sai Srinivasa Athreya, was offered to me, I ended up becoming a part of its screenwriting team as well.
When that became a hit, more doors opened up for me.
Right now, I am working in Tamil, Telugu and Hindi.
That's the great thing about cinema. You can tell a story in any language you want.
A language is just a tool of expression. That's why people were watching so many films in so many different languages during the lockdown.
With Jathi Ratnalu being such a blockbuster, I am happy to be working in different languages.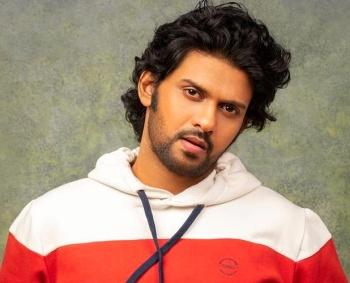 Feature Presentation: Rajesh Alva/Rediff.com