'Maharawal Ratan Singh's situation is very similar to Shahid's situation in Padmaavat, as an actor.'
'I was pitted against very high odds, in a very unlikely situation, and I had to somehow come out with flying colours.'

IMAGE: Shahid Kapoor as Maharawal Ratan Singh.
Shahid Kapoor feels relieved. And very, very, happy.
Padmaavat has finally released -- "I'm still in shock!" he exclaims -- and it has already crossed the Rs 100 crore (Rs 1 billion) mark at the box office.
Dressed in a grey T-shirt and white shorts, the actor has invited selected media to his office, just down the street from his home, to talk about the film.
Cream walls offset brown wooden furniture in the office. A portion of the wall has a range of cameras, while another has a movie projector.
"It's all picked up by my wife," Shahid says, referring to his pretty wife Mira Rajput.
One corner of the office has a bookshelf, with Ayn Rand, Ruskin Bond and Vikram Chandra on the shelves.
Shahid has a busy evening ahead. After the interview, he has to rush to Parel, a two-hour drive in peak Mumbai traffic, to be the showstopper for Anita Dongre's show at the Lakme Fashion Week. Mira will join him, making her debut on the ramp.
As he tucks into a bowl of poha, Shahid discusses the magnum opus he just starred in, and the controversy that preceded and followed it.
Rediff.com's Ronjita Kulkarni listens intently.
Did you ever think Padmavaat would not release?
There were moments when I felt the film would not release. But then I thought 99 percent it will release.
I'm still in shock.
What did your father Pankaj Kapur say after he watched the film?
When dad likes my work, he gives me a long hug and then pulls my cheeks.
Then he says "aaram se". We will sit and chat over coffee. And that's what he did.
But that chat didn't happen yet because I'm promoting the film.
Even today, he was asking, 'When do we sit otherwise I will forget half the things in the film!'
Were you apprehensive about working with Sanjay Leela Bhansali who is known to be a taskmaster?
When Sanjay Sir met me at home, he looked at me and said, 'Shahid I have heard a lot about you.'
So I looked at him and said, 'I have also heard a lot about you.'
And we both laughed.
The journey was amazing.
His need to excel, to achieve his benchmark, is an endless desire for him. And he works day and night at it.
He has no limitation, he will go on till he has achieved it.
Some people tend to take this negatively and say that he is very difficult to work with. But then, these kind of people should not work with him because their benchmark isn't as high as his.
People who don't have a long-term focus find it hard to work with him, and they really should not.
I had a lot of fun working with him. He's a mad genius.
Either you stay with him or you get left behind.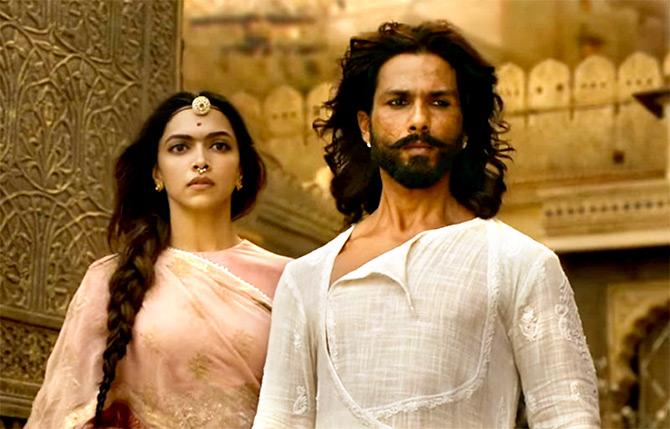 IMAGE: Deepika Padukone and Shahid Kapoor in Padmaavat.
What conversations did you have with him during the troubled times?
We were all in shock, disillusioned, disheartened.
The intent of the film in our minds was very clearly to glorify -- I wouldn't say only the Rajputs -- but also Indian culture because the film is about an invader who comes to India to fight an Indian king, only to acquire the queen.
The Rajputs represent India, in our hearts we saw it like that.
The intent was to show the glorious sacrifice that was made, the valour, the grit, when you are pitted against a large enemy.
But a very different version was given out.
The only thing we wanted is for the film to be seen.
Watch the film and then see if something has been shown wrong. Don't judge it before.
It was very tumultous, and took a toll on all of us.
How challenging was it to do this character, Maharawal Ratan Singh?
Very challenging.
Maharawal Ratan Singh is the least known character among the three (leads).
Historically, not much has been written about him.
Now, all of us know a little about history -- some may know more than the others. So people know Rani Padmavati and Allaudin Khilji, but most people don't know about Maharawal Ratan Singh.
So you have to introduce them to a character, who is underplayed and doesn't speak much, in a film with two author-backed characters. It is a big challenge.
Maybe four years ago, I wouldn't have had the security and the confidence to take it up.
But when it came to me, I looked at it as a challenge. And it has taught me a lot as an actor.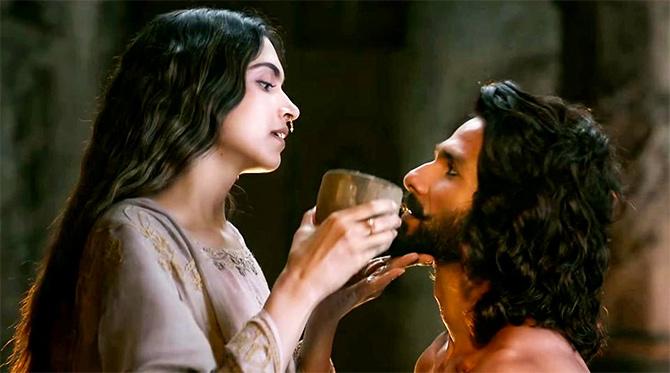 IMAGE: When Deepika's Rani Padmavati falls in love with Shahid's Maharawal Ratan Singh.
Please go on.
I did not talk to people till two days after the film released -- actually for the one- and-a-half years that it was filming, I gave no interviews about this character.
I never even said he's the hero of the film because it shouldn't seem that I'm saying that 'main hero hoon', and so that does that mean Ranveer (Singh) isn't the hero?
I didn't want those controversies. I wanted my work to speak for itself.
I waited till two days after the film released to step out and talk to people.
I wanted to see if the effort I took to avoid talking to people about this would be felt by everyone. And I am happy because I got a very different reaction this time.
See, everyone thinks actors are very privileged, and to an extent we are.
People feel he got such a good role, so he would obviously do a good job.
This is the first time people felt that I had limited opportunity, and that it was very brave of me to take it up.
I would give a lot of credit to Sanjay Sir because it's not possible for me to pull that role off without his support and love.
But yes, it was the most limited of the three characters in terms of range. It had a defined space and I had to somehow max that space.
And this character, without saying much, had to match another character who was all out there, asking for attention.
You were also new to this team of Bhansali, Ranveer and Deepika Padukone, who have done two films earlier.
There are certain film-makers and actors who complement each other. And I know this team does that for each other.
So to enter in that role, in that team, at that point in my career was something most people would say is the stupidest decision of my life.
But I felt it was the toughest decision of my life.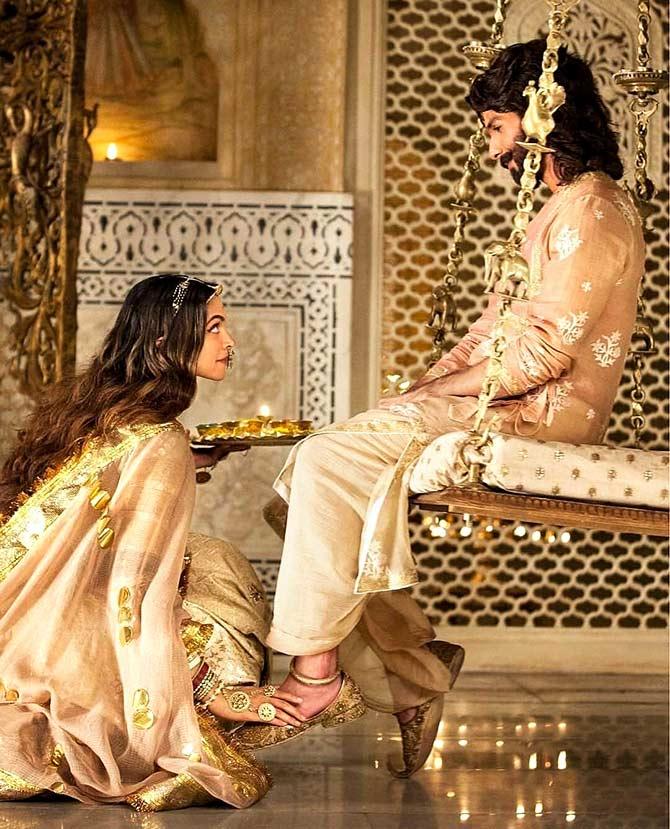 IMAGE: Deepike and Shahid in Padmaavat.
What gave you the confidence to go ahead with it?
Maharawal Ratan Singh's situation in Padmaavat is very similar to Shahid's situation in Padmaavat, as an actor.
I was pitted against very high odds, in a very unlikely situation and I had to somehow come out with flying colours.
My life has always been like this.
I have always had to work very hard to get opportunities.
I have always had to wait longer than most people to hit milestones.
But I view it like this: God has given me opportunity to learn.
He has given me the destiny of a student because I have never given the same exam twice.
Every time, it has been a new challenge and that adds to my experience.
I knew this opportunity would be very tricky and that I could go horribly wrong. And I didn't need to do that to myself at this stage because I am coming from Haider and Udta Punjab and people already think that I am good.
But I need to participate in this film because the opportunities that would come to me after this would become bigger.
Every actor, who has worked with Sanjay Sir... he has taken them five steps from where they were (in their career).
There is a sudden jump in people's perceptions, in the number of people they reach out to.
I wanted to be that guy because I was the hero of the film.
So I knew I had to give a very big test for a big outcome, because I knew it wasn't a 'single hero film'. (Laughs.)
Did you know it would be a Rs 100 crore film?
I knew that when I signed the film.
If it didn't do that, it would be a disaster.
Of course, by the time we reached the release, we were scared about everything.
We forgot that it was a big film, that we had been working on it for a year, the big cast, Sanjay Sir... bas itna lag raha tha ki release kar do yaar (we just wanted it to release).
But the bigger question is: Can I take ownership of this film?
Can I stand tall and say that it was a good decision that I took?
How will I make my presence felt against the titular role and an author-backed villain?
Also, these days, the characters played out are edgy, dark, negative, it's very attractive.
It's been a long time since someone has played a really nice, credible guy who is also very attractive!
I don't know what that says about us as an audience, but it is the truth!
I had to go really far back in time to draw references, like Dilipsaab, Mr Bachchan...the roles they did in Mughal-e-Azam and Sholay.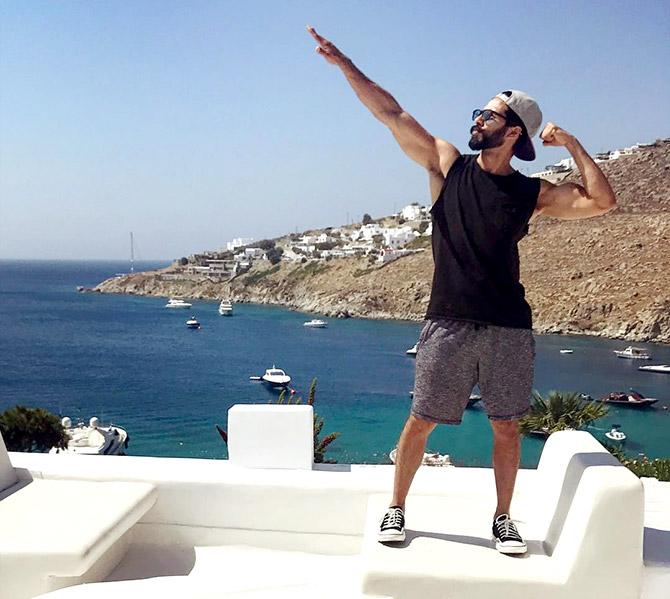 Photograph: Kind courtesy Shahid Kapoor/Instagram
Did you ever want to play Khilji?
Which actor wouldn't want to?
Many years ago, I saw an episode of Koffee With Karan with Ranveer, where he said he would have done Kaminey better than me.
Every actor feels that if he had done it, he would have done better.
Did you have a reply for him for that comment on set?
But I wasn't replying at all, because I was the character who doesn't talk!
I was 'in character'! (Laughs.)
My favourite scenes were the ones with Ranveer because the dynamics between these two characters is so interesting.
Are box office numbers important to you?
Yes.
The biggest directors of this country want to make the biggest films of the country with the biggest stars of the country.
So if you want to work with the best directors of the country, you have to give big numbers.
Otherwise, you won't get the opportunuty.
That's why numbers matter to me because I want to work with the best.
And yet, you do Udta Punjab which will not bring in the big box office figures.
I have my father's blood in me. What can I do?
If a character excites me, if the written word jumps out and touches me, I can't help it. I have to do it.
In my career, I have done two-three bad films back-to-back. I know that when you do good work, then people forgive two-three years (of bad work).
Like, when I did films like Jab We Met and Vivah, they gave a lot of love, and people forgave the three-four mistakes that I made, and gave me opportunities again.
Of course, you have to keep getting better at your job, and make smarter decisions.
So I know that has happened with Padmaavat. I have surprised film-makers.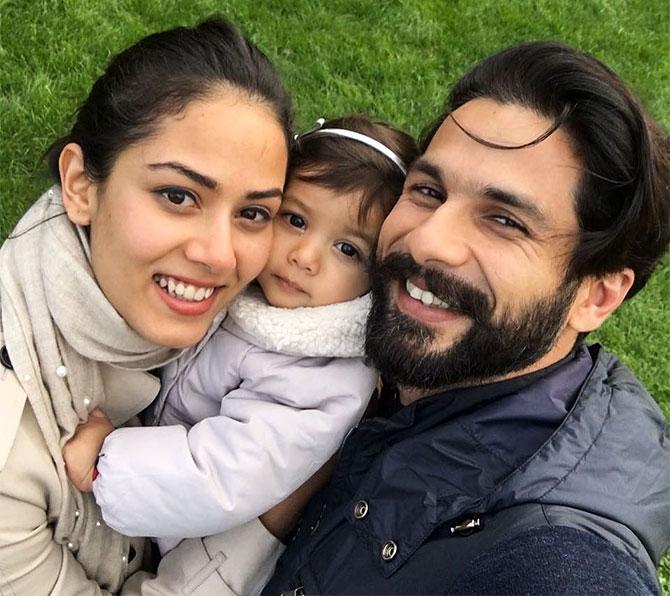 IMAGE: Shahid with Mira and Misha. Photograph: Kind courtesy Shahid Kapoor/Instagram
We seem to have moved beyond the formulaic hero in the movies.
The audience has moved on, but the media and the film fraternity are still stuck with stereotypes.
We still keep reminding the audiences about things that have long become outdated.
We have worked for so many years, and so we think we know.
The one thing I've learnt in the last few years that is none of us know anything.
The audience will give you an answer, but that answer will come after you ask the question. You cannot predict the answer.
Making a movie is asking the question.
The response -- whether you've made the right film or not -- will come only after you have made it.
The problem is that we predict the future and that's the mistake we make.
Your character must have drained you. How did you unwind?
Fortunately, I have Misha.
It takes me 30 seconds to forget everything when I see her smile.

IMAGE: Misha makes Shahid's Sunday happy! Photograph: Kind courtesy Shahid Kapoor/Instagram
Any beautiful memories of Misha during Padmaavat?
She came one day on the sets, we were shooting the Sinhala forest scene (it is the scene where Shahid's Maharawal Ratan Singh meets Deepika's Rani Padmavati for the first time).
She played in the mud like nobody's business.
We had to stop the shot for 20 minutes because she refused to leave the frame!
The other moment was that when I took my beard and mooch off, she didn't recognise me for two hours. That was traumatic!
She was like, he sounds like my dad, but doesn't look like my dad. She was very troubled.
I hope someday she grows up and sees the film and enjoys it, and understands it.
How does she react when she sees you on TV?
She doesn't see much TV. She's too young.
I think she thinks everyone's papas feature on magazines.
Whats your biggest takeaway from your character?
There are certain characters that you want to forget because of whatever reasons, like Haider or Udta Punjab.
I want to hold on to this character because I really look up to him.
There is a lot he taught me.
I really had to delve into myself to understand... it's really easy to just act.
But if you want to truly feel it, you have to really question yourself to see how you would understand a man in that situation, and behave like that.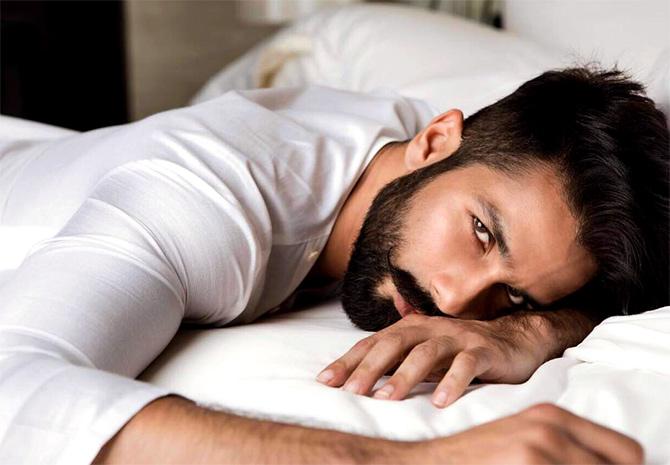 Photograph: Kind courtesy Shahid Kapoor/Instagram
How similar was Shahid to Maharawal Ratan Singh?
He used to listen to his wife, like I listen to mine.
What do you have to say about the ongoing debate on jauhar?
I respect everybody's point of view.
The film should be seen in the context of the time, the socio-cultural atmosphere, and the reason why the act was committed, whether it was enforced or not, and why a certain character in history is viewed in such a glorious light over so many centuries (Padmaavat is set in the 13th century).
And people still pray to her today.
If it wasn't worth glorifying, why do people still pray to her?
What was the choice for that character?
Let the plunderer come and do what they want or to hold your dignity and walk away? That's the context of the film.