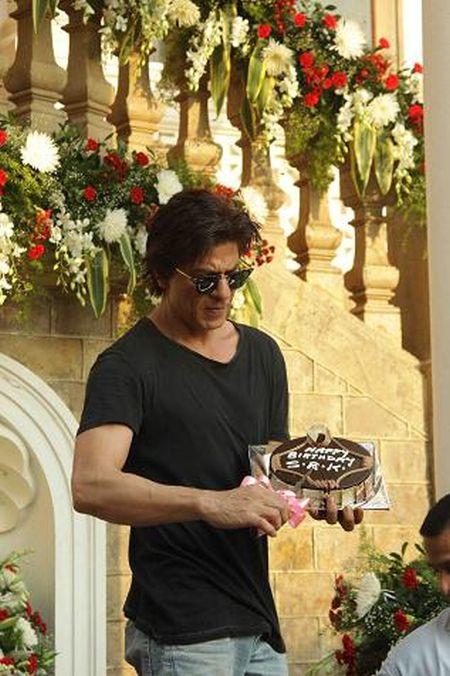 'I am proud that I am an outsider and have been able to survive for so long in a place that has been very loving but also quite harsh,' Shah Rukh Khan tells the media on his 49th birthday. Rajul Hegde listens in.
Shah Rukh Khan celebrated his 49th birthday on November 2 with the media, and the many fans who had gathered outside his home, Mannat, in Bandra, a posh western suburb of Mumbai.
He waved, blew kisses and then cut his birthday cake.
Then, he spent an hour chatting with the media.
Excerpts from a conversation:
How have you spent your day so far?
I came back from work from Jaipur and slept well. Now I am feeling good. I will celebrate with my children. I was playing with AbRam.
This year my film Happy New Year has done well, so there's a double celebration. Sometimes when my films don't do well, I get sad.
You have turned 49. What are your thoughts?
I don't understand age at all.
Physically, I feel better and work-wise also I have more energy. From tomorrow, I will starting working on my film Fan.
I don't know what one is supposed to feel as one gets older. Is one supposed to get fatter, or is one supposed to have less energy? I don't know. The more I grow, the younger I feel.
I can go to the rooftop and pray that may everyone gets a life like Shah Rukh Khan because my name has been a brand now. And I am not showing off.
How has your birthday celebrations changed over the years?
Initially, there were seven-eight mediapersons, who would celebrate birthdays with us. But in the coming years, I have been celebrating with all of you. That's very humbling.
Every year I think the next year will be not the same. Next year, I will turn 50. Every year, the love increases. And for that, the police and my neighbours get disturbed, so I am sorry for that.
Do you remember your birthdays during your younger years in Delhi?
I never celebrated my birthday in Delhi. In school, I would take Parle-G toffees or samosas or sandwiches and distribute them.
You had a birthday party last night.
Last night, for the first time, my children Aryan and Suhana attended my birthday party with their friends. There was a Halloween party too. I felt so proud because both of them were taking good care of the guests. My children are very well-behaved and honest. That's the biggest gift.
They used to give me cards before but that has stopped. I guess that's the best relationship I have because I work for them and do not expect anything in return.
A director friend asked me in the party last night, how I get my best high. My best high is when I'm with my children.
Both Aryan and AbRam have done cameos in your films. When will we get to see your daughter Suhana in a cameo?
Suhana is very shy. I have always said that she is the only one, who wants to be an actor. And I hope she does.
But first, she needs to complete her education.
You achieved stardom without a godfather in the industry.
I am proud that I am an outsider and have been able to survive for so long in a place that has been very loving but also quite harsh.
Will we ever see you in a biopic, playing yourself?
It is awkward to think that I am somebody important and that I should play the role. I don't think my personal life is so important that there should be a story on it. There are big guys like Amitabh Bachchan, Kishore Kumar, Lata Mangeshker and Dilip Kumar... you can write a story on their lives; it will be more interesting. I am too small a person to write a story about and to cast in it. I have a long way to go.
How do you choose your films?
Professionally, there has always been a dichotomy. Should I do a commercial viable film? If I don't, there have been lots of instances when I am told not to do offbeat films because people look forward to my happy blockbuster films. When I do, they ask why aren't you doing more intense movies?
Each film takes time. I would like to strike a balance as an actor and do two films a year. Sometimes, I feel I should be more involved as an actor and there are others days when I feel I should be more involved as a star. And I am greedy and I want to do both. So that dichotomy continues.
When I did Happy New Year, I had a shoulder injury. Now that I am healthy, I want to do two films a year. But not at the same time because it would be unfair to everyone.
Dilwale Dulhania Le Jayenge is going to complete 1,000 weeks very soon. How will you celebrate it?
When I spoke to Kajol two-three days ago, she said they have an edited footage of 20 minutes. They may have an interview with that edited version.
It's more than a film actually. When I meet girls and boys today, they say they have gotten married because of Dilwale Dulhania Le Jayenge. There is so much love for the film, and so much to learn from it. Running for 1,000 weeks is a milestone. I think it is the second longest running film in the world, after a Chinese film, if I am not mistaken. Yes, there will be celebrations. I am sure Yash Raj Films will do something for the film.
What are your thoughts of the new government and what changes would you like to see?
Don't jump the gun and start saying they are fantastic and then six months later, say they're not good.
They should be given a chance. Give them two years. We should allow them to function for a couple of years. I think everyone has good intentions.
On a general level, (the changes I would like to see are) women empowerment, child education, health and cleanliness...
We should allow the people in power to set targets. The country has chosen them democratically and it's an overwhelming majority. That in itself is a big victory for the country. So far, so good.
Photograph: Pradeep Bandekar