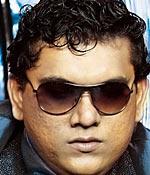 Naseer Khan, the blind actor and co-producer of the film Shadow, has been arrested for his alleged involvement in a multi-crore chit fund scam in Balasore district, Bhubaneshwar, Orissa.
"We arrested Khan from Cuttack. He will be interrogated," Inspector General of Police, Crime Branch, A K Roy told PTI.
Ray said that Khan was among several persons wanted by the CBI in the case. He was one of the directors of Fine India, a chit fund company that allegedly siphoned off crores of rupees from gullible investors in Balasore.
Though Khan had quit as director of Fine India some time back, the CBI had information that money was transferred to a Kanpur-based company from where it was channelled to Mumbai, police officials said, adding the firm later closed its operations in Balasore.
Khan was a partner of an entertainment company which used the funds in making the movie Shadow, they said. The CBI had frozen Rs 191 crores in different banks where six chit fund companies had deposited money.