After a great performance in Rock On!!, Sahana Goswami follows it up with another great act in Arjun Chandramohan Bali's Ru Ba Ru, releasing today. The Delhi-based actress shares her rocking experiences with Nithya Ramani.
How did you get into the industry?
I moved to Mumbai four years ago with the dream of doing something in theatre. I would be lying if I said I never thought of films. But I never thought I would make it there. I joined this theatre group called Working Title.
Films happened because of my theatre background. That is how I got Naseeruddin Shah's Yun Hota Tho Kya Hota and then, Honeymoon Travels Pvt Ltd.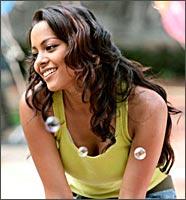 How did Rock On!! happen?
I got a call from Abhishek Kapoor [director of Rock On!!] and Ritesh Sidhwani [producer], who asked me to audition for Debbie's role. I did and got it.
Only Farhan Akhtar was finalised at that point in time.
What was it about the script that impressed you?
I liked the fact that my character Debbie is not like any other girl. She is not the goody-goody type but shows her real feelings. She nags and is a little selfish because she wants to protect her husband [played by Arjun Rampal] from himself. By the end of the film, people sympathise with her.
How was the experience?
It was fun. Everyone was helpful. I was new among experienced people, but they were all very sweet. All of them worked hard and parties harder. They are very serious and focused while shooting.
Farhan has a great sense of balance. He has the sensibility to mould himself into whatever he wants to be. I think everybody has the inherent talent of acting and he has it in abundance. I knew he would be good.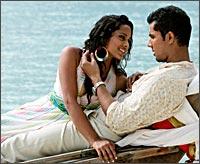 How did Ru Ba Ru happen?
Raj Kaushal approached me and I gave three auditions. Arjun Bali just asked one question -- if I knew how to dance. I said yes and was selected.
Why dance? There was no dancing in Ru Ba Ru.
The Romeo and Juliet sequence in the film was supposed to be a dance drama but later, it was made into a play.
What did you sign first -- Rock On!! or Ru Ba Ru?
Ru Ba Ru.
Why is it that you work with all new directors -- Abhishek and now Arjun?
For me, working with anybody is going to be a new experience. I think a new person will be able to relate with another, who is in the same situation.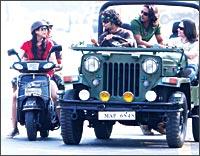 Do you believe in live-in relationships?
Yes. If the two individuals and their respective parents are alright with it, then it is okay. It is better than marrying someone and having a divorce after a few months.
How do you find your Ru Ba Ru co-star, Randeep Hooda?
He is very hard working. He has worked a lot on his aggressive roles and he has made this character his own.
There were no promotions for the film. How do you think you are going to reach out to the masses?
I think this is that kind of a film which works better through word of mouth. I hope it does well and everybody enjoys it.
Has the success of Rock On!! helped you in any way?
Yes, definitely. I have been getting offers.
What next?
There's Sudhir Mishra's Tera Kya Hoga Johnny, Nandita Das' Firaaq and Vinay Shukla's Mirch.