| | |
| --- | --- |
| A still from Rock On. | |
| | |
| | |
| | |
| | |
| | |
| | |
Advertisement
August 28, 2008 18:53 IST


You are young and life is long

And there is time to kill today

And then one day you find that

Ten years have got behind you

No one told you when to run

You missed the starting gun

 

That is -- as we're sure you know -- from Pink Floyd's rock classic Time, just before David Gilmour tears into that heart-wrenching solo.

 

And that's pretty much where Rock On starts off, with a flashback about four friends -- Aditya Shroff (Farhan Akhtar), Rob Nancy (Luke Kenny), Joe Mascarenhas (Arjun Rampal [Images]) and Kedar Zaveri aka KD for Killer Drummer (Purab Kohli) -- winning a battle of the bands talent competition.

 

The movie flits between them as they are now, and then, and what went wrong.

 

You've seen them before: Aditya is an investment banker making potloads of money helping the rich get richer by banking on a booming India; KD sits in inefficiently at his father's jewellery business; Joe clutches his guitar as a failed musician would -- and does pretty much nothing else anyway -- when his wife Debbie (Sahana Goswami) yells at him in a typical Anglo-Indian family. Only Rob has stuck with playing music, doing sessions for directors like Anu Malik [Images] (who puts in a cameo as himself).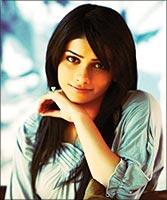 Aditya's wife Sakshi (Prachi Desai) senses something is wrong with her husband and their picture perfect life together. Aditya is a tormented soul, as are his bandmates, flung apart by fate, ego, and formula-fixated music industry execs who would not recognise quality music if it danced naked in front of them.
Sakshi discovers Aditya's musical past through a clutch of old photographs. And she tries to get the band together again, because in those photographs she has seen her husband for real: A far cry from the workaholic zombie he is now. But, as always, there are past demons to be battled, new challenges to be overcome.
As far as the story goes, there is not much. The theme and most key plot points are suspiciously similar to Farhan's explosive directorial debut, Dil Chahta Hai [Images] -- separated friends coming back together when their lives have changed; tension between two buddies over one past incident.
What sets director Abhishek Kapoor's sophomore film apart is the attention to detail, some great ensemble acting, and pure heart. It's a movie that will make you laugh and cry, and realise why man has discovered water on Mars [Images] but not been able to discover a 13th note.
But then, it's not just about music; it's about holding on to what makes you live.
So in the beginning Magik -- yes, that's what the band is called, and don't smirk, because most 20-somethings name bands after some violent neurological disorder or something equally corny anyways -- would play rock versions of Sahso Ki Zaroori Hai Jaise at Navratri dandiyas to make money to buy equipment. They would dream of that one big break.
Now, they must turn back the clock, and the stakes are much higher than the recording contract of 10 years before. The backbone of the film is Shankar Ehsaan Loy's music, and though some  learned critics disagree, I thought it is quite refreshing and true to a raw-band movie, despite Farhan Akhtar's [Images] voice.
But what Akhtar lacks in singing, he makes up for in acting. He portrays superbly a man tortured by the blues after selling his soul to the corporate devil at life's crossroads.
In fact, all the actors put in very good performances. Kenny as a sessions musician whose heart is elsewhere, Rampal as the poor idealist who never learned that self-promotion is more important than music in a remixed world, Kohli as the livewire who never grew up.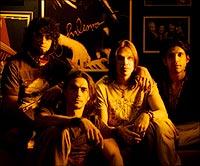 In particular, Goswami and Desai -- the former playing Joe's wife who killed her fashion designer dream to support Joe's family fish business and the latter playing a sensitive wife who realises her husband has withdrawn into a cocoon -- take a bow.  
There are flaws; dandiya gigs can't pay for the wireless transmitter Joe uses on his guitar. Real audiences don't react to songs they have not heard before the way they do in the movie. Life is not as miraculous as it is in Rock On (and every Bollywood movie -- even a realistic film like Taare Zameen Par [Images]).  
But Rock On works -- and how -- because of some fine, understated work from all departments. The camera never lingers long enough on Rampal's fingers to show that he is faking it (to his credit, he has learned chord shapes. And maybe I am prejudiced, having seen the Karzzz [Images] trailer where even from his silhouette it is evident Himesh Reshammiya [Images] can't hold a guitar even if his life depends on it). The best songs -- Tumhari Meri Batein and Sindbad The Sailor -- are reserved for key plot moments. There are delightful little nuggets of humour. The dialogues are very realistic and refreshingly witty.
Because I am not a know-it-all movie guru, I will not hazard a guess about whether the movie will work at the box office, but as a failed musician (I offer two websites, www.summitattempt.in and www.prayagzone.com, as proof), I would like to thank the makers of Rock On for making such a sensitive movie with music as a metaphor for life.
And for underlining life's two key themes: One, that the journey is more important than the destination; and two, as Aditya says to his wife: Compromise toh karna padhta hai.
Rediff Rating: