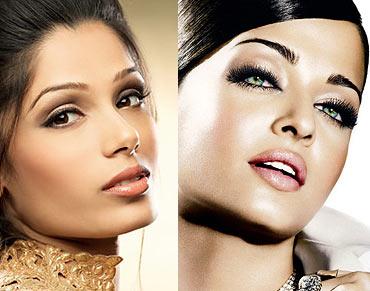 Bollywood celebrity media wars seem to have gone international and viral.

Media all over the world reported that Aishwarya Rai Bachchan had been replaced by Slumdog Millionaire actress Freida Pinto, as the face of cosmetics firm L'Oreal. Now, a company statement is circulating around, claiming it's not true.

Both Aishwarya, 37, and Freida, 26, are 'spokesmodels' for L'Oreal Paris along with Sonam Kapoor, 25, and other international celebrities like Andie Macdowell, Beyonce Knowles, Claudia Schiffer, Jane Fonda, Doutzen Kroes, Eva Longoria, Kerry Washington, Milla Jovovich, Linda Evangelista, Elizabeth Banks, Evangeline Lilly, Diane Kruger, Cheryl Cole, Rachel Weisz, Gerard Butler, Eric Cantona, etc.

L'Oreal Paris says that it has chosen spokesmodels that 'inspire women and men the world over.'

L'Oreal Paris defines Ash as the 'incarnation of Indian beauty'; talks about 'Aishwarya's intelligence, exotic beauty, and unmatched talent'; and adds that 'Aishwarya Rai lends her smile to the Color Riche

Star Secrets range of lipsticks and her immense green eyes to Color Appeal Star Secrets Trios eye shadows'.

It describes Freida Pinto as 'most promising rising star', 'vivacious and precocious young girl' and 'India's very own million dollar baby'.

Sonam Kapoor is the 'fashionista of Bollywood', 'style icon' and 'known for her eclectic style', according to L'Oreal Paris official website.

The media took the hint from L'Oreal's 'Happy New Year' television commercial which starred Freida along with other international celebrities but not Ash, resulting in some claiming that the replacement was permanent and this marked an end to Aishwarya's reign and her demise as India's most successful international film star.

Now a statement from the firm is circulating in the media, which states '...Aishwarya Rai Bachchan continues to be our valued spokesperson, as she has since 2000... she remains an integral part of the L'Oreal Paris world wide Dream Team... She is one of the most iconic women of our times...'

Do you think Ash is still a stunning face to endorse L'Oreal products? Or do you prefer Freida's fresh faced beauty? Write in!