Even those with no knowledge of the inner workings of the media and police would find Scoop absorbing as a human drama and the story of the resilience of a woman, her family and true friends, applauds Deepa Gahlot.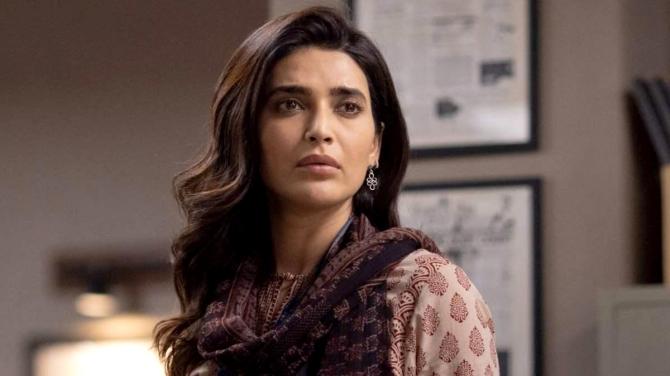 An admiring colleague calls her 'bulldozer without brakes'.
Jagruti Pathak was a tenacious journalist and the world, then as now, tries to trip successful women.
Hansal Mehta had captured the age of greed in his terrific series, Scam 1992 about Harshad Mehra.
He works with the same diligence on his new show Scoop to focus on the time when Mumbai was in the grip of the underworld, and the media just could not help but get caught in the cyclone of corruption and power games.
A character in the show says the press is the fourth pillar of our society and if that pillar crumbles, the whole structure collapses.
Today, when the media is not at its finest, Mehta tries to pinpoint when the news became entertainment and the press merely a business.
When the underworld rose to prominence (the phenomenon documented by numerous films glorifying their Godfather-like glamour), the cops were under pressure, so encounter killings and gang shootouts also became eyeball-grabbing material for the media.
It was the time when crime reporting enjoyed its glory days.
Jagruti Pathak (Karishma Tanna), based on journalist Jigna Vora, crashes the boys club on the crime beat, cultivating street level contacts as well top cops, getting front page scoops for her newspaper, Eastern Age, with its sagacious editor, Imran (Mohammed Zeeshan Ayyub), who encourages as well as reins in her overconfidence.
Imran is based on S Hussain Zaidi, who is co-producer on the show, and wrote several bestselling books on the underworld, many of which have been turned into films.
Scoop is based on Vora's book, Behind Bars in Byculla: My Days in Prison, scripted by Hansal Mehta, Mrunmayee Lagoo Waikul and Mirat Trivedi, tackling the kind of personal and professional crisis that could either crush a person or burnish their sheen.
Jagruti belongs to a middle class Gujarati family, single mother to a nine year old, and totally devoted to her career.
She is one of the few female reporters in the city and does not hesitate to go into seedy bars or slums to meet her informers. She is given special treatment by Joint Commissioner of Police Shroff (Harman Baweja).
Her rise to Deputy Bureau Chief causes some resentment among her colleagues, and her abrasive manner does not endear her to them either.
She chases up a phone interview with Chhota Rajan, then a rival to Dawood Abraham, both running their criminal empires from overseas.
Then Jaideb Sen (Prosenjit Chatterjee), crime reporter from another newspaper, is shot dead (based on the real-life killing of J Dey), and Jagruti is arrested as a prime suspect, ostensibly because she gave Sen's information to Rajan and he claimed that she provoked him to kill.
The cops have no evidence about her complicity in the murder, but the law takes its time. While the cops drag their feet over her chargesheet, Jagruti has to spend months in the filthy Byculla jail, where she is cruelly harassed at the orders of Rambha Ma (Tejaswini Kolhapure Sarawat), a slain matka operator's wife, who was convicted due to Jagruti's exposes.
Later, a sadhvi (Shikha Talsania), jailed for a hate crime, tries to take Jagruti under her wing. Vora has written about this colourful character.
Jagruti gets the support of her family, particularly her grandfather (Sanat Vyas) and uncle (Deven Bhojani), but their lives are shattered.
Imran stands by her to the extent of quitting from his job when the bosses demand sensational anti-Pathak stories, but the rest of the press, including her protégée Deepa Chandra (Inayat Sood) and rival newspapers go after her like vultures, alleging that she was having an affair with Rajan and Imran.
A female editor of a tabloid (Tannishtha Chatterjee) tells Imran to look out for Jagruti because strong women are not appreciated but carries slanderous stories about her anyway.
Before Jagruti is even pronounced guilty by the court -- it took a seven-year battle to prove her innocence -- her reputation is ripped, and the cops like Shroff, who used to welcome her to their offices, are willing to throw her under the bus to save their own careers.
Scoop is a well-shot (Pratham Mehta) and authentic-looking show. A little over a decade has gone by but there have been rapid changes in the look of the city and models of cars and gadgets.
Mehta spares no grim detail, and everybody involved in the framing of Pathak and conniving with gangsters is exposed in the best journalistic tradition.
The characters are based on real people, so those in the know would be able to recognise most of them, and there will be quite a few red faces in the police department -- though most would have retired by now, and one key character has passed away.
Karishma Tanna gets the initial optimism of her character with ease as she dances at a party with abandon or holidays with her family in Kashmir, then plumbs emotional depths of a woman braving betrayal and the horrors of a Mumbai jail.
Mehta has picked his actors well, and they all fit their parts like bespoke suits.
Harman Baweja is a pleasant surprise.
Imran, played with solemn dignity by Ayyub, is an absolute hero in the story.
Even those with no knowledge of the inner workings of the media and police, would find Scoop absorbing as a human drama and the story of the resilience of a woman, her family and true friends.
Scoop streams on Netflix.
Scoop Review Rediff Rating: