'What a lovely person he is!'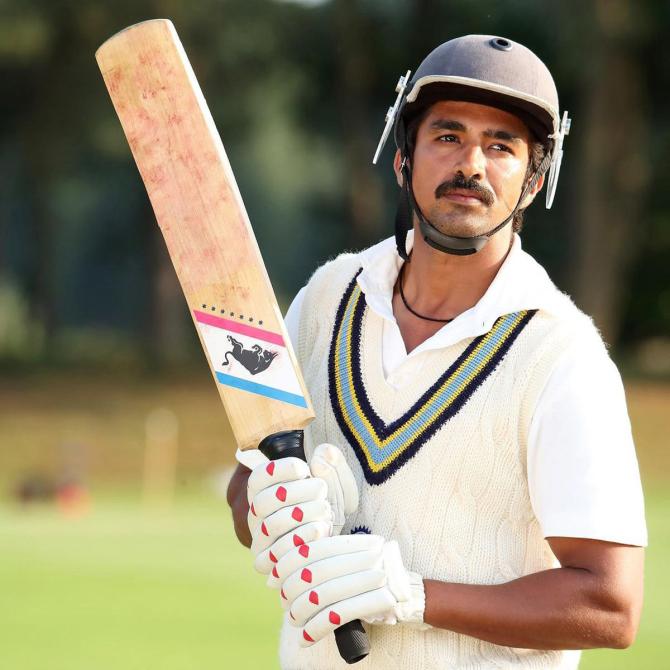 Saqib Saleem steps into cricket legend Mohinder Amarnath's shoes in Kabir Khan's well-reviewed film '83.
'Jimmy' Amarnath was the Man of the Match in the 1983 World Cup semi-final and final.
"When we were standing in the balcony before the take, Kabir sir announced that we were shooting with the actual 1983 trophy. All of us started crying -- 14 boys hugging each other and Kabir sir in the middle," Saqib tells Rediff.com Senior Contributor Rajul Hegde.
How did this role come to you?
I reached out to Kabir Khan sir for this role when I got to know that they are making a film on the World Cup.
He asked me to audition for the part.
I passed the test and the next day, I was asked to come to the stadium to show my cricketing skills.
I didn't tell them that I have played state level cricket because I didn't want to oversell myself.
Balwinder Sandhu, who was in the 1983 World Cup team, is our cricket consultant on the film.
He bowled two-three balls, and after I hit them, he looked at me and said, 'You have played a decent level of cricket.'
Then I told him that I have played state level.
So he told me to go and watch Mohinder Amarnath's videos.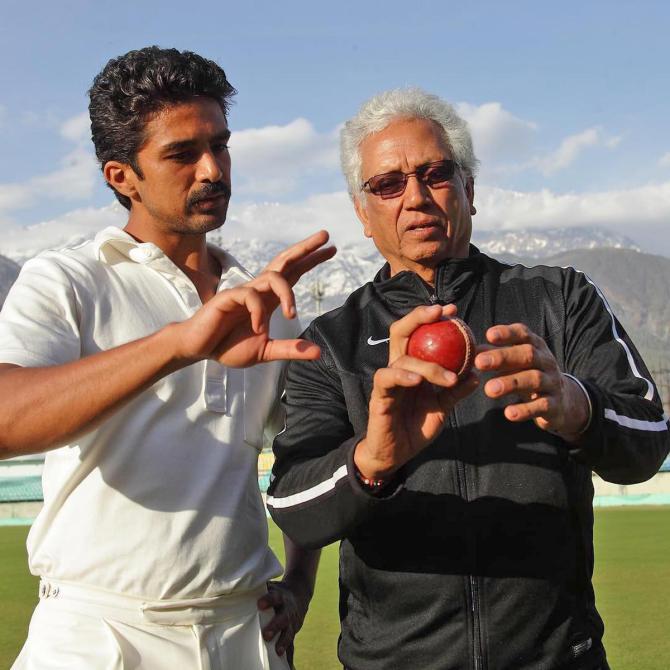 Did years of watching and living cricket play a big hand in warming up for the film?
The understanding of the game was better, but I had to play cricket like somebody else.
All the cricket that I have played in my life was in my own style, so I had to unlearn that and learn new techniques.
Jimmy sir had a distinct bowling and batting action, but like they say, till the time it's not difficult, it's not enjoyable.
How did you prepare for the role?
We trained for cricket for about six-seven months in Mumbai and then we went to London for the shoot.
When the cricket training was on, it did look taxing as there was a lot of physical prep.
Everybody had to lose weight. I had to lose eight-nine kilos, so I had to run and bicycle every day.
In those days, there was no concept of going to the gym and having biceps or six packs.
After that, we had a 15-day training camp at the Lords cricket stadium. We were given an opportunity to play with the international cricket team.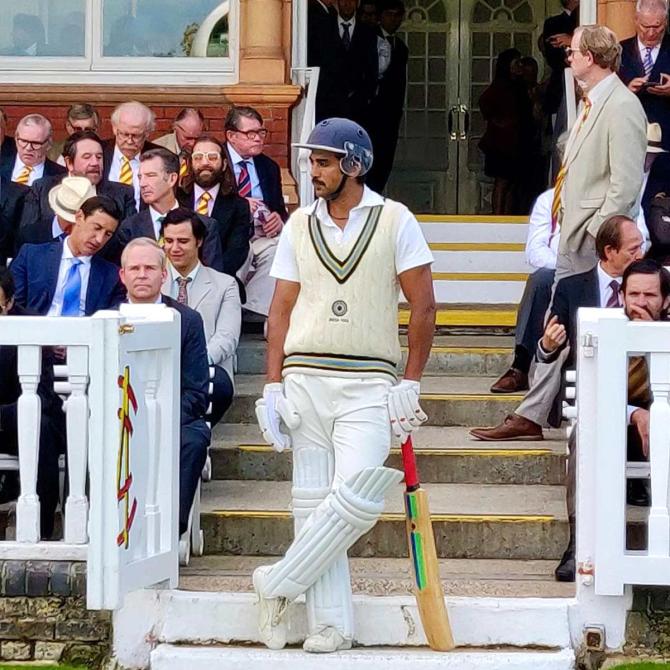 What was the feeling like when you played cricket at Lord's?
It was an emotional moment. I had tears in my eyes.
That is where every cricketer wants to play.
For someone who loves cricket, to get to shoot at Lords and then to be there for the final presentation when Jimmy gets the Man of the Match was surreal.
When we were standing in the balcony before the take, Kabir sir announced that we were shooting with the actual 1983 trophy.
All of us started crying -- 14 boys hugging each other and Kabir sir in the middle.
The atmosphere was something else. It was overwhelming.
Even though you played cricket at the state level, you were unable to become a professional player. Do you regret that?
Had I been a professional cricketer, I would have been worried about not winning the World Cup at Lord's.
This film has given me an opportunity to live my dream in some way and fulfill what I always wanted to do.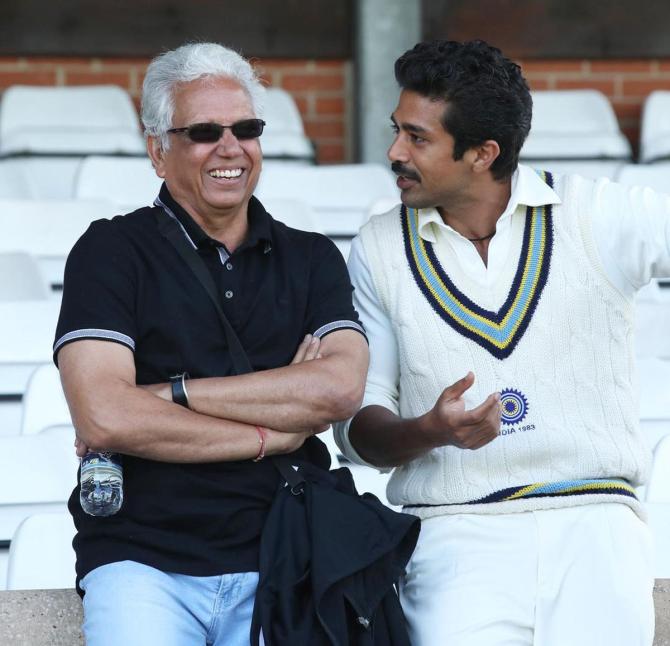 How did you prepare for Amarnath's frame of mind during the World Cup?
I asked Jimmy Sir about it, and he had said, 'I never thought much about it. I just thought I loved playing the game, and this is what I want to do for the rest of my life. The only thing was that my dad (Lala Amarnath, the first Indian to score a Test century on debut) should be happy to see me play, and I want my dad to say that he was proud of me.'
He also said nobody should touch his bat when he had to go and bat.
He always had a red handkerchief on him. He was specific about where he wanted it to be when he was bowling and batting.
He wanted these things to be included correctly.
How much did you know about Mohinder Amarnath before you played him?
My dad is a massive fan.
He had seen the '83 final and had enough stories about him and his contribution to the World Cup.
I also happened to shoot with him before '83.
He had played my coach during the film Dishoom, so I got to spend some time with him then.
At that time, I had never imagined I would be playing him in a film based on the 1983 World Cup.
I was fascinated by the stories he would share. But I got to know more about him when I started playing him on screen.
I got to know about his relationship with his father Lala Amarnath, his cricketing glories and the kind of person he is in real life.
He came to London and Dharamsala and spent time with me in Mumbai for practice. He really helped me get inside his technique.
I called him on his birthday, what a lovely person he is!
We would meet outside the set, not during the shooting.
He came on the sets only once, and while leaving he said, 'Tumne bahut acha kiya hai. You are looking good.'
That felt nice.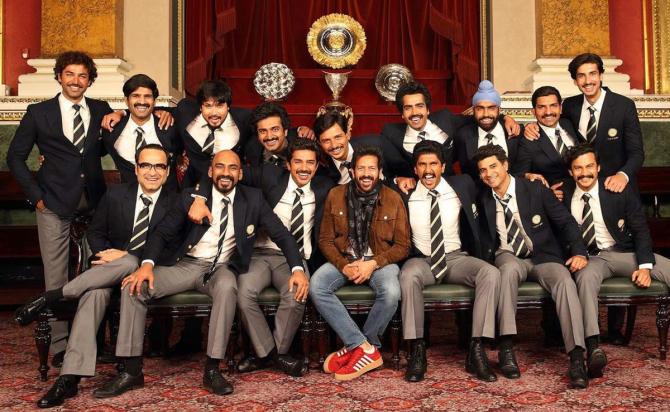 What was the atmosphere like when there were so many actors on set?
It was lovely!
Ranveer (Singh) is a ball of energy and one of the most positive energies that I have ever met. He welcomed everyone with open arms.
As a unit, we were closely knit. It felt like we were on a 90-day picnic in London.
I have enough memories with everybody, from Ranveer to Dinker (Sharma) to Nishant (Dhaiya) to Ammy (Virk), Tahir (Bhasin), Adinath (Kothare).
Jingo (Jivva) and I bonded well.
I loved hanging out with Pankaj (Tripati) sir. He had so many interesting stories to tell.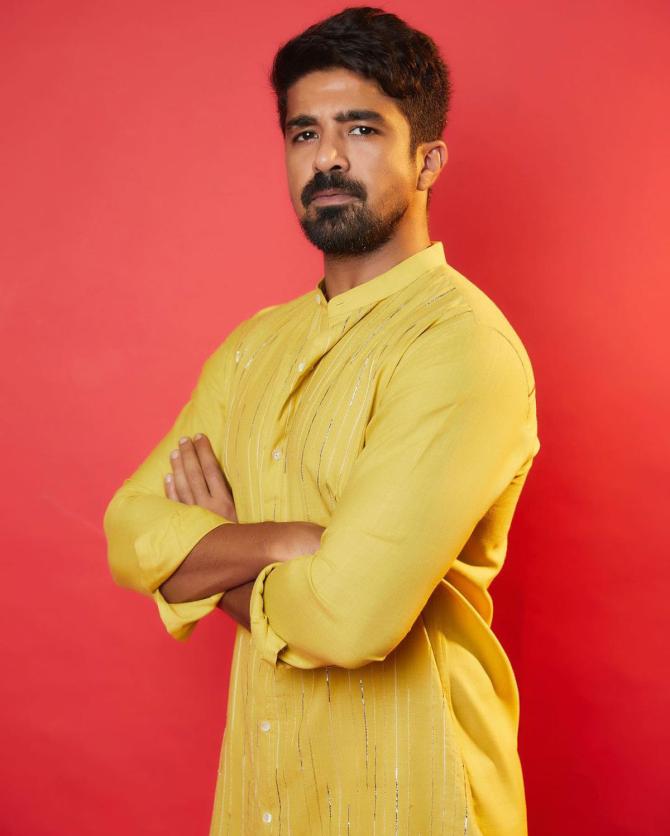 You have been in the industry for the last 10 years. Are you happy with the kind of roles you are getting?
I am content. I don't want what other people have.
I want to have what is meant for me. I want to be happy with the work I do.
Everybody has their own share of struggles. I too had my struggles, but I have enjoyed my time and would not want it any other way.
The journey has made me the person I am today.
I am grateful for the love, the hate and the adulation.
I have started enjoying acting in the last two-three years.
I have evolved as an actor and am understanding the material better.
After '83, are things different?
It's not like I have 10 scripts at home.
I have to reach out to people, that has been my process for the last 9-10 years.
Yes, there are great opportunities in today's times with digital content and interesting films being made.
There is space, but one needs to be comfortable in that space.
I am looking at some great material that excites me as an actor.