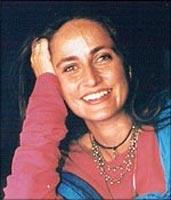 She has moved on from Prithvi, but Sanjna Kapoor's passion for theatre remains undimmed.
Actor Naseeruddin Shah, who makes no bones about how dreary he found boarding school in Nainital, once told Sanjna Kapoor that the only thing that kept him going was her maternal grandparents' theatre company, Shakespeareana, which would perform in his school once a year.
"My grandparents [
Geoffrey and Laura Kendal
] travelled around India with their plays for 30 years," says Kapoor. "I don't spend 10 days in my country without coming across someone whose lives they haven't touched through their theatre."
It's this bond with theatre which Kapoor hopes to recreate through her new project, Junoon.
It's been only six months since Kapoor launched Junoon after stepping down as director of Prithvi Theatre, a position she held for 22 years, but the calendar is packed.
Having wrapped up two months of intense theatre workshops with six-to-16-year-olds in Mumbai, she's in Delhi where her husband, tiger conservationist Valmik Thapar, lives. Sitting in her third floor office at her home, Kapoor is planning Junoon's next big step -- theatre workshops for schools in Mumbai neighbourhoods.
By year end, Junoon will bring Footsbarn Theatre's Tempest to Mumbai and in early 2013 it will take the Shaw Festival by Shah's theatre group, Motley's, to Delhi and Gurgaon.
Junoon has held 45 workshops, and put up 18 plays and 50 shows under its first programme, "Arts at Play". Among the plays was Kabuliwala, adapted from Bimal Roy's film, as well as George Bernard Shaw's Arms and The Man and By George, both directed by Shah.
"Ten of these were new productions," says Kapoor with pride. "Arts at Play" is what used to be, until last year, Prithvi Theatre's summer workshops for schoolchildren conducted by professional artistes. However, Kapoor made one change. "For the first time, we raised our fee," says Kapoor. "At Prithvi, we were oversubsidising it. So we had parents sending their children to the workshops for babysitting!"
It's a lesson she has learnt from her years at Prithvi. "Theatre is human-intensive and expensive, so it needs a strong financial model. Else its future is shaky, especially in the current economic conditions," she says.
At Prithvi, says Kapoor, everything "depends on sponsorship. This is a ridiculous financial model to live by." 
Trimming Prithvi's losses is also a crucial agenda for Kapoor's brother, Kunal, who is now its director. Even though on an average Prithvi has 82 per cent of audience occupancy, it does not make profit. One of the options Kunal Kapoor is exploring is to raise the rental rates and the ticket prices. It was Kunal who had originally taken charge of Prithvi after their mother, Jennifer, died of cancer in 1984. Six years later, Sanjna took over as Kunal moved on to concentrate on his career in ad films. 
Like Prithvi, Junoon too relies on sponsorship but Kapoor hopes that the dependence will go down over time. Registered as a not-for-profit company and public charitable trust, Junoon hopes to generate funds through donations, tickets and fees.
M
any see Junoon as Kapoor's decision to do what both sets of her grandparents did -- run
a travelling theatre company. But Junoon is not a travelling company, Kapoor clarifies. It is, as its tag line says, "a stage for theatre".
Besides a school-connect programme and workshops for students, teachers and parents in Mumbai, Delhi and with time, smaller cities, Kapoor is also looking at taking theatre to the corporate world -- which is proving to be quite a challenge. Kapoor is also determined to mount one "magical production" every year. 
Working with Kapoor on the venture is Sameera Iyengar, an MIT graduate with a PhD in theatre from the University of Chicago.
"When I joined Prithvi a decade ago, Sanjna was pretty much the be all and end all of things," recalls Iyengar. "After I came on board, she started creating a team, changing her personality to suit the times."
The name, Junoon, was Iyengar's suggestion.
"It has nothing to do with the [1978] film my parents acted in," says Kapoor.
Others in her team are Satyam Viswanathan, an MBA from Cornell University, Swati Apte, an Odissi dancer and Harvard Business School graduate, and Ayaz Ansari, a production manager in theatre. It's an unusual group held together by passion for theatre.
"Prithvi," says Kapoor, "was always larger than all of us."
She remembers her Sunday visits as a little girl to "Prithvi jhopda, as my grandfather [Prithviraj Kapoor] christened his little cottage in Juhu."
To her it seemed to be in the jungles, miles away from home. "The plot of land opposite this jhopda had a building which was meant to be a theatre, but was only used to store his props and costumes," she says.
This was later to become Prithvi Theatre. After her grandfather died, her mother would take her for picnics to Juhu where "we would play chor-police and dabba-I-spy in this ramshackle building. I must have been nine when Prithvi was being built." While her mother spent hours over architect plans, Kapoor ran around barefoot on the beach with her dog Yum-Yum. 
She was only 23 when she took over as its director. Looking back, Kapoor admits, "I was a kid."
Which is why, she says, she never commented on the quality of productions. "I knew I didn't have the experience. How could I criticise someone with 40 years of experience in theatre?"
What she did instead was infuse life into Prithvi, turning it into one of Mumbai's most prominent cultural hubs with exhibitions, festivals, children's workshops and a lot more. But what she didn't pursue was acting, though she did do a few films like 36 Chowringhee Lane, Utsav, Hero Hiralal and Salaam Bombay and some plays. 
It must have been hard to give up Prithvi. "I was this baby who wouldn't grow up," Kapoor says. "But now I've finally left home."
She would, however, like to see many more cultural hubs like Prithvi. "In Mumbai, we should have 20-30 Prithvis."
About six years ago, someone in the Planning Commission asked her to write a paper on Prithvi as an example of a great cultural hub. She refused. "I wish I could have said it's an 'example'... unfortunately, it's an exception."