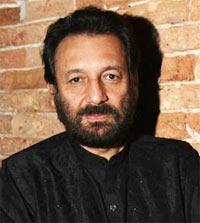 He turned director with Masoom in 1983 and then followed it up with the superhit Mr India four years later.

In 1994, came the critically acclaimed Bandit Queen, and in 1998, Elizabeth, which was nominated for seven Oscars and won the prize for Best Makeup.

He is now directing Paani, produced by Danny Boyle.

Shekhar Kapur spoke to Arunima Mishra about how Indian cinema could go global and the need for more theatres in the country. Edited excerpts from the interview:

How has the economic slowdown impacted the Indian film industry?

It has affected the number of seats sold. Fewer people are going to the theatres than before due to the high cost of living and ticket prices. We are not seeing that in monetary terms yet, as among the top 5 per cent of the income bracket more people are willing to pay for the theatrical experience in multiplexes.
So rising ticket prices, and support from the south-Asian diaspora, is pushing up the box office. The rest are moving to TV or to pirated CDs.
This is a dangerous trend as Indian cinema is getting more exclusive to the upper classes. The attention of the young is moving to the Internet, YouTube, social media and video games. The future is not bright for Indian cinema unless it keeps the theatrical habit alive.

There is huge revenue potential for films that have a "long tail" effect in digital media -- video games, social media games, etc. For films like Spider-Man and Harry Potter, the box office is only half the story. Exploiting the digital medium for interactive ways to engage the audience is becoming important. For example, a video game of Spider-Man before its release spurs the audience's interest in going to the theatre.

For India to become more integrated with international cinema, there is need for more global stories -- not just for the diaspora but for audiences from other cultures too. Two, increase the revenue from cinema by increasing the number of theatres. So far India has only about 13,000 theatres which is minuscule if one considers seats per capita of potential theatrical audiences. Three, make more films that are a "theatrical experience" and cannot be enjoyed at home or on smart phones.

What are the big changes after corporatisation of the film business?

Unfortunately, people running large corporations are addicted to valuations and exit strategies. They do not have a passion for film.
Once, 90 per cent of the big hits were dominated by producer/directors or director/producers from the same families -- Raj Kapoor, Anand brothers, the Sippys, Mehboob Khan, Manoj Kumar, etc, and more recently, Aamir Khan Productions, Yash Raj films etc. The primary reason to make films was a passion for cinema.

That culture can't be expected from corporations. If Raj Kapoor failed (as he did often), he fought back and made another film. In this corporate model, he would have been written off.
In the old model, film/ finance/distribution was close-knit. They supported one another and survived to make more films. Now it's cold-hearted return-on-capital decisions. We will probably never have another Raj Kapoor again.

What are some of the recent steps taken by the film industry to curb piracy?

If you can't get the film to the people at the right price and the right time, they will watch the movie anyway through piracy. As high as 80 per cent of India's population can't afford to go to a theatre. For example, at a multiplex it comes to Rs 1,500 for a family of five (tickets, popcorn and transport). Thus an average family in Mumbai, with an income of Rs 6,000/month, can't afford to watch it through legal means. Cinema as a theatrical experience in India is no longer a mass medium. There is no chawanni class (four anna per seat) now.

Can the Indian film industry go global?

You have to make films that travel. And there needs to be a hunger in producers and directors to go global. Anurag Kashyap and others have that hunger, but we also need mainstream producers to back them. And why should it have taken Danny Boyle and British producers to prove that a primarily Indian story with an Indian cast such as Slumdog Millionaire can be a huge hit the world over?

Sadly most producers and directors in India are fighting for the same pie and don't want to be bothered to look outside.