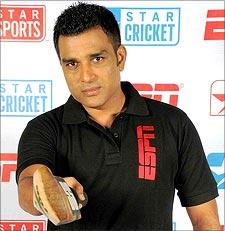 Former Indian Cricketer Sanjay Manjrekar was one of the people who was amazed to see Dev Anand's energy levels even at a ripe age. He recounts his meeting with the late legend.
The first thing that came to my mind when I heard the news of Dev Anand's death was that everybody should lead their lives the way he did. He loved making films and that's what he kept doing till the very end.
His clothes, the hairstyle he sported in his early days, the way he conducted himself, everything about him was unique. I don't think anyone can even copy Dev Anand.
Please post Your Tributes to Devsaab here.


I thought he looked good singing songs in films. Mohammed Rafi and Kishore Kumar had great voices, but they sounded best when the songs came from Dev Anand's
lips onscreen.
A lot of his songs were sung by Kishore Kumar but, personally, I liked the songs sung by Mohammed Rafi more.
Aise Toh Na Dekho
from the film
Teen Deviyan
is my personal favourite.
I loved Dev Annad's performance in
Guide
too. The film stays with you for a long time because of its narrative style. More than the story, just watching Dev Anand perform the character is a phenomenal experience.
I met him on the sets of
Awaal Number
. I was in the Indian cricket team and he invited the entire squad to the premier of the film. I was just amazed with his energy. He seemed so excited and full of energy.
My colleague Sandeep Patil once narrated his encounter with Dev Anand. His son Chirag Patil had worked in
Chargesheet
and Sandeep went on location to watch the shoot. He saw Dev Anand atop a temple dome trying to get a shot, and get his camera angles right. He was very active right till the end. It is quite incredible when you hear these stories.
Listen to Dev Anand's songs here.