'One can't allow oneself to be bullied into abandoning one's dream.'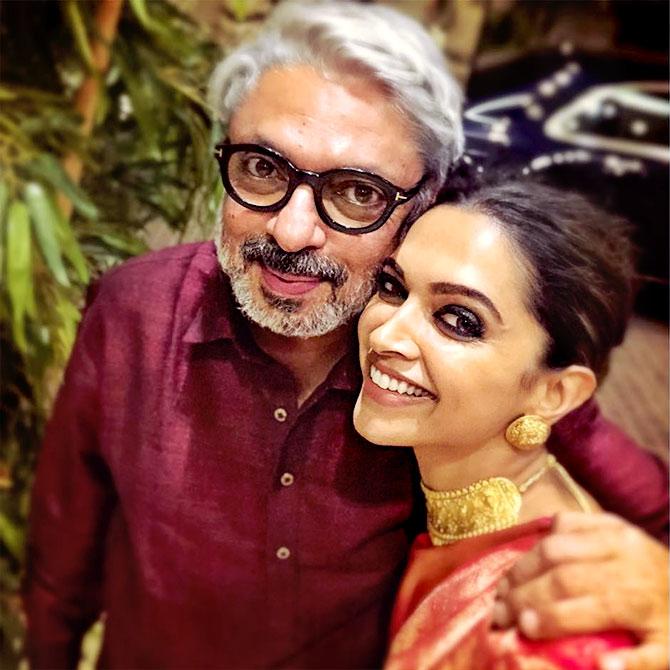 IMAGE: Sanjay Leela Bhansali and Deepika Padukone. Photograph: Kind courtesy Deepika Padukone/Instagram
Sanjay Leela Bhansali is hugely relieved now that Padmaavat has released.
He's grateful that audiences are heading to theatres to watch the film despite threats from fringe groups.
"Suffering has always been an incentive for my creativity," Bhansali tells Subhash K Jha.
What are your feelings at the moment?
(Sighs deeply) After what have I been through, it's like being allowed to finally breathe easy.
I can't even begin to express the relief and gratitude.
How did you get over this period of vicious attack?
Honestly, I really don't know where the strength came from.
I guess it just comes to us when we need to be strong. I really don't know how I got through this period.
But after all of this, to have the film release finally in spite of all odds, and most importantly, to have audiences flocking to see it in spite of the threats... I can't tell you what a relief and joy it is.
Just hearing about the collections washes away all my pain of the last eight, nine months... well, maybe not all of it.
How will you ever forget being assaulted in Rajasthan and then the fringe groups demanding your head and Deepika's nose?
It was crazy!
Through all of this, I was more worried about my mother and happy that she was with me.
I don't know how I would have survived without her at my side.
She kept saying, 'Mere bete ke saath aisa kyon ho raha hai? Woh itni achchi filmein banata hai' (Why is this happening to my son? He makes such good films).
My mother was my pillar of strength.
I would also like to thank Ajit Andhare and my co-producers, the Viacom 18 Motion Pictures team, who never stopped believing in me even during the darkest phase.
And my own friends and team Mahavir Jain, Shobha Sant and Chetan Deolkar. What would I have done without them?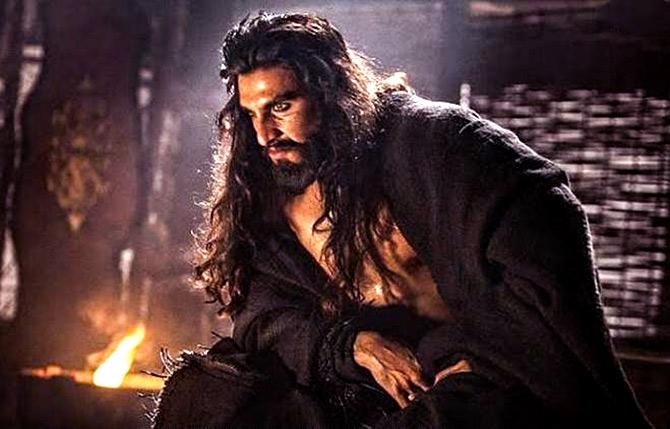 IMAGE: Ranveer Singh as Alauddin Khilji in Padmaavat.
Did you ever think of giving up?
Never. Not at all. That would have been the end of me as a film-maker.
Not even after being assaulted?
Not even then. Every time I was attacked, I used my pain and suffering as an impetus to work better.
I channelised my anxiety into making Padmaavat.
I think suffering has always been an incentive for my creativity.
Is the film a part of history or not?
It is based on the poem Padmavat by Malik Muhammad Jayasi. But it also has figures and incidents taken from actual history.
I have been fascinated by Rani Padmavati from my childhood.
Her grace, dignity, valour and inner strength are very inspiring.
I had wanted to make a film on her life for a very long time.
But before I could do the film, I got the chance to direct the stage musical version of Padmavati; an opera in two acts by the French composer Albert Roussel in Paris in 2008.
Is the film connected to the opera?
Not at all. That Padmavati was a staged musical done on a lavish scale with elephants, tigers and other animals on stage. It was an entirely different experience from the film.
This is the first time I explored evil in such dark, deep detail. I had never before gone into this zone. To portray evil on this scale was a new and challenging experience for me.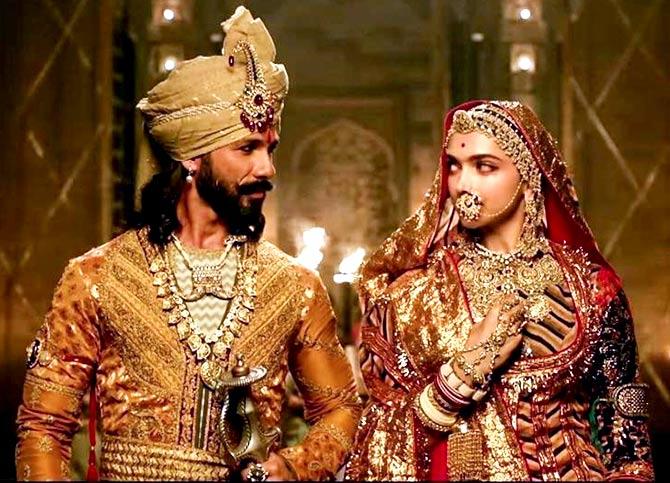 IMAGE: Shahid Kapoor as Maha Rawal Ratan Singh and Deepika Padukone as Padmavati in Padmaavat.
Ranveer Singh is getting incredible reviews for his villainous act. Were you unsure of his box office status after Befikre, and Deepika Padukone after XXX: Return of the Xander Cage and Shahid Kapoor after Rangoon?
Not at all. It made no difference to me whether they had successes or flops behind them.
I wanted these actors and only these three actors. I am so happy with the quality of performances they have given in my film.
It's being predicted that this will be the biggest hit of your career.
What can I say? God has been very kind.
I never thought my film would get into trouble.
When it did, I never for a moment stopped believing that I had done no wrong. And now, to get this approval of the audience, it is very reassuring.
Did you ever feel the film may never get released?
I was always sure it will.
How could all my hard work go to waste?
I have toiled over every moment of the film.
Considering what you've been through, would you ever go back to history?
Oh, any time!
I would go back to history if I want to.
One can't allow oneself to be bullied into abandoning one's dream.