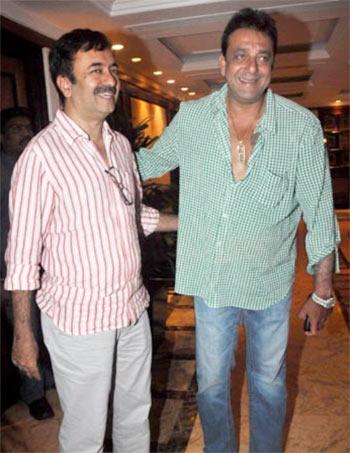 'Sanjay Dutt is a survivor, and I have seen his spirit adjusting to that.'
He writes letters. From the tone of the letters, you can sense whether he is depressed on that day or if he's better,' Rajkumar Hirani tells Patcy N/Rediff.com
Each time I meet Rajkumar Hirani, he never forgets to tell everyone around that I had visited his home in Nagpur, and interviewed his parents, friends and school teacher.
This time, after he is done with that introduction, he tells me solemnly, "Patcy, that house you went to, it's been sold."
"My parents were living in Nagpur alone, and I would worry for them. I often asked them to shift to Mumbai. But my father did not want to shift."
"He would say: 'How can I keep the house closed?' He finally agreed to come to Mumbai, but on one condition: Sell the Nagpur house."
"I did not want to sell the house because my childhood memories were attached to it. But I gave in because I really wanted to take care of my parents. My father passed away two months after coming to Mumbai. That's destiny."
His mother lives in Mumbai and visits her friends in Nagpur once in a while.
Rajkumar Hirani's film Saala Khadoos,, starring R Madhavan and Ritika Singh, is up for release, and he seems quite excited about it.
In this candid chat, Hirani discusses the film, Sanjay Dutt and much more!
Saala Khadoos is the first film you have produced without Vidhu Vinod Chopra. Why?
His name may not be there, but he is always there. You can't say Wazir was made without me.
If I make a film, Vinod will come and watch it, even comment on it. When he was making Wazir, I gave my comments too.
Madhavan came to me with the story. He told me he was producing it in Tamil, but he wanted me to help him make it in Hindi as well.
I was reluctant initially, but when I heard the story and saw how passionate he was, I decided to produce it. Madhavan was already working on the film and I joined in.
You were apprehensive about casting Ritika Singh. Why was that?
I was not apprehensive of Ritika as such. I was apprehensive of the thought that we should get a boxer to act in a film.
I was not sure whether a boxer would be able to act. Sudha Prasad Kongara (the film's director) said the fight scenes would look real. I told them if they find a boxer who can act, then I wouldn't have a problem.
We were in a dilemma which actress could play a boxer well. The Mary Kom shooting was about to begin.
When Sudha and Madhavan showed me Ritika's auditions, I was convinced.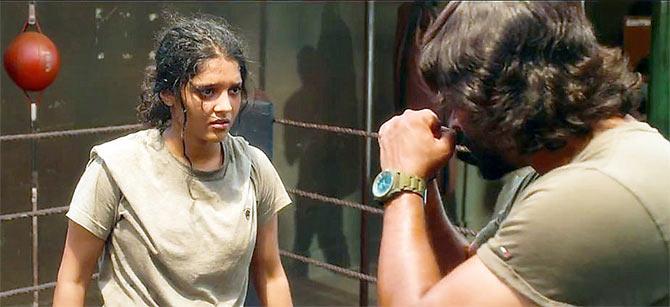 What kind of preparation did you ask Ritika to do?
Ritika has a natural instinct.
She is very focused, just like any sportsperson. You know, when Sudha use to give her instructions, she would be so engrossed. She would always look into the eyes of the person talking to her.
She would never get distracted and would listen to everything. She would do exactly what Sudha would tell her to do.
She even spoke in Tamil while shooting, but she did not dub in Tamil. Somebody else did the dubbing.
How was Sudha Kongara as a director? She is comparatively new even though she has assisted Mani Ratnam.
When you like the script and the director's passion, you just go with your instinct. You have to take a chance.
Even after Maddy narrated the script, I took a couple of months before agreeing to come on board. It's not like I said yes immediately.
Madhavan was unhappy with his role being relatively smaller in 3 Idiots. How did you sort out your differences?
Really? There was nothing like that.
I don't think there was any story also, I have no memory of it. We are great friends and meet often.
In Tamil, the film is titled Irudhi Suttru, which means Final Round. But in Hindi, it is titled Saala Khadoos. Why?
Because it was not translating well in Hindi.
In Tamil, it had a kind of ring and zing. When Madhavan told me Irudhi Suttru, meaning Final Round, I asked him what we would call it in Hindi: Aakhri Muqabala? It sounded very shady and corny.
So we thought of many names. Saala Khadoos sounded interesting because there is a curiosity value to it.
By Saalaa Khadoos, we mean the mentor who pushes you so hard that you end up calling him Saala Khadoos.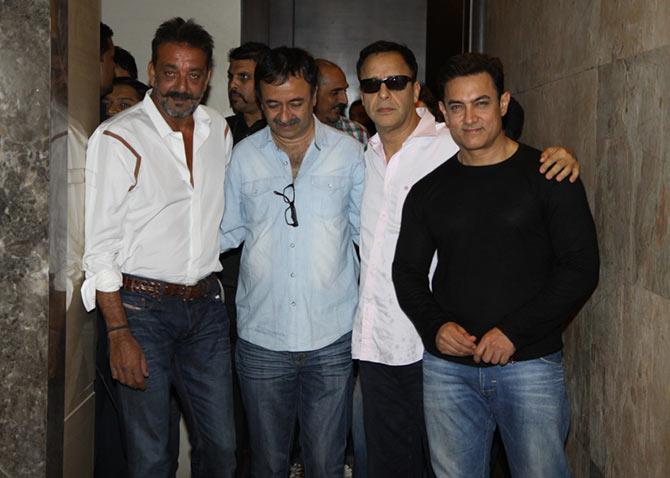 Sanjay Dutt will be released from prison in February. Which film are you planning to start? A Munnabhai film or the Sanjay Dutt biopic?
I am going to start the biopic.
You have visited Sanjay Dutt in jail. What was that like?
I met him in jail long ago when we were shooting PK.
The prisoners were performing a play, and they felt that a film director should come and guide them. That's how I got the opportunity to visit him.
Otherwise, you can't meet him easily. You need the court's permission unless you are family.
When I met him, I think he was very depressed. But then, he is a survivor and I have seen his spirit adjusting to that.
He writes letters. From the tone of the letters, you can sense whether he is depressed on that day or if he's better.
Over a course of time, I could see an acceptance of what had happened to him and an acceptance that this monkey (imprisonment) will be off his back.
Do you think the sentence was too harsh on Sanjay Dutt?
For that, you will have to see the film (laughs).
Which part of his life will be captured in the biopic?
You can't show his whole life in a three hour film. We will take the areas that we think are important for the public domain.
But I think when you see the film, you will feel that you saw his entire life. It will have everything.
Has Sanjay Dutt heard the script? Has Ranbir started working on it?
Yes, Sanjay has heard the script and is okay with it. Ranbir hasn't started working on it. He is finishing Jagga Jasoos.
When will you start working on the Munnabhai film?
Munnabhai will be after that. We are planning a new script. Munnabhai Chale America is scrapped.
Why do you take such long breaks between your directorial ventures?
What can I do? It takes so much time to write a script. If you don't spend that much time, you will end up making crap.
Have you ever watched a film and wished that you had directed it?
Whenever I watch Lagaan, I always think why don't I get a script like that? I would love to make a film like that. It has an unusual script.
Which recent movies have you loved?
Masaan and Talvar.