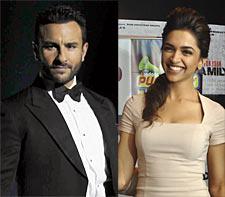 Saif Ali Khan apparently will never work with Deepika Padukone again.

The usually mild-mannered actor has not taken too kindly to Deepika's walking out of Abbas-Mustan's Race 2 at the eleventh hour, leaving the project in an awful predicament.

Things have gotten so uncomfortable between these two one-time profressional co-stars that their incomplete film -- tentatively titled Cocktail -- is suffering some stress in the final phase of shooting.

Says a friend of Saif, "It's really unfortunate that Deepika walked out of a film where her co-star was Saif. Saif has stood by her repeatedly. He gave her his home production Love Aaj Kal selecting her over his lady love Kareena Kapoor. Then he signed Deepika for his second production Cocktail. It didn't stop there. Even when his well-wishers told him the pair was getting stale -- he signed Prakash Jha's Aarakshan."

Now Saif is perhaps justifiably feeling betrayed.
Says Saif's friend, "Saif worked with Deepika in three films. The least he expected was a certain amount of commitment to the fourth film that they had signed together, specially since this was the most expensive of the four films, and a franchise at that."
Adds the friend, "Saif is very upset with Deepika. He thinks her behaviour is unprofessional and uncool. Would she have walked out on the project if it had starred Shah Rukh, Salman or Aamir Khan?"
People close to Saif feel Deepika's attitude towards the Saif-starrer did a turn-around the minute she signed films with Rajinikanth and Ranbir Kapoor.
Last week, Saif spoke to Race 2 producer Ramesh Taurani to work out an emergency plan. Apparently, Saif has told Taurani he is with the producer in any line of action adopted to tackle the crisis.
When contacted, Taurani conceded, "Of course Saif is with me on this issue. A case is already filed with CINTAA (Cine and Television Artistes Association) and AMPTPP (Association Of Motion Picture & TV Programme Producers). I am sure justice will prevail."
While Taurani tries to find a replacement quickly, we hear Kareena Kapoor just may re-adjust her dates to accommodate Race 2.