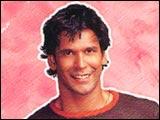 Different films have different ways of catching the public eye.
Some films create pandemonium during press meets and are nightmarish for security guards. Take Mein Prem Ki Diwani Hoon. When Hrithik Roshan and Kareena Kapoor promoted their film at the Pantaloons showroom in Mumbai, the ensuing hungama almost created a stampede.
Other films like Parvati Balagopan's Rules: Pyaar Ka Superhit Formula, starring Milind Soman, debutant Meera Vasudevan and Tanuja, prefer an informal, almost homely, attempt.
The actors (Tanuja did not make an appearance) seemed relaxed. Mikes were not required.
Milind, who was wearing a black tee shirt and jeans, looked suave. He has a bit more at stake here -- his production house e_Motion Pictures (partnered by Deepa Sahi and Parvati) has tied up with Crossover Films (headed by Elle magazine's former editor Neerja Shah) to produce Rules.
In fact, it was Neerja who helped them rope in veteran actress Tanuja for the film. Parvati admits, "We thought it would be a great hurdle to convince Tanujaji to be part of Rules. But Neerja, who is a great friend of hers, asked her. Finally, though, it was the script that won her over. She loved it!"
Rules
is about Radha (Meera) who has a crush on supermodel Vikram Varma (Milind Soman). She meets him through her job as assistant to a photographer (Raj Zutshi), but is soon disheartened when she finds out he has a supermodel girlfriend (Namrata Baruah).
She then turns to her grandmother (Tanuja), who gives her a set of rules to follow. These are the rules of attraction. 
Parvati claims her film is an original story and adds, "Everyone has, at some stage in their life, been in love with someone who has given them no patta [attention]. But not all of us have a dadi [grandmother] to tell us how to face that particular problem."
An ex-student of Mumbai's Mithibai College, 21-year-old Meera was selected for the role from 500 girls who auditioned for the part. Parvati says, "We took a lot of auditions and readings. The role is very important because it is the soul of the film. And the girl who played it should be someone whom every girl can identify with. Meera was the best in the screen tests."
Milind adds, "We needed a girl who is like a neighbour, not outwardly glamorous... at the same time a warm, friendly and vivacious personality. The audience should want her to get what she wants."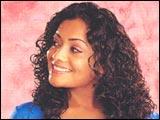 Meera is ecstatic with her debut role. "I wanted my first film to revolve around me entirely," she says. "I wanted to be the focus of the film. But I never thought it would actually happen. I got grilled [during the making of the film] but I enjoyed it. And I made a lot of friends. Besides, I found a new grandmother in Tanujaji. Can you believe that? It was amazing. She was very understanding and helpful. She would talk about her own daughters, Kajol and Tanisha. I was very comfortable with her."
The film, Parvati insists, is not feminist. "Of course, because I am a lady and the protagonist is a girl, there was more of an identification," she says.
Milind, meanwhile, has been trying out different roles. He played an action-packed role in Mani Shankar's 16 December and sported a period look in Arjun Sajnani's Agni Varsha. In Rules, he plays a romantic.
"I fit the role in Rules. Of course, I'm sure a supermodel could have been played by anyone else," he admits. "But we would not have had much control over dates. Here, I could give them all the dates they needed. I could be there all the time. Other actors are very busy. A supermodel is not a label; it is a profession."
He adds, "My objective is to continue what I am doing. It does not matter whether it is successful or not. I should be able to do what I want. And I managed to make a film with friends. I've been lucky."
The actor has Parto Ghosh's Surya lined up for an August release along with Rules.
Shot mostly in Mumbai, the film, made under Rs 30 million, tries to give the city a different perspective, a fresh look. Parts of the film have also been shot in Lonavala, Manali and Uttaranchal.
The songs are woven into the script. Music director Sandesh Shandeliya (Kabhi Khushi Kabhie Gham, Road, Agni Varsha) says, "The songs were written like a script. They aid the narration."
Rules has not been made with any festival in mind. But it may be invited at the Montreal and Locarno Film Festivals. "We will go only if it benefits Crossover Films in any way," Milind says.
Click here for More Features