The angels were surely on Mira's side when she was thinking of having all-Indian cast for The Namesake," says Ronnie Screwvala, the executive producer of the film, referring to Mira Nair's latest success.

 

The film was to have featured several prominent Bollywood artists including Rani Mukerji and Abhishek Bachchan but in the final reckoning, Irrfan Khan and Tabu played the immigrant couple, while their rebellious son was played by Kal Penn. A desi kid who grew up in New Jersey, Penn (whose given name is Kalpen Suresh Modi) is well connected to the community. And his wife is played by the London-born stunner Zuliekha Robinson (Hidalgo) who is of Indian, Scottish, and Iranian descent.

 

Tabu & Irrfan are brilliant in The Namesake

 

"I am not saying the all-Indian cast would not have done well in the film," says Screwvala chatting with Rediff.com on the eve of premiere of The Namesake in New York on March 7. "But the Indian stars would have found it a bit difficult to move away from their image and mannerisms. On the other hand, Kal Penn is a revelation. He is startlingly good."

 

Jhumpa Lahiri said that she is astonished at the speed with which the film took off, once the movie rights to her bestselling novel were sold. She has known of well-known books that have languished at times for over a decade before they were filmed.

 

"It was all due to Mira's passion,"  Screwvala said recalling how Nair had met him over two years ago. "She was breathless. She told me she had read this novel on the plane from New York to Mumbai, and she wanted to make a film out of it."

 

Nair and Screwvala had discussed several movie projects but when the producer read the book, he found it irresistible and moving. "Less than three months of Mira talking to me about the project," he says with a hearty chuckle, "we were ready to go ahead with it."

 

He has partnered with Fox Searchlight on The Namesake. The distributor waited, after unveiling the movie at the Toronto International Film Festival in September last year, to open it in March 9 on half a dozen screens in New York, Los Angeles and Toronto, and continue adding more screens each week as the film acquired word of mouth publicity.

 

"It's very good we got this empty space between September and March," Screwvala said. "The film's reputation built  steadily during those months, thanks to it being shown at a number of festivals and at important events in a handful of cities."

 

In New York, it was the opening film at the annual Indian American Arts Council Festival and the screening was attended by the newly minted Nobel Laureate Orhan Pamuk, Salman Rushdie and latest Man Booker Prize winner Kiran Desai.

 

Exclusive Images: Namesake premiere, NY

 

"We

have benefited enormously by this waiting period," Screwvala said. 

 

Peter Rice, the president of Fox Searchlight has "the uncanny knowledge of cinema and how films can shape up," he added. "I admire the way Fox Searchlight has handled some of the most successful independent films in recent decades including The Full Monty, Sideways and Little Miss Sunshine," he continued, "not to forget Water which has become the highest grossing Hindi film in North America (with $3.5 million of its $5.5 million gross coming from America)."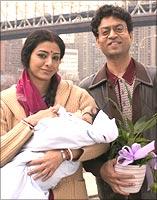 Screwvala flew into New York to attend the premiere of The Namesake on March 6, leaving for Hollywood the next day to attend the premiere of I Think I Love My Wife, a comedy directed by, and starring, comedian Chris Rock. Screwvala is the executive producer of both films made by his India-based UTV with Fox Searchlight.
And in the next 12 months, expect his co-productions with Sony to roll out worldwide, especially a film starring Will Smith, whose last film The Pursuit of Happyness has grossed a strong $280 million worldwide and is still counting. UTV is the only Indian company to ink deals with three Hollywood majors: Fox, Disney and Sony, also the home for Smith's production company.
He is fully aware, he said, that thousands of people who have read the novel and come to love its stories of immigrant life, rebellion of children, conflict between parents and children, and the reconciliation accompanied by redemptive action, would wonder how the film has shaped. They would be eager to know if the film has done justice to the novel.
Screwvala says he has seen the film over 50 times. He saw it while it was edited; he watched it fully edited; he was present while it was screened many times to exhibitors and distributors. And he was there when the film was shown at the prestigious Toronto and Rome festivals.
"There is a scene in the film when Ashima (Tabu) hears about her husband's death," he said. "At the Toronto International Film Festival, there was such a gasp I thought some people in the audience might faint. I have never seen such a reaction in my life at any time. I saw similar reactions elsewhere. And the audience reaction at each screening has been overwhelming. In Rome, the audience gave Mira a 10 minute standing ovation. What does all this mean? Whether people have read the book or not, they are embracing this film. Its stories move them, whether they are Indian or Italian or Canadians."   
"You cannot really compare the book to a film," Screwvala said. "Still, I would say it is two steps above the book. The performances Mira has coaxed out of the actors are remarkable. She has given complete life to the novel."
"Watch the film and go back to the novel, and you will appreciate Mira's achievements."