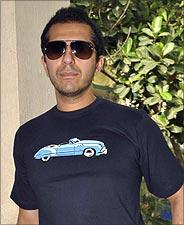 Ritesh Sidhwani, who co-produced the much awaited Don 2, talks about his collaboration with Farhan Akhtar, why they made the sequel, and the joys of nurturing new talent.

Ten years after he released his first film, the trend-setting hit, Dil Chahta Hai, producer Ritesh Sidhwani says he has never had to wonder what the next project would be. Films happen organically in his life. Most of his work, including the soon-to-be released Don 2, has been in collaboration with his friend Farhan Akhtar.

"We have an instinctive understanding what we should make and though there have been one or two films that did not work out (Karthik Calling Karthik), nobody can accuse us of making cheap films," he says.

Don 2 was not on their minds even after the first Don became a hit four years ago. "It was the feedback we were getting from the audiences, the distributors, and other people in the movie business that prompted us to do a second film," he says.
When the first Don was made, Akhtar and Sidhwani were conscious of two things: "There were millions like Farhan and me, who had grown up watching and loving the Amitabh Bachchan-starrer Don," he muses. "But there were also millions who would be coming to our movie without having seen the Amitabh film. We knew we had to create a film that would satisfy both these segments."
And now, they are carrying the adventure farther, he asserts. "The audiences will be expecting more suspense, characters with more complexity and also plenty of action. It was not easy to create this project. Making a sequel with a negative character is even more challenging than the first film, especially since the character of Don has become so iconic. We are taking the film to an entirely new level. And that is the reason at least one character -- that of the tough cop played by Priyanka Chopra --has undergone a great change since the first film's end. It is a film about a negative character but even then it is not a one-dimensional character."
Sidhwani is also billed as the creative director on the movie. "And what it means is that I have been involved in the film right from the start, working with Farhan, creating a framework," he explains. "We have had a lot of prolonged discussions about every aspect of the film. But in the final reckoning, it is Farhan's film. As a director, he has the final say in making and editing the film.
"The best thing about working with Farhan is that we share the same sensibilities, we believe in making films that should reach wide audiences. At the end of the day, he is not making a film just for himself, we also respect the intelligence of the audiences, and we stand by our decisions. We will never go about pointing fingers if something doesn't work out. We never go around saying things like, 'I told you so.'"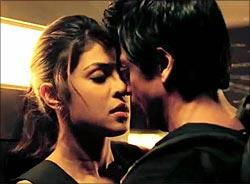 Sidhwani is also working on Rock On!! 2. "The first film was a surprise hit for us," he says. "It was a bold concept for Hindi movies and yet because of strong writing and direction (Abhishek Kapoor, who is also directing the sequel), we were able to make it a hit."
Sidhwani started his professional career by joining the family business Marlex, a big name in home appliances about 15 years ago.
"My passion for films was greater than for traditional business," he said. "My family thought I was crazy to be doing films but I knew the kind of risks I wanted to take."
That is how the banner of Excel Entertainment Pvt Ltd came about. His business acumen has led him to forge alliances with the companies floated by Shah Rukh Khan and Aamir Khan, while keeping the door open to new talent.
"There are always young filmmakers coming to us with fresh ideas and sometimes we greenlight a project after a few days of hearing out the story and treatment line," he says. "Reema Kagti was one such director. She has this wonderful collaboration with Zoya. Reema's Honeymoon Travels Pvt Ltd became a deserving hit. Now she is directing Talaash for Aamir Khan and us." Zoya Akhtar is also part of the film as a writer.
The success of Reema Kagti is especially gratifying, he says, because she started as a second assistant director 10 years ago with Dil Chahta Hai. "And so is Zoya's success in Zindagi Na Milegi Dobara. It is as youthful a film as Dil Chahta Hai was a decade ago. And it has done astounding business, not only abroad, but also across India."
One thing he is cautious about is not rushing into new projects. Over the decade, he has produced and co-produced just about 10 films and it is only in the last few years that he has been taking up more than one film a year.
"I am not comfortable with taking up more than two projects a year," he says "There is always a big line of writers and directors who want to work with us. But if we are not able to provide them the right kind of support, we will end up making bad films and their careers could be hurt forever."