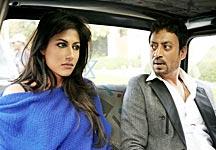 Sukanya Verma reviews Yeh Saali Zindagi. Post YOUR reviews here!

'Six thick thistle sticks. Six thick thistles stick.'

Try saying that again. And again. And some more.

How's it going? The beauty of an intricate tongue twister lies in its unbroken rhythm. If nailed, it sounds gracefully articulate. If not, a spew of mispronounced prattle. It's all about saying the right word at the right time at the right pace.

Filmmaker Sudhir Mishra's Yeh Saali Zindagi can be compared to one such tongue-twister. It's a fairly simple plot interspersed with tricky turns and narrated at a breakneck speed.

While the genre is comfortably familiar, Mishra's treatment is refreshingly zany. In place of gloss and gimmicks, the director-story and screenplay writer unearths the underhandedness and layers that constitute his protagonists (and there are a whole lot of them, mind you!) with such dedicated precision and subtext, it's stimulating to stay in sync.

Like I mentioned, this one's a crowded affair. Even so, Irrfan Khan, Arunoday Singh and Chitrangda Singh share the onus to make it work the most. As the plot's prime players, their lives are interwoven in a web of desire, deceit and determination in this audaciously staged, wildly choreographed thriller with romance at the centre.

Set in Delhi for most part, the movie begins on a strategic note on a Mumbai waterfront reverting to the time that led it here, leading us to Arun (Khan), a marvelously sly accountant who loves singer Priti (Chitrangda) despite the vociferous protests of his tubby boss (Saurabh Shukla). Priti chases a better future with Shyam (Vipul Gupta) who's engaged to a politician's daughter.
A parallel track involves criminal Kuldeep (Arunoday) who's keen on accomplishing that last big job before he declares a happily-ever-after with his wife (Aditi Rao Hydari) and son. Because he holds Shyam and Priti on ransom, Arun gets embroiled too.

It's all too delicately connected with a secondary bunch of whimsical creatures -- brothers -- the sensitive Bade (Yashpal Sharma) and the kinky Chote (Prashant Narayanan), a shady cop (Sushant Singh) and a third tier of maverick henchmen, I could go on -- lending significant contribution courtesy its perfect ensemble of supporting actors.

The only time its pace -- the most delightful aspect of YSZ -- takes a beating is to accommodate Arunoday and Aditi's steaming love-making session. The lovely lady who played Sonam Kapoor's demure aunt in Delhi 6 introduces us to her sensual side here. That's pretty much it.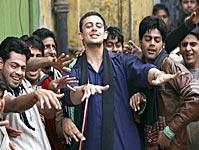 Her co-star Arunoday, who admittedly I wasn't too impressed with in Aisha, is quite a revelation under Mishra's focused direction. His robust charm and vulnerability work well in communicating his passions as a smitten husband, loving father and faithful colleague.

While on the subject of colleagues, Irrfan brings tremendous plausibility to the proceedings despite the script's wacky temperament and unexplained obsession with uncomplimentary close-ups, whether he's disclosing his crafty schemes or making besotted eyes at the recipient of his unconditional support.

And what a recipient!  There's no effort to project Chitrangda as some celluloid dream from outer space. Instead it's really worth anyone's while to witness how she generates glamour by just being real, accessible and gritty.
On the surface, Yeh Saali Zindagi is a black comedy in a bawdy skin. And even as purely that, it's wonderfully unrestrained (dead man farting, yes?) and entertaining with its mouthful of zingers penned by Mishra and Manu Rishi -- one of the deviously funny lines fame (Oye Lucky! Lucky Oye!, Phas Gaye Re Obama). The nifty writing, however, isn't restricted to wit alone but extends itself to YSZ's most gentle moments without compromising on its overall frantic personality. 
The idea is to project mess and chaos. Indeed surplus characters and subplots often make YSZ an overwhelming experience to endure. But if you are up for the challenge to explore Delhi's shifty facet, it's rewarding too. What's most fascinating is how everyone has a sense of humour about their situation, which is inevitably on the sticky side. Saali or sane, this Zindagi rocks.
Rediff Rating: